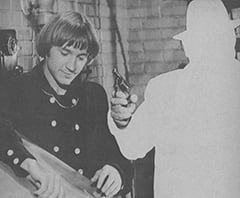 Peter's not at all impressed by the pistol-packin' mystery man next to him! Are you?
If you think you know who he is—you don't even have to give us his name—just tell us where you think you've seen him before!
If you're right, then you'll be in the running for ten outasite prizes!
SEND TO: MAY STAR SHADOW CONTEST, FLIP MAGAZINE, 405 PARK AVENUE, NEW YORK, N.Y. 10022
I think I've seen the mystery man before. I saw him………… Here's hoping that one of the ten outasite prizes will be mine!