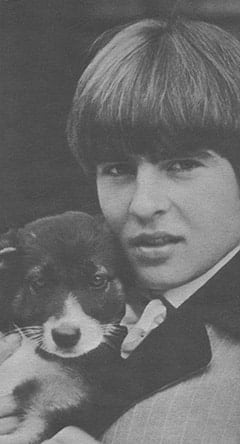 Davy wants to give you a puppy just like his very own! Here's how you can get it
Did you ever see a more adorable puppy than the one cuddling up to Davy Jones in this picture? Davy clearly doesn't think so! He's head-over-heels in love with "Susie"!
Yes, "Susie" is the name of this cute-as-a-button home companion—but no, "Susie" is not a she! "Susie" is a he! While you're all tangled up in this, we'd better make haste and straighten you out. The explanation is this: Davy was so heartbroken when his original pup named "Susie" was lost that a fan (& friend) gave him the male puppy you see here—also named "Susie"!
And now come close and listen carefully, cos Davy has got an ear-tingling ear-ful for you: just as Davy's friend surprised him with her unexpected gift of "Susie", Davy wants to surprise you! That's right, luvvies! Davy is going to give you a "Susie" for your very own—just like the precious pup shown in the color pin-up portrait on the inside front cover of this issue of 16 and in the photo on this page!
And that's not all! With the puppy, Davy is going to give you in his own handwriting!—a guarantee that the dog is from him, plus his permission for you to name your dog, "Susie".
And here's still another wonderful ear-drop for you: to win a puppy just like Davy's, you don't have to do a thing! Just fill in the coupon on this page, cut it out and mail it to the address on the coupon—and that's all!
All coupons will be dropped inside a barrel. The barrel will then be revolved and 16's Editor-in-Chief, Gloria Stavers, blindfolded, will pick a single coupon from the barrel. The coupon she picks will be the contest winnerand the sender of the coupon will be awarded a puppy just like Davy's "Susie," his handwritten guarantee and permission.
If you love puppies, you'll love "Susie" to pieces—so don't delay! Mail your coupon today!