and you're invited!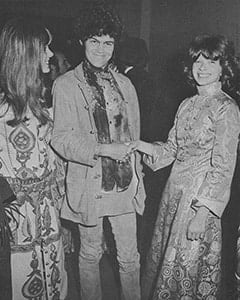 Below, that's Genie with one of her Fairy Godmothers, Ramona. And you thought Genie was teasing about having a real Fairy Godmother! Actually, she has two!
Hundreds of Genie's friends, dressed in fine freaky gear, made their way in to say hello to Genie.
Below, Sajid Khan wishes Genie good luck. Many of the guests came to the opening after seeing the premier of "How I Won The War" in Beverly Hills.
Mark Lindsay, who is one of Genie's greatest customers, stopped to chat, above, with Tiger Beat's publisher, Chuck Laufer and Managing Editor, Laudy Powell.