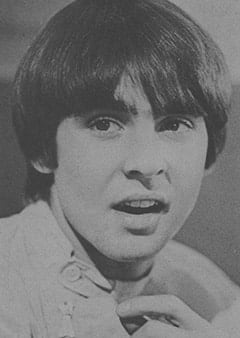 Here, for the first time anywhere, is an intimate story that tells what it's really like to have a famous brother, and how great it is when he comes home to reunite with his family.
It is Christmas Eve, 1967, and we are all at Clumber Road, Manchester, waiting. Who are we? We are the Jones family, Dad, three sisters, Hazel, Beryl and Lynda, their husbands, Ken, Allan and Alex, and the three grandchildren, Deborah, Robert and Mark. What are we waiting for? We are waiting for Our David, Son, Brother, Uncle and Monkee.
Christmas preparations started many weeks ago at our house because this Christmas, all the family is coming together for the festivities. David had told us in summer, when we saw him at the London Concerts, that he would be home, but we know that the boys have a heavy schedule and that they might not be able to have time off for themselves. However, David has phoned Dad to say that he will be home Christmas Eve.
So here we are, waiting. It's just like any other family Christmas, decorations are strung from the ceilings and walls, Christmas cards are all along the chimney, Port and Sherry, laughter. There's just one difference—outside the house are a gathering of Monkee fans and they are waiting too.
Davy's home!
At noon the telephone rings and Dad answers, we all get up and try to listen in. This is it, David has arrived at the airport and would someone come for him. Alex is first out and off he goes. Here we are again, back to waiting. After what seems to be an age, but is really only an hour, there is a commotion at the garden gate. We rush to the windows and there at the gate is a large, black taxi-cab, surrounded by fans waving autograph books. Maybe this isn't going to be just an ordinary Christmas after all. After a short while, out of the taxi comes masses of huge, I mean really huge suitcases, but no David. Where is he?
Hi to fans
We move the 'cases and the taxi leaves. As it draws away, Alex's car comes into sight and then drives in through the garden gate up to the front door. Now we are all in the doorway and there is David in a short, cream coloured, leather jacket, climbing out of the car. He gives a quick wink and "HI DAD" and then he turns to the fans and holds up his hands and says "MERRY CHRISTMAS" Then he ducks into the house and the door is shut behind him.
"Are you well?", "Do you want a cup of tea?", "Are you getting enough to eat, do you want a sandwich?" The questions flow thick and fast. David just laughs and says "LET'S HAVE A CUP OF TEA AND THEN WE CAN ALL SIT DOWN". About this time we realize that David has brought two friends home with him from America, David Pearl and Phil Maraboe, so we say "Hello, David Pearl, Hello, Phil" and they both say "Hi". and sit down next to David on the big, curved settee at the back of the room.
Now we have our cups of tea and after the first exciting "Hellos" we sit down too and we all have a good look at each other. Is David looking thinner? I think he is, but he's glowing with energy and brown with the California sun, and looking well. David looks all 'round the family, grinning, then he gets up and goes to where the children are sitting. He has one young man to meet who was only born in May, nephew Robert. He picks him up and gets Deborah and Mark on his knee, and it's like he was never away.
You know, although we are all intensely interested in David's career, we find that the first questions we ask are all about who cooks and cleans for him and how does he get his laundry done when he's on tour and things like that. Dad wants to know if he's been behaving himself. I don't think any of us believe he is old enough to look after himself yet.
Signing autographs

After a few minutes David bounces up and says "LET'S GO OUT AND SEE THE KIDS, THEY MUST BE COLD". So we go outside and David starts signing autographs on pieces of paper, Monkee Annuals and L.P.s. It's freezing out and soon we are all cold, but David keeps on signing and smiling and chattering away. All the girls are very excited but they keep in line and eventually there are no more pieces of paper to sign so he says "MERRY CHRISTMAS" again and we go back in the house.
During the afternoon a procession of Aunties and Uncles parade through the house. David knows them all of course and there is a lot of handshaking and laughing. Very soon it is time for the evening meal. We have hardly sat down when the telephone rings, David answers it, then turns to David Pearl and says, "WE'VE GOT A DATE TO SEE A SHOW AT THE T.V. STUDIOS, LET'S GO." A friend has called to say that his group, The New Vaudeville Band, are recording a show and it's open house for visitors.
Off to studio
Dad lends David and his friends the keys for his little green mini car and they dive into it and get set for the off. Unfortunately Dad has been ill for a while and hasn't used his car in ages, so the battery is flat and when David turns the ignition on, nothing happens. Now we are glad the fans have hung around and we get so many helpers to push-start the Mini that it almost takes off. I think that some of the girls will be happier if the Mini doesn't start and then they can push David all the way to Manchester. Anyhow the engine fires and he's off. We all wave and the fans wave too. One or two of them run after David and we don't see them again.
Now we have all got over the excitement, recovered our wind and had a second unbelieving look at those giant suitcases David brought, which are littered all over the lounge. Dad pulls one off his favorite armchair by the fireside and we all settle down again to family chat.
Davy takes off
Suddenly, David bursts in through the front door, back from the studios. He's brought a friend with him who has to get to Cheltenham for Christmas Day and there's no public transport running. David takes things in hand and after organizing a sandwich snack for us all, they set off for Cheltenham, this time in Alex's car. It's 2 a.m. and Cheltenham is two hundred miles away, don't those boys ever sleep? Well we do, so it's off to bed for us because tonight Father Christmas makes his rounds. I wonder if he'll see David. He could give him some of those sacks of Christmas cards and birthday cards that are stacked in the corner, addressed to "Davy Jones".
Christmas Day is bright and crisp, we have been up since early morning, opening Christmas gifts. David isn't home yet and Dad is worrying. All the girls are in the kitchen making Christmas dinner and their husbands are busy playing with the children's toys. Cards are being pushed through the letterbox by fans, who gathered early.
Queen's speech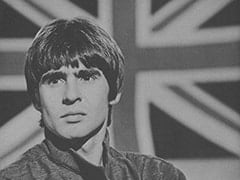 Dinner is almost ready when David and his American friends rush in past the fans, looking tired. "IS DINNER READY? WE'VE BEEN DRIVING ALL NIGHT". This is David speaking, then, "LET'S GO SIGN SOME MORE BOOKS AND LET THE GIRLS GO HOME FOR DINNER". And so out we go again and the fans are delirious. After half an hour some of the girls decide they want a really close look at David and they start to pull him over the garden wall. A minute or so later we get him back with a little help from David Pearl, then Dad says "Come in, it's the Queen's Speech on T.V." In we go and then we find that the boys got lost during the night, and had a tour around South Wales before they came home, no wonder they look tired.
The children have their new Christmas toys, and Uncle David has to play with them all, even the dolls. Eventually we sit down at the dining table and the turkey is brought on with all the trimmings 'round it. Dad is sitting at the head of the table, with the family 'round him and David, as the youngest, sits at the bottom.
Special pudding
For a while, at least, everything is perfectly quiet. The meal ends with Christmas Pudding and Rum Sauce. This is a heavy, fruit pudding with silver coins in it for luck. David Pearl and Phil haven't had this before and David is so busy telling them about it, he spoons in a silver sixpence, nearly swallows it and almost chokes.
As we get up from the table, some schoolfriends of David's call in and after saying "Hello" they start arguing about football. The local team, Manchester United, is playing Wolverhamton Wanderers on Boxing Day (the day after Christmas Day). Of course David's friends support Manchester but David has a lot of friends playing for Wolverhampton. He entertained them in Hollywood earlier this year and did some training with them, so the argument is brisk. In any event they agree to go to the match tomorrow. May the best man win.
Reads his mail
It is now time for tea, but no one feels hungry so we have some sandwiches and David goes out to have a few words with the fans again. Back in the house, David starts opening his Christmas mail. There are cards and letters from everywhere and David wants to read them all, so we sit around him, opening the envelopes and handing him the contents. Soon we are all covered in paper. There are some lovely cards, including one which is six feet square!
Evening is on us before we know it and it's time for the children to go to bed. It's "Goodnight, Uncle David" and they are off. David has been invited to a party by some of his friends and he decides he will go. Wash and change and he is away out again. By this time we are all tired just watching David rush about, so we have a quiet evening at home. I don't know where he gets his energy from, even when he is sitting still you can feel he's bubbling over just waiting to get up and go.
Grows moustache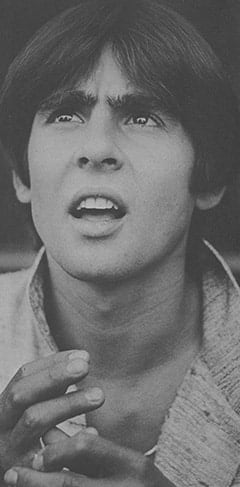 Boxing Day is well on its way to noon when we get up. A quick glance out of the window confirms that the chanting that woke us was a group of fans, who tell us they have been outside all night. David comes downstairs, followed by Deborah and Mark. I think they've been talking to him a long time because Deborah announces to us that "Uncle David even has a wash with his love beads on, and David Pearl sleeps with his on." They get on well together.
Without breakfast, and with the start of a moustache just showing, David once again finds his way outside to chat to the fans. Dad is not so happy about this, and says "He's had no breakfast and he's not even had a shave." David Pearl has to tell him that we think David is growing a moustache.
Breakfast is over and now David tells us about his shop "ZILCH" and shows us some of the things he sells. Dad is persuaded to try a blue and black flowered khaftan on, we all tell him he looks great in it and David says "PEACE, SOUL BROTHER" but Dad won't keep it on.
Not recognized!
Everything is rush again, all the boys are going to the football match and they are late. Off they go in two cars and a small van and eventually get places in the Stand at the Stadium. No one recognizes David, but one small girl says to him "Hey, you look like Davy Jones, but your hair isn't long enough." After the match, which Wolverhampton lost, David decides to go and cheer up his friends, so he goes up to the Attendanton, the players entrance, and announces who he is. "Come back when we're not so busy, son, you'll get your programme autographed then". There is nothing else to do but go home.
Now we are all sitting 'round the T.V. set and watching the credits on the screen for a T.V. Show that David is itching to watch. The credits read—Music by Lennon, McCartney, Harrison and Starr.—Lyrics by Lennon, McCartney, Harrison and Starr. Starring Lennon, McCartney, Harrison and Starr. You've guessed it. "The Magical Mystery Tour" is starting, 'ROLL ALONG, ROLL ALONG—' and David is laughing already. We watch the show through, David thinks it's great and he doesn't stop laughing all the time it's on. The rest of us like the music but don't care for the film, so we spend time arguing about it.
Family sing
It's time to go to Aunty Betty's house for a party. David drives his Dad, who keeps up a running commentary on the drive all the way. David says he'd rather do a day's work at the Studios then drive Dad again. At the party we are all dancing, drinking and eating and having a ball. We persuade David to sing and he gets his guitar and sings "Hard to Believe". He sings it softly and it sounds quite different to the record, I think I like it better sung live.
The party is a huge success but it's time we went home. We are all tired and have had a fabulous Christmas with Our David. As we get to the house, two girls are waiting outside, it's pouring with rain and they are very wet. David asks them in and we all have coffee, then David runs them home after giving them a stack of photographs. I'm sure that those two fans will remember Christmas this year, I know we all will.