The Monkees' careers are a three-fold thing with the television show being the most important, in the minds of the executives.
Great amounts of time and effort are spent to see that the best possible product is put out on the show. The guys often work from early in the morning to late at night day after day filming the shows.
A great many people are involved in the TV filming, the director, assistants, other actors, light men, prop men, etc. This is not just a matter for the four Monkees.
Next in importance to the head office people is touring. Great care is put into planning and executing Monkee tours, deciding which cities to play, how long to make the show, which songs to perform, how much solo work each guy will do, etc.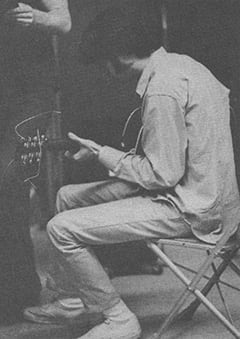 But the tours must be fitted in between filming schedules and have been rather short so far.
Somehow, on top of all this, the Monkees are also expected to turn out the million-selling records they do. Though this part of their careers may be third in importance to others, it is vitally important to the four of them. They each sincerely wish they had more time for recording, for this is a part of their careers where they really have a chance to be creative and productive.
But recording sessions are usually scheduled late at night following a full day of shooting, and even though they may be willing to record all night they know they can't, for they have to be up and fresh at six the next morning for filming again.
So recording sessions are usually rushed things with the four of them, their producer and an engineer getting right to work, recording straight through for a few hours with few breaks for food or rest, until it's time to go home and get a few hours sleep.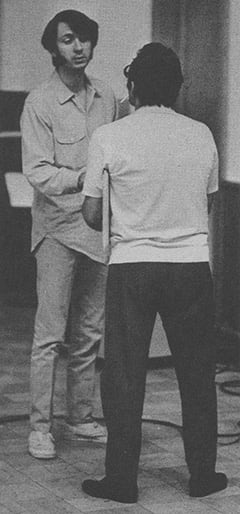 They work hard during these sessions, for this time is very important to them. They've taken a lot of knocking from other groups about being a manufactured group and records are the best weapon against this type of thing they have. They really want their records to be the best they are capable of, not just to sell, but to be liked.
And when they do turn out records which they are particularly proud of, they don't like to hear them knocked.
One day recently on the set someone said, "Hey, I heard ---- over at radio station—said your new single is trash." "Well, tell him to take a look at the charts," countered Mike. "If he doesn't like it he doesn't have to buy it, but that doesn't mean it isn't any good or won't sell."
The recording part of their careers is of great importance to all four of the Monkees and the greatest compliment you, as Monkee fans, pay them is buying their records. By doing so you are showing you appreciate the hard work they put into something that is very important to them.