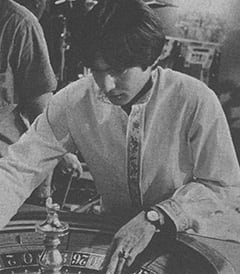 A Last-Minute Report of All The Monkees Action!
Here is the rundown of what The Monkees have been doing lately.
Peter spent the Thanksgiving holidays with his family in Connecticut, and visited with them again during Christmas time. He just bought a new bass guitar and an electric piano for home use. His favorite book is, "Stranger in a Strange Land". He enjoys spending his spare time reading the Book of Changes, the "I Ching", and other books on Far Eastern philosophies. He recently put himself on a macro-biotic diet which consists of Yin and Yang foods such as brown rice, yogurt, raw milk, herb teas and organically grown fruits and vegetables. He is forming a film company with a few photographer friends. They want to make experimental films.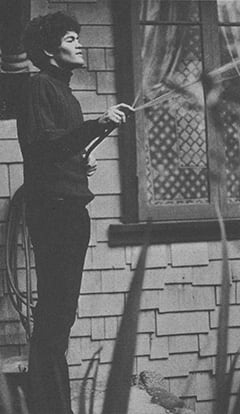 Micky bought Samantha a Siamese kitten which she promptly named "George". He is planning to record a children's album on his moog synthisizer [sic]. Also, Micky will spend his month's vacation traveling to Hawaii, India, and England. He just now got his films back from the Mexican Grand Prix, and has been showing them to visitors at his Laurel Canyon home.
Davy left Saturday, December 23, with his best friend David Pearl for England to visit his family for the Christmas holidays. While he's away, he is having his house redecorated again. Davy recently went to Texas for a friend's wedding, Steve Pitts, and spent some time with other friends on a large ranch doing a great deal of horseback riding. When he returns from England he wants to get some of his friends from Los Angeles and caravan to Texas for a week or so.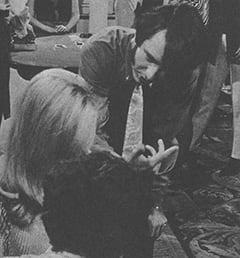 Mike had a house-warming party recently in his new house in the Hollywood Hills. He has a complete 360-degree view of both all of Los Angeles, Hollywood, and the San Fernando Valley. The house itself is fantastic. A master bedroom, Christian's room, a guest bedroom, complete with bath with sunken marble tub, large kitchen, living room, dining room, study and office, recording studio, den, playroom, kennels, a large swimming pool, half outside and half inside, in the den. Every room is complete with sound, including the grounds. Rumor has it that the tracks he produced with the Wichita Train Whistle are due to be released soon. He gave a Christmas party for the production crew of the show and some friends.
I'll have more Monkees news next month in the issue of Flip on sale March 12th. Before that day, you can get 100 brand-new Monkees fax in GROOVE-OUT!—The World's First Giant Color Poster Magazine! On sale today!