This month I thought I would write about something that had occurred more recently, rather than recall my college days with Micky.
Every Sunday now, for the past two or three months, I, some friends, and their friends have been getting together at a public park in Van Nuys, California, and playing some sports. We usually play football or baseball, even basketball on occasion.
Well, last Sunday, the usual gang got together at the park to play a game of softball. After the usual ritual of choosing team captains and teams, it broke down this way: I was one captain and Neko was the other. Some of the players on my team were: Ronny Ellis at shortstop (electrician on the show), Gene Warren, at the left field, (grip on the show), Micky Dolenz at center field, David Pearl at first base, and some other friends.
Neko's team consisted of Les Berns (makeup man on the show) at first base, Davy Jones at short stop, Bobby Dick (of the Sundowners) at left field, and Peter Tork at second base.
We played for four hours. It was almost completely dark before we quit with the final score of the game at 12–10. My team won on a last inning rally.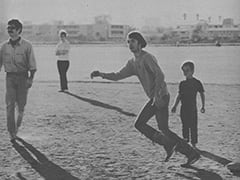 Davy had the most hits, 6, and Peter and Micky each had 4.
After the game, everyone got together at Micky's house for a barbeque and an evening of home movies. Everyone agreed that they had a great time and were all looking forward to next week's game.