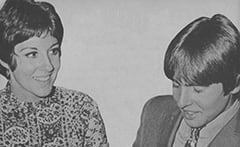 C'mon into Deana's home and listen to her talk about one of your most fave people—Davy Jones!
The thought that keeps running through your mind, as you walk up the steps of the spacious Martin mansion, is that in this home live more entertainers and faves than in most cities! You're going to enter the home of Dean, Ricci, Gail, Claudia and Dino Martin-plus bubbly, dark-haired Deana, who greets you at the door with a smile and welcomes you in.
The first thing you see in the beautifully-decorated living-room-family-room is the pool table!—the table where Davy Jones spends many relaxing hours. And today you're going to find out all about him from Deana, who has dated him and has gotten to know him really well in the past year.
Deana reminds you of an elf with her flashing dark eyes, short, shiny hair and petite figure. She makes sure you're comfortable and that you have a soft drink beside you before she settles on the couch.
"Right after the Monkees Show started, I returned from school in England. I'd never seen the guys but I'd heard their songs. When I saw the program I thought they were really outasite! A couple of weeks later I was introducing the Teddy Neeley Five at the Daisy Club and while I was standing at the mike, I looked out into the thousands of people and there was Davy.
"At first, I noticed him mainly because he was shorter than everybody else. But there was something else about him—some indefinable quality that radiated from him and made him the only person who really stood out. I thought at the time, "I'd like to meet him sometime!
"A little time passed. It seemed we would never get together, but then one day he called while I was out and left his number!
"When I got home, I called the number and asked for David Jones. The voice, with that unmistakable Manchester accent, said 'This is David Jones.' I said 'David Jones, this is Deana Martin,' and he answered, 'Hello, Deana Martin, this is David Jones!' Then I said 'Well, I can hardly believe I'm talking to you, it's been a long time!' And he laughed and answered, 'Yeah, and we've never met!''
"That next Monday night, right after we had all watched the Monkees on TV, Davy called and said, 'So when do you want to play pool?' I said: 'Whenever you do.' 'How about in an hour?' was his reply. So over he came, pool cue in hand! We played pool and really had a lot of fun. From then on, we'd go out maybe once a week or every other week because we were both busy working—and I'm sure he had other interests! But it was groovy because he was really a fun person and crazy things always happened when we got together.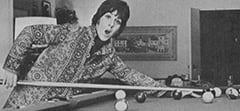 "Every once in awhile Davy will get lonely on tour and call up to talk. One time he called clear from Phiadelphia at midnight! He said 'It's three o'clock and we just got back to the hotel. We've been going all the time and I sure miss home!' I had just gotten my hair cut that day against his wishes so I told him, rather hesitantly. He said, 'Well, would you believe I got my hair cut, too?' I came back with, 'Would you believe we're twins?' And he jokingly said, 'Talk to you in two years!'
"But when he got home, he came over with a bouquet of roses and decided he liked my hair after all. Now when we're walking together, and you see us from the back, it's really funny—like two David Jones'—exactly alike because I'm usually in slacks and boots like his and we're the same size.
"Every once in awhile Davy will give me something just because he feels like it—like the flowers. One day I visited him on the set in a long Indian gown, because I'd been filming 'The Pat Boone Show'. He said he really thought it was beautiful so I said, 'Alright, I'll have one made for you.' I picked out some purple silk with gold in it.
The thought counts!

Permalink
"Well, the day I went over to his house to get his measurements, he said 'Wait a minute, I have something for you.' I walked into his room and there was the most beautiful Indian coat I'd ever seen, floor-length and all black with gold and silver leaves! You could hardly see the black for the leaves—it was absolutely exquisite!
"I excitedly tried it on and the shoulders were too big! You see, Davy had figured that since I'm about his size, he'd try it on and if it fit him, he thought it would fit me. Needless to say, it didn't and we couldn't have it fixed so I said, 'Alright, there you go—you can wear it! I was so disappointed because I loved the coat! But the thought was what counted and one thing's for sure—Davy is super-thoughtful!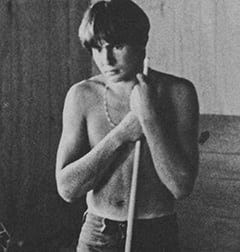 "My family adores Davy, especially my father. Just the other night my parents, two friends of theirs, Davy and I went out to eat at Stefanino's. It was the funniest thing in the world! Davy's not shy around us anymore at all—he's right there, knows exactly what's happening. And my father's by no means shy either—he's absolutely hysterical! So the things that went on at that table between Dad and Davy were priceless! The funniest bits in the world!
"When we got back home and Dad was playing pool, he and Davy were still at it. Davy walked out of the room to get my Dad some coffee and Dad said 'Gee, he's really the nicest guy you've ever brought over here, he fits right in and I really like him.' I just said, 'Thanks, Dad. So do I!'
"When Davy came back in he was still clowning it up. He said, 'Ask your Dad if we can take a walk around the grounds.' I said, 'You don't have to whisper! Dad, we're going to take a walk around the grounds.' Meanwhile, Davy's jokingly crouched behind me hiding. Dad said, 'You don't have to hide. She's old enough to walk around the grounds!' They're so funny together!
"Davy and I have a special-type relationship. He's a friend and a boyfriend. He's my boyfriend because I don't really like going out that much with a lot of different boys. He's about the only person I like to go out with now. Yet he is very busy, has so many friends and goes out with other girls, too. In a way, he's my boyfriend and I go with him, but he doesn't go with me. That's the only way I can put it.
"A lot of times we read rumors in magazines that we're about ready to walk down the aisle. But Davy does not want to get serious with anyone for a long time because there's too much happening in his life.
"I've dated Davy enough to find out what he likes in girls. First of all, he really doesn't care what she looks like. This is kind of hard to believe, because so many people in show business just have to go out with the most beautiful girls. But Davy isn't like that. It doesn't matter to him if she's eighteen feet tall or two feet tall. There's no special look. Just as long as she's a nice person he can talk to when he wants to.
"But he doesn't always want to talk. Many times we'll get in the car and be driving some place, not saying a word, because he doesn't feel like talking. But when he does want to, you have to be able to hold your own in the conversation. And he likes a girl who is very independent, who knows herself and is sure of herself. She should be able to get by without panicking if he can't call her all the time because he's so busy. He likes level-headed girls.
"As I've said before, you should be prepared to stay home and watch television a lot if you go with Davy, because he loves doing that after a hard week's work. But he also likes doing things during the day. On Sundays he plays football with his friends because he's very athletic.
"Also, when you go out with Davy, you'll dress very casually because he really doesn't dig wearing a coat and tie. He always dresses very neatly, but casually—maybe an Indian coat, flared slacks and boots. You do a lot of chasing and running around when you're with Davy, so being all dressed up just wouldn't work!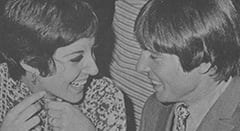 "When I first met Davy, he impressed me as being very shy, but also very nice.
"As we spent more time together, he began opening up. He was still the same nice person, but I found he's also very intelligent. I've known him about a year now and he's stayed the same marvelous person he was when we first met.
"I think the quality I love best in Davy is his sense of humor. He has a fantastic one because his mind is so quick. And he can see right through you—you can't put him on. What more can I say about Davy? He's just a good person, one of the best I'll ever meet, very easy to talk to and the funnest person in the world!"
With that, you click off your tape recorder because you've stayed much longer than you'd planned. It's just that when someone as friendly and vivacious as Deana Martin is talking about someone as darling and loveable as Davy Jones, you could listen for hours! But enough has been said—you've found out what Davy's truly like from someone who really knows. And everything you've found out has just confirmed all your ideas about him—Davy is even more fantastic than you'd dreamed!