Brooklyn, N.Y.
PFCer Debra was there when Davy Jones opened his "Zilch" store in Greenwich Villaage. Her scoop earned her six dollars as one of FLIP's Pics of The Month!
By Pam Kennedy
Chapel Hill, N.C.
Pam snapped this scoop of Dino and Felix at the local motel where The Rascals were staying for their concert in Chapel Hill.
By Paula Schackles
Monterey Park, Calif.
This candid pic of Leonard Nimoy (Mr. Spock) was only one of an especially groovy selection of photos Paula submitted. Sorry, Paula, but we can only print one!
By Ruby Uehara
Honolulu, Hawaii
In the happy letter Ruby sent us along with her prize-winning pic, she said. TYVB VE TOP! (Likely FLIP IS FAB!) You need the FPC Code to translate it, but only needed our eyes to see the grooviness of Ruby's pic of Herman!
By Denise Varriano
Staten Island, N.Y.
"I'll always remember the day I met The Hollies," Denise wrote. "And without the Flip Press Club, I wouldn't have been able to meet them!" Denise took this pic at their New York press conference.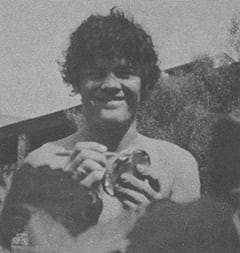 By Linda Overstreet
Fairhope, Alabama
Linda couldn't believe her eyes, but right there was Micky Dolenz! But, like a good reporter, she didn't lose her cool and snapped this "hot" pic of Mr. D!
Important reminder for all Flip press club members!
As you know, membership in the FLIP PRESS CLUB was closed as of December 31st. No new members are being admitted. All of which means that you have a better chance than ever before of having your pics and stories printed in FLIP! You asked for this freeze on membership. Now, take advantage of it by submitting all your scoops to the FPC! Send them to: Miss Dusty Peters, FLIP Press Club, 405 Park Avenue, New York, N.Y.10022. But please give Dusty time to consider your entry; it will take a couple of months before your scoop can either be printed or returned to you.
Magazine: Flip
Published:
Publisher: Kahn Communications Corporation
Page: 58