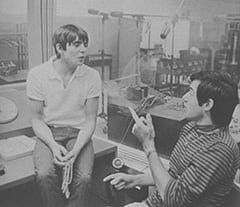 He's The Groovy Genius Behind The Monkees' Magic Sound!
Chip Douglas is young, unbelievably handsome and one of the best bass players in the business. He is also a former member of the MFQ (Modern Folk Quartet, which later became the Modern Folk Quintet), the short lived Gene Clark Group and the Turtles.
He is also the producer of the Monkees' latest two albums, "Headquarters" and "Pisces, Aquarius, Capricorn and Jones Ltd.", in addition to all the singles since "Headquarters."
His real name is Douglas Farthing Hatlelid, but he prefers to be called Chip and he was born in Hawaii.
Here Chip answers FLIP's questions about the Monkees for you.
1. When did you first meet The Monkees?
"I met Mike first at the Troubadour (a Los Angeles coffee house type folk club) where he was singing. He was doing some things recordingwise then as Mike Blessing, but he was known to his friends as Mike Nesmith. And I used to see Peter around all the time at different folk clubs and he used to say 'Hi' though I really didn't know who he was. Both he and Mike were fans of the MFQ. Later on when the Monkees came on TV I realized that Peter Tork was that guy I always ran into washing dishes at coffee houses. I didn't know Davy or Micky until I started producing their records."
2. What was your first impression of each one?
"I thought Mike was a very sincere, Southern gentleman type. Micky I figured for the mad scientist type right away. And Davy and Peter struck me as just the kind of people they are. I kind of pegged them all right from the beginning."
3. Who all comes to Monkee recording sessions?
"Well, it's usually just the four of them, me and the engineer. I have to keep others out 'cause it's just too distracting. We don't have much time for recording as it is and if there are other people there the guys want to stop and talk and we just never get anything done."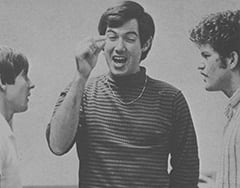 4. "Pisces, Aquarius, Capricorn and Jones" was recorded in New York, Nashville and Hollywood during their summer tour. What difference is there between recording in Hollywood and elsewhere?
"Well, we got some good things recorded but it was awkward. The guys felt a little nervous in a new studio and I didn't know the engineer. With a new engineer I have to watch out for a million more things than usual. With the engineer in the RCA studio in Hollywood I know that he knows what I want. But we had all the instrumental tracks done before we left so we only had to cut vocals."
5. How important is the recording part of The Monkees' careers?
"Recording is the thing that is allowed the least amount of time for them. Shooting comes first, then comes their touring and then comes recording. They wish they had more time to record, but they're usually pretty tired when we have to record at night. We often have to fold up pretty early because everybody has to get some sleep and be ready for shooting at 6 in the morning."
6. Which do you think is the best single they've done?
"I like the vocal performance on this thing called "Going Down" a whole lot. Micky was really working out on that one."
7. Do you know which is their favorite of all their songs?
"I think I can speak for the whole group on a tune called "Cuddly Toy" which is on the Pisces album. It's a tune we didn't quite get finished for the "Headquarters" album. Everybody seems to like that one a whole lot. It was written by a guy named Harry Nilsson, who has an album out under just the name Nilsson."
8. Have any of The Monkees said anything about wanting to record under another name to see if their songs would sell if they didn't have the name Monkees on them?
"No. They've never spoken to me about it, but I'm sure that everybody in every group has that secret desire."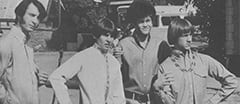 9. What clothes styles do The Monkees wear to recording sessions?
"Ever since they came back from London they've been wearing the Indian things, you know, sandals and beads and things. All except for Michael. He still wears levis and now he has a tie, a big wide one with flowers and stuff on it."
10. Do they do much eating during sessions?
"Not as much as some other groups. They're not a big eating group in sessions, but that's probably because they don't have as much time. It's not like we can move into the studio for three weeks to cut an album. We just grab a couple of hours here and there. Afterwards, usually they go over to a place called Martoni's or somewhere. The "Headquarters" album, though, we were recording day and night, 12 hours a day, and they were always sending out for food or going around the corner from the studio to a place which has the worst food in town—orange juice is about the best thing on the menu!"
NEXT MONTH: CHIP TELLS HOW THE MONKEES HAVE CHANGED! IT'S A SUPER-SCOOP YOU WON'T WANT TO MISS! ON SALE FEBRUARY 8TH!