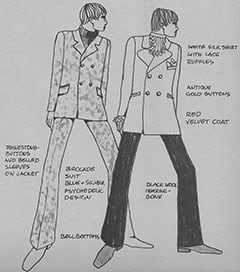 (Genie the Tailor got her first break when she designed the new Raider costumes, and now she designs for all the top stars.)
There is a time in every tailor's life when she must see what the other tailors are doing. So Genie the Tailor went to Europe to see what the other tailors were doing. Then she came back to her happy home and happy car and happy dogs and beautiful happy customers, and to something else.
Jorma Kaukonen of the Jefferson Airplane

Permalink
Jorma always used to wear dungarees and striped shirts. So I told him he needed a new look. He said to make him a simple inconspicuous suit he could walk down any small town street in, and I did. You can see this silver brocade shine at night without any lights.
Peter Tork of The Monkees

Permalink
This is the outfit I told you about last month, which is Peter's simple country boy outfit. Peter really knows how to please a tailor, and when I had a going-away-to-Europe-come and say-goodbye to-me-party, Peter wore his simple country boy outfit, and he really pleased me! But then, Peter Tork could certainly please any tailor at all in the whole world!