Davy: Practical
Peter: Philosophical
Mike Nesmith
1. What forms of entertainment do you have to occupy your leisure hours other than TV?
Answer: I like to spend time talking with my wife, taking long walks, listening to music, working around the house on all sorts of projects. I don't have nearly as much leisure time right now as I'd like to.
2. When did you learn to play the maracas?
Answer: Playing the maracas is just something you do naturally. If you have rhythm, there's nothing else to learn.
3. Will the Monkees keep using more of their own material on their albums?
Answer: When we come up with the right material, we'll use our own things. But if someone else comes up with something we like, we'll use their material.
4. Do you really call your wife "April" because Phyllis is hard for you to pronounce?
Answer: I really call my wife "April" but not because of the reason you stated. That's just a pet name I've always called her and I've never even told her the secret behind it.
5. If your son, Christian, ever wanted to pursue a career in the entertainment field, would you encourage or discourage him?
Answer: Because I had to do so many thing on my own in my younger years, I realize the importance of encouragement from the people closest to you. I would encourage my son in whatever type of business he wanted to enter from show business to dentistry to carpentry.
Peter Tork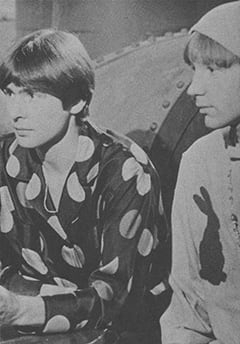 1. Do you at all believe in the study of astrology? If so, what sign do you find the most appealing for a girl?
Answer: I do believe in it, but I don't study it at all. I've never taken it up, but I believe the practitioners of astrology can do the things they say they can do.
2. How do you feel about the hippies and the "flower children"?
Answer: I dig the hippies. I dig 'em. I think the hippies… well, the hippies are dead, you know that. You knew that the hippie movement was buried and that there is nothing but long-haired Americans, and I guess that includes me. And there you are.
3. If I were to suggest you read "Stranger In A Strange Land" by Robert A. Heinlein, would you? If so, consider it a suggestion.
Answer: Listen, I suggest everyone read "Stranger In A Strange Land," that's my answer to that one. I'll also consider the suggestion from you and maybe I'll go back and read it for the fourth time.
4. What fault in a girl do you find most unforgiveable [sic]?
Answer: I hope to find nothing unforgiveable [sic].
5. What attribute do you find most admirable in a girl?
Answer: Faith. Not necessarily faith in something, fans, it doesn't have to be. Just plain faith. I believe in something—I believe I'm 5'10". I really believe that. But genuine faith you know. No, wait a minute, I take that back. More than faith is a will to get it straight. That's even more than faith, in some respects.
6. Skinny girls with short haircuts are supposed to be "in", how do you personally feel about this latest craze or fad?
Answer: Well, in so far as it is a craze or fad I feel about it as I do toward all crazes and/or fads which is that they are crazes and/or fads. How do I feel about skinny girls with short haircuts? If a girl is really pretty she looks pretty no matter what she does.
Magazine: Monkee Spectacular
Authors: DeAnna Vinyard, Joanne Rotondo
Editor: Ralph Benner
Published:
Volume: 1
Issue: 10
Publisher: Laufer Publishing Co.
Pages: 38–39