Here's the second in a series of articles created by you, the readers of MONKEE SPECTACULAR! (See page 36 and find out how you can interview the Monkees!) This month's guest interviewers are DeAnna Vinyard of Pontiac, Michigan and Joanne Rotondo from Seneca Falls, New York. Their questions were so well done, we combined the best of the two for this very real view of the Monkees.
Davy Jones
1. It has been said that you are the "ladies man" of the group. How do you feel about acquiring this title?
Answer: I think it's quite flattering. But I don't really think I'm anymore of a ladies man than anyone else. I've always respected girls and they're fun to be around. If this makes me a ladies man, then the title is correct.
2. If you could interview anyone in the world (past or present) who would he or she be and why?
Answer: It's hard to single any one person out. There are so many people I admire in all fields. Laurence Olivier, a great actor, Shakespeare, Charles Dickens, two wonderful writers; Queen Elizabeth. I guess because everyone would like to talk to a Queen.
3. What one special lesson that your parents have given you do you treasure and/or follow most, and why?
Answer: To be honest and work hard. They taught me to know what I wanted out of life and to go after it.
4. Suppose you have a younger brother. Your Dad has just left him in your care for the day. How would you amuse him for the entire day.
Answer: Of course this would depend upon where we were. I guess I'd take him to a circus or play ball with him or maybe even listen to records with him. Then, of course we'd eat lots of candy and have groovy things to eat. Then, if I could, I'd take him shopping and buy him anything he wanted as a toy.
5. What has been your most frightening dream?
Answer: I used to have a recurring dream when I was a little boy that would really frighten me. We had a small backyard behind our house and I'd dream I'd be trapped in one corner by a crocodile.
Micky Dolenz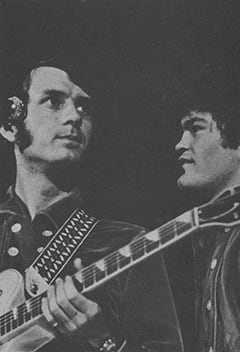 1. If you were a teacher, what subject would you teach and why?
Answer: Architecture, because at one time, I'd thought of being an architect.
2. Suppose there was a sudden fire in your home. You had enough time to grab only one item before escaping with your life. What would that item be and why?
Answer: Things aren't that important to me. They are always replaceable. I'd just be sure that any pets were safe and then get out.
3. What is your favourite time of year and why?
Answer: I've always lived in California so there isn't that much difference in the season. I like all times of the year, but I guess summer is my favourite because of the beach.
4. If, and when you marry, would you like to have a large family?
Answer: Yes, I think so, but this would depend a lot on the girl I marry.
5. Please describe your fellow Monkees, in one word each. And feel free to include yourself.
Answer: Mike: Talented
Davy: Practical
Peter: Philosophical
Mike Nesmith
1. What forms of entertainment do you have to occupy your leisure hours other than TV?
Answer: I like to spend time talking with my wife, taking long walks, listening to music, working around the house on all sorts of projects. I don't have nearly as much leisure time right now as I'd like to.
2. When did you learn to play the maracas?
Answer: Playing the maracas is just something you do naturally. If you have rhythm, there's nothing else to learn.
3. Will the Monkees keep using more of their own material on their albums?
Answer: When we come up with the right material, we'll use our own things. But if someone else comes up with something we like, we'll use their material.
4. Do you really call your wife "April" because Phyllis is hard for you to pronounce?
Answer: I really call my wife "April" but not because of the reason you stated. That's just a pet name I've always called her and I've never even told her the secret behind it.
5. If your son, Christian, ever wanted to pursue a career in the entertainment field, would you encourage or discourage him?
Answer: Because I had to do so many thing on my own in my younger years, I realize the importance of encouragement from the people closest to you. I would encourage my son in whatever type of business he wanted to enter from show business to dentistry to carpentry.
Peter Tork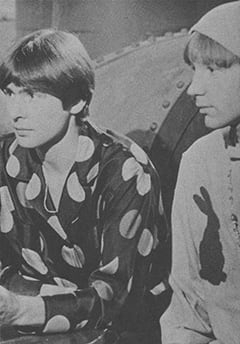 1. Do you at all believe in the study of astrology? If so, what sign do you find the most appealing for a girl?
Answer: I do believe in it, but I don't study it at all. I've never taken it up, but I believe the practitioners of astrology can do the things they say they can do.
2. How do you feel about the hippies and the "flower children"?
Answer: I dig the hippies. I dig 'em. I think the hippies… well, the hippies are dead, you know that. You knew that the hippie movement was buried and that there is nothing but long-haired Americans, and I guess that includes me. And there you are.
3. If I were to suggest you read "Stranger In A Strange Land" by Robert A. Heinlein, would you? If so, consider it a suggestion.
Answer: Listen, I suggest everyone read "Stranger In A Strange Land," that's my answer to that one. I'll also consider the suggestion from you and maybe I'll go back and read it for the fourth time.
4. What fault in a girl do you find most unforgiveable [sic]?
Answer: I hope to find nothing unforgiveable [sic].
5. What attribute do you find most admirable in a girl?
Answer: Faith. Not necessarily faith in something, fans, it doesn't have to be. Just plain faith. I believe in something—I believe I'm 5'10". I really believe that. But genuine faith you know. No, wait a minute, I take that back. More than faith is a will to get it straight. That's even more than faith, in some respects.
6. Skinny girls with short haircuts are supposed to be "in", how do you personally feel about this latest craze or fad?
Answer: Well, in so far as it is a craze or fad I feel about it as I do toward all crazes and/or fads which is that they are crazes and/or fads. How do I feel about skinny girls with short haircuts? If a girl is really pretty she looks pretty no matter what she does.