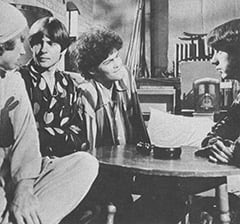 By Barbara Hamaker
How would you like to have the groovy job of working with the Monkees all day long, week after week? Pretty neat, eh? Well, there's one girl who does have this groovy job. She works at Screen Gems and sees the Monkees just about every day. Read about her experiences with them and how she almost didn't take the job!
When Barbara first took the job with the Monkees she didn't like them at all! She'd never met them before, you see, so all she had to go on was what she'd heard and that didn't impress her one bit. She thought they were copies of the Beatles and she really loved the Beatles, so she didn't like them.
She had read an article about them in another fan magazine that was a slam, and how was she to know it wasn't true? Because of this she never even turned on their TV show before she went to work for them. She took the job only because she was going to work with their new Press Officer who she worked for at a radio station. In other words, both their Press Officer and Barbara moved over to Screen Gems to work for the Monkees and her personal opinion of them didn't really mean that much at the time.
Opinion changes
"The first Monkee I met was Mike and that was on my first day at the office. He was standing up at the head of the stairs and we walked up and he said, 'Hi!' and he was talking about how they made 'Zilch' and at that time I didn't even know what he was talking about! He was my very favorite Monkee at the beginning. I had done all the planning and typing for the 'Last Train To Clarksville' promotional trip and as I watched him on the train I really grew to like him. Because I never got to talk to the other boys, they didn't leave an impression one way or the other.
"My opinion of Mike really grew at the beginning. He had an interview with someone from a magazine shortly after I began to work for them and he happened to have it in the office right next door to ours so I heard him talking about different things for about an hour. This really started my opinion changing because I quickly saw that there was a lot more to all the Monkees than I had suspected at first.
"I started watching the TV show, and reading articles about them (actually this was part of my job, but I started enjoying it, too). The first Monkee show I saw was 'Monkees On Tour' segment shot in Phoenix and San Francisco. It was the last show of the first season and I was very impressed. Then I started getting in on some of the recording and other things and my opinion sort of grew and grew the more I was exposed to them and what they were doing.
First concert
"Then I went to the Los Angeles concert and I thought, 'Well, they really are great!'. I was very pleased with them. Unfortunately, I didn't really get to know them until I went on tour with them. I was afraid of them, to begin with. I just didn't really know them and I wouldn't go up to them and say, 'Would you please sign this picture or do this or that.' After I'd gone on tour with them, though, I found out that they are really nice; they're human and they're very understanding."
As we mentioned before, Barbara took the job only because her boss was going to work for them and so they moved over to Screen Gems together. But, there was a lot more to it than that and she almost didn't take the job at all, which seems incredible to her now.
Early careers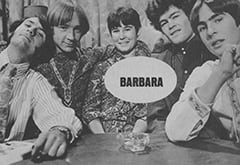 When she first began to think about what she wanted to do as a career she didn't even think about working in show business. When she was five years old, she dreamed of becoming a singer. Then she changed that idea and decided she wanted to raise cats for a living. Her ambitions seemed to get further and further out the older she got.
In high school she took a summer job at a camp for retarded children and she really thought she had found what she wanted to do. Barb worked there for three summers and just loved it. Then she took a job in a private home, caring for a retarded child. She really wanted to help retarded children so she went to the University of Arizona and took liberal arts, not realizing that it takes about ten years before you can even start to help these kids.
Came to Hollywood
Later she moved to Hollywood to live with her Aunt. For the first few months out here, she didn't do much of anything except the things she loved to do, like basket weaving and hobbies like that. Then she decided that she really needed money, so she got a job working in a place that photographs school kids and for her it was a lot of fun. She saved enough money to buy her car, which she really wanted so she wouldn't have to depend on anyone.
Then she enrolled in Valley Junior College and at the same time got a chance to go to business school. She had never taken typing or shorthand in high school, because she thought it was a waste of time. She thought business school was a waste of time, too, because she wanted an interesting job, not working as a secretary for several years. But she thought she might get a job typing scripts, which would be interesting. Later she found out it was not so interesting.
Business school
Barbara enrolled in business school, taking typing and speedwriting, which isn't at all like shorthand but with it you can write as fast as shorthand. She got to be very good at speedwriting, but not so good at typing.
After graduating one of the school's star pupils went down to radio station KHJ to apply for a job which she didn't get because the guy didn't like her. Then another girl went down and he didn't like her either. So the radio station called up the business school and said they needed a helper and the teacher suggested Barbara go down and apply.
Got the job
She was hired as an assistant to a secretary there, where she helped with typing and mailed prizes to the contest winners. She had been there only three weeks when the secretary was sick one day. Barbara was sitting at her desk and Don Berrigan, the station's Promotion Manager, came in and said, "What's your name, what are you doing here, what are your skills?", one right after another. Barbara didn't even know who he was! He dictated a three sentence letter to her and said, "You're hired; oh, by the way, would you like to be my secretary, I just fired my other one."
That's how it all stared. Barbara didn't even know how to answer a phone properly, but she must have done all right because when Don began discussing taking the job with the Monkees he told the producers, "I have this A-One secretary and I just can't get along without her and if I come, she comes." But Barbara didn't want to go because she liked the people and KHJ so much.
The beginning
"It sounds unbelievable, now that I think of it, because it was a salary raise and I'd be working at the studio with the Monkees. Well, finally Don came in one day and said, "This is it. I'm taking the job, are you coming with me?" I told him I didn't know and then he told me to go home and think about it. So I went home and thought about it and I just couldn't make up my mind. I thought, "This is stupid: I like the people at KHJ, I like going to work there in the morning, I like the guard at the gate," and I really was just being a chicken. Don called me in the morning and I said, "I'm not going". He gulped, but what could he say? So he went over to Screen Gems and was having a meeting with the producers and I was sitting in my office at KHJ.
Don's assistant came into the office and said, "Hey, I hear you're going to work with the Monkees." I told him I wasn't going to the take the job and he almost fell off his chair. He told me, "How could you? How could you pass up such a big job?" He made me think that I was being just a little kid who was afraid of something new so I called Don up, right in the middle of the meeting, and I said, "Don, I'll take the job." And that was that. So I went to work for the Monkees, even though I didn't know them or even respect them at that point."
Next month read all about Barbara's new life with the Monkees… how she toured with them… and all about the groovy birthday party they threw for her.