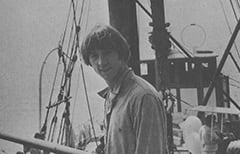 A Last-Minute Report of All The Monkees Action!
A lot happens to Micky, Peter, Davy and Mike every month! I am lucky enough to be on the scene as it happens because of the groovy job I have: As Micky's stand-in and as the Stage Manager of their in-person shows.
And, from now on, in every issue of FLIP, I'll be right here to tell you about everything that The Monkees did, are currently doing and hope to do in the future.
The boys have been very active this month.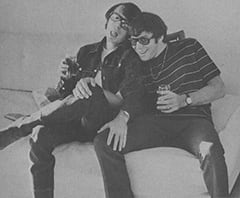 Micky bought a gyrocopter, which is a one-man helicopter. He's in process of assembling it right now. In his living room!
Micky also bought a Moog Synthesizer, which is a device which can theoretically duplicate any sound in the universe. It's a keyboard, not tuned to any scale, and three other units that resemble a large telephone switchboard. He used it on one of The Monkees' more recent recording sessions.
Micky has just completed putting an eight-foot high redwood fence around the house, complete with electronically-controlled gates. His downstairs recording studio is just about completed. The carpeting has just been put in (even around the columns in the room), and now Micky is waiting for his eight-track tape deck. And, as I am writing this, Micky is thinking of going to Mexico City next weekend for the Mexican Grand Prix. He wants to shoot the race with his 16 mm. movie camera.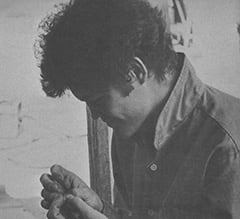 Davy is selling his house in the Hollywood Hills because he bought a 17-acre ranch in Malibu. The ranch has a guest house, indoor swimming pool, and stables. Davy wants to buy some horses as soon as he moves in.
His store in Greenwich Village, which is called "Zilch," has just opened in Greenwich Village in New York City. It's on Thompson Street, and its main thing will be Indian Robes, East Indian clothes.
Mike bought a new Cadillac limousine, and had the whole car pinstripped [sic] in white and all the windows tinted black. He and Phyllis are waiting for their new home to get finished, and also for their baby, which is expected around Christmas. They still haven't come up with names for Christians's [sic] new brother or sister.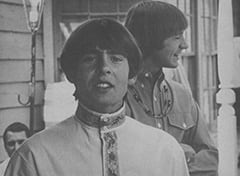 Peter is looking for a new house, and he has been spending a great deal of time with The Buffalo Springfield.
And, finally, I forgot to mention that Davy has taken out Sally Field, "The Flying Nun," a few times.
That's what's been happening with The Monkees this month.
See you next month. In the issue of FLIP out January 9th.