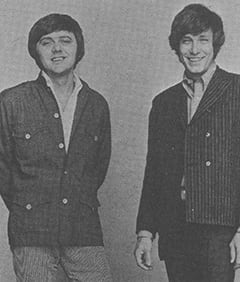 TOMMY BOYCE & BOBBY HART'S COLUMN!
Hi, FLIPers! Man, are we feeling good. We just got back from five days in Palm Springs. It was really groovy there, sort of hot, like 100 degrees, but at least there was no smog.
We haven't been doing any recording but we've gotten a lot of writing done, both for ourselves and for the Monkees.
Part of the reason we went to Palm Springs was that Bobby got sick and collapsed from exhaustion, so we took a week off just to relax and do some writing.
But now we're back at work. We just cut the theme song for the new Dean Martin movie called "The Ambushers." This is one of the few songs we've sung that we haven't written.
Hope you all saw us on "I Dream Of Jeannie" in October. We really had a ball filming it. And this month we're filming "Hollywood Palace." We'll be singing our new single, which we haven't yet cut, plus a medley of our hits.
Well, that's about it for this month. We're both hoping that one of us doesn't have to collapse to get back to Palm Springs. We'd both just like to be healthy and go back and relax and write more songs for us and the Monkees.
But right now we've got to get some of these new songs over to the Monkees and get ready to record some of the rest ourselves.
Take care and we'll see ya next month.
Mike and Micky off the farm: If Mike and Micky walked into one of their recording sessions dressed like this, Tommy and Bobby would probably think they were on a "funny farm!" But this rig was for a show, of course, and the next day The Monkees were hard at work again recording more of Tommy and Bobby's groovy hit songs!