Here are some outasite scoops on all the groovy guys and gals
Here is your chance to tell Candy Cotton which of the faves pictured here each month you want to see MORE of in future issues. You will find each of the 9 fave pictures numbered. All you have to do is write down on a separate piece of paper the NUMBERS of EACH FAVE you want to see back in next month's magazine. Mail the numbers, with your name and address to D'JA KNOW YOUR FAVE, c/o Fave Magazine, 1800 N. Highland Ave., Hollywood, California 90028—Attention: Candy Cotton.
Bobby Vinton, singing hitmaker, was nation's youngest professional band leader when he was still 15!
Lulu, whose record, "To Sir With Love" is top of the charts, was born in a castle in Glasgow Scotland.
Super-groovy star of "That Girl", found her own nickname. She couldn't say word "Margo", short for Margaret!
Spike Jones, Jr., ready to blast with his own group, is the son of a famous entertainer, the late Lindley Armstrong Jones: Spike, Sr.
Would you believe that groovy Yale Summers of "Daktari" is a college grad and ex-army man? His real name: Roy Neuvohner.
Can you believe that Peter McEnery is a Shakespearean actor between adventure roles for TV? For fun he fences and water skis.
Maurice Gibb, top tunesmith for the BeeGees, has a big thing for fluffy drowsy dogs, books with disastrous endings.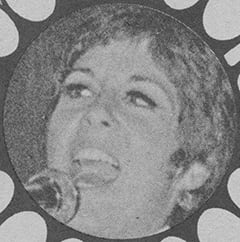 Deana Martin, Dino's big sister, has just made her singing debut. Dino had a special opening night party for her attended by Davy.
Barry Gibb was only 14 when the BeeGees' first disc hit. Like many other tunes "Three Kisses of Love" was by B-G's.