Hammonton, N.J.
Dear Paula,
You can write to FLASH in care of Roger Hart, 9126 Sunset Blvd., Suite 215, Hollywood, Calif. He has promised to personally answer every letter he gets.
---
Happening '68
Dear Miss Stavers,
Wow! I just heard the good news that MARK LINDSAY and PAUL REVERE are to be co-hosts on ABC-TV's fabulous new series, Happening '68. Could you give us some more info?
Cynthia Arbuckle
New Orleans, La.
Dear Cynthia,
Yep, it's a groove to have MARK and PAUL right back where they used to be—on a DICK CLARK series. The first show was January 6th, at 1:30 P.M. EST, and M & P will be entertaining us regularly every Saturday for the next hundred years (we hope!).
---
Luvs Monkee pix
Dear Miss Stavers,
Just a quickie to thank you for the greatest investment I ever made. I sent a dollar to 16 SPEC for your glitzy MONKEE booklet, Our Favorite Pix. When it arrived, I found it a real mind-popper! By the way, owning this little book has made me the in kid in my crowd!
Darlene Plaut
Cleveland, Ohio
Dear Darlene,
Thanx bags for the good words. Any of you other SPEC-babies who want to be "inzies," see Page 13.
---
Trip & Timmy
Dear Miss Stavers,
I just listened to Goodbye And Hello by TIM BUCKLEY. It is so movin' and groovin' that I just gotta write him a letter and tell him how great I think it is! Where can I write to him?
Trip Flowers
Goldsboro, N.C.
Dear Trip,
I, too, dig TIMMY's fab Elektra LP. You can write to TIM at Elektra Records, 6290 Sunset Blvd., Hollywood, Calif.
---
"Manolete" madness
Dear Miss Stavers,
High Chapparal is my favorite TV show and HENRY DARROW, who plays "Manolete", is my favorite regular on that show. Would you pretty please run a picture of him?
Jeanette Rogers
New York City
Dear Jeanette,
Here's a pic of that handsome hunk HENRY, and you can write to him at NBC-TV, Hollywood, Calif.
---
The Standells
Dear Miss Stavers,
Where can I write to the super-swingin' STANDELLS?
Marcia Waldeck
Chicago, Ill.
Dear Marcia,
You and all the rest of you STANDELL-rooters can write to the guys in care of Tower Records, 1750 N. Vine, Hollywood, Calif.
---
Sammy & Micky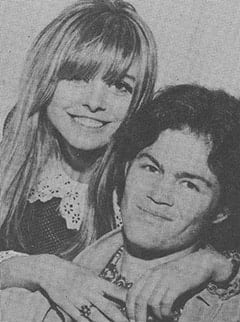 Dear Miss Stavers,
Is it true that SAMANTHA JUSTE quit her job in London and moved to Hollywood? I read in a newspaper that it looks pretty serious between MICKY and SAMMY.
Nancy Chappell
Toronto, Ont., Can.
Dear Nancy,
The last time I spoke to MICKY, he assured me that he is not about to get married. However, he spent a great deal of time with SAMMY when she was here this past summer—so nothing would surprise me. If MICKY and SAMMY do wed, I hope that all of you MONKEE-luvvers will wish them the best and remain loyal to MICKY and his three zingy pals.
---
Davy loves us!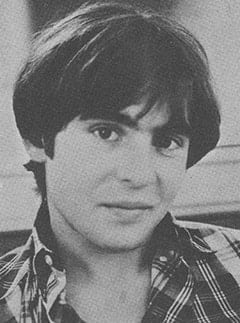 Dear Gloria,
Just a note to congratulate you and 16 Magazine on your new addition—16 SPEC. All I can say is, it's as good as 16—and that's as good as you can get!
DAVY JONES
Hollywood, Calif.
Dear Davy,
So glad you dig us. Guess we don't have to tell you how much we dig you!
---
Brendon Boone
Dear Miss Stavers,
Could you please print some info on BRENDON BOONE, who plays "Chief" on Garrison's Gorillas?
Karen Campbell
Bridgeville, Pa.
Dear Karen,
Here's a picture of BRENDON as "Chief". You can write to him at ABC-TV Center, Hollywood, Calif., 90027.
Magazine: 16 Spec
Editor: Gloria Stavers
Published:
Issue: 12
Publisher: 16 Magazine, Inc.
Pages: 68–69