Portland, Ore.
---
Mark quitting?
Dear Miss Stavers,
I read in a phooey magazine that MARK LINDSAY may quit the RAIDERS. I don't believe that this is true, and if MARK did decide to go out on his own, I think that he'd tell 16 and SPEC first. There's been so much upheaval inside the RAIDERS, I just couldn't stand any more. Please tell me the truth!
Betty Paley
Brooklyn, N.Y.
Dear Betty,
MARK has personally assured me that he has no plans at present to leave the group. He would very much like to make single records on his own once in a while, (like FRANKIE VALLI of the FOUR SEASONS does). I'm sure that if MARK is offered a groovy movie role, he will certainly take it. But, like I said before, at the present time MARK has no plans whatsoever to leave the RAIDERS. So stay cool, kitten.
---
Davy's buddy Jeff
Dear Miss Stavers,
I heard that DAVY JONES' buddy JEFF NEAL, who writes for 16 and is also an actor, was in the pilot film of Coronet Blue with Frank Converse. What's the scoop?
Mary Clearstone
Cleveland, Ohio
Dear Mary,
Yes, JEFF was in the pilot film of Coronet Blue. He was ten years old and this is how he looked.
---
"Bones" digger
Dear Miss Stavers,
Would you please run a picture of DEFOREST KELLEY who plays "Bones" on Star Trek and tell me where I can write to him?
Pat Smith
Tucson, Ariz.
Dear Pat,
You can write to DEFOREST "Bones" KELLEY care of Star Trek, NBC-TV, Hollywood, Calif.
---
Jim raver
Dear Miss Stavers,
The DOORS are here to stay! In a while, they will be as necessary as windows. Can you tell me JIM MORRISON's birthday and how I can write to him?
Holly Axelton
Panorama City, Calif.
Dear Holly,
JIM was born on December 8, 1943, in Melbourne, Fla. He now lives in Hollywood and you can write to him at 8063 Beverly Blvd., Los Angeles, Calif. 90048.
---
Wild about Alejandro
Dear Miss Stavers,
I'm wild about ALEJANDRO REY, who is a regular on ABC-TV's The Flying Nun. Could you please run a picture of him and tell me where I can write to him?
Miriam Sharney
Chicago, Ill.
Dear Miriam,
Here's a pix of ALEJANDRO. You can write to him at ABC-TV Center, care of The Flying Nun, Hollywood, 27, Calif.
---
Beatle friends all over the world were saddened by the death of Brian Epstein, 32, the Beatles' manager. Mr. Epstein was more than just a manager; he was a close friend to John, Paul, George and Ringo. SPEC and 16 readers extend their deepest sympathy to the Beatles and all of those who share their sorrow.
---
Anthony fan—Lynne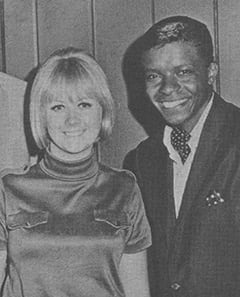 Dear Miss Stavers,
When the MONKEES were staying at the Eden Roc during their tour, my parents took me to the nightclub there to see ANTHONY & THE IMPERIALS perform. LYNNE RANDELL was in the audience, and afterwards I snapped this shot of her with ANTHONY. She was really sweet and she told me she did the Australian version of ANTHONY's hit Going Out Of My Head and it became number one there!
Magazine: 16 Spec
Editor: Gloria Stavers
Published:
Volume: 6
Issue: 3
Publisher: 16 Magazine, Inc.
Pages: 68–69