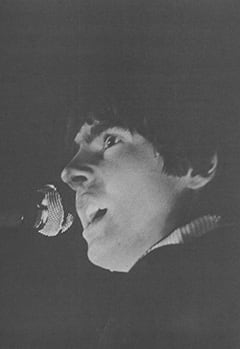 By FLIP'S LONDON EDITOR!
I missed the first Monkees concert in Britain at the Wembley Pool because of one of those overbearing people who sometimes guard stage doors and refuse to recognize a Press pass. Fortunately, I had Mike Nesmith on my side through these troubled times. Noting my absense [sic] on the first night, he rang my home to inquire "where was he?"
For the second concert I travelled first to the Royal Gardens Hotel and acquired from Mr. Nesmith a cardboard badge of great import. "These backstage passes are like gold dust!" he drawled, handing over a yellow disc.
Mike was in a humourous mood and was making a call to a friend in San Francisco. It was 4 am in the morning in Frisco!
"Hi, Steve, is that you," Mike gabbled down the phone to his friend in Frisco, "Look we need you out here right away. Now here's what you do. We've got a Cadillac picking you up from your home in 30 minutes so throw everything in a bag and drive up to Ohio. From there you can pick up my private jet which will fly you to New York. Now when you get to New York pick up flight 257 to Paris. There's a problem with you having no passport so we are getting you in by the back door. There's a private helicopter waiting for you in Paris and it will take you to England. Now we've got to land you in a field just off St. Albans but there'll be a jeep waiting to pick you up and rush you right round to the hotel—got all that. Here's David."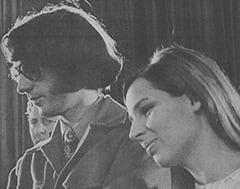 And Mike hands the phone to friend David and waits to see what reaction comes babbling across the Trans Atlantic line from Frisco. "What did he say?" whispered Mike to Dave, who is grinning hugely and holding on to the phone. "He says his legs have just dropped off," retorted Dave.
The whole thing was, of course, a great practical joke, but for one terrible moment poor old Steve in Frisco was on the way!
Mike informed me later that he really does have a privately owned Learjet out in Ohio but he can only use it for trips about America and not on the Trans Atlantic run. He went on to talk a little about the friends and enctourage [sic] accompanying the Monkees on their tour here. "People like our stage manager Ric Klein and David Pearl have been with us right from the early days. We were all tramps around San Antonio. We know we can trust them."
Mike's wife, Phyllis, was flying in the following day and to say he was looking forward to seeing her would probably be an understatement. He was feeling a little exhausted and when you get tired and just a little sorry for yourself it does not help to know your wife is 5600 miles away. He talked to me about his home.
"It's a house where everything that can be automatic is automatic," smiled Mike. "I'm machine mad! The house was called Villa Antillo [sic] but I changed the name to Arnold." All the doors in Mike's house open to the spoken word "Love" and the kennel for his patrolling German sheepdog 'Frack' can be operated from his car.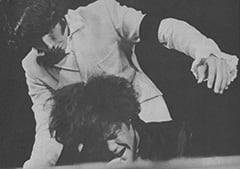 All the Monkees, particularly Micky, were upset by the reaction from their audience the first night when they flashed a picture of Mick Jagger on their screen during the light show. "They booed," Micky told me later, "That was terrible—we were all wearing black armbands in support of their appearance in court. And the kids booed—we can only hope that they were booing authority and not the Stones. We are really concerned that the Stones should be acquitted."
That night at the concert in the Empire Pool the Stone's photograph was greeted with cheers and the Monkees wore smiles to testify their approval. Behind scenes at the concert everything was in the usual state of chaos. Davy had invited his entire family and friends down to see the show.
"The greatest kick of all is to come back home and be able to play in front of your family and friends as a success," said Davy. "I just took Lulu out to meet my sisters—she was really nice and I kind of made an excuse for her to leave saying 'well she's got to go now for make-up and everything' and Lulu turned to me and said 'No, I don't!' That was nice—she really knows what it's all about."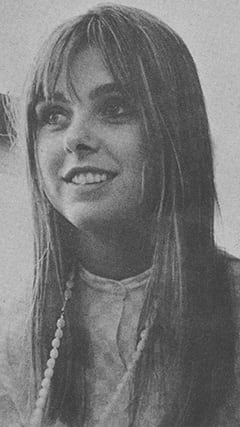 Micky was dashing about with Polaroid camera taking pictures of everyone and insulting his girl, Samantha, as only good friends can. His favorite phrase for her appeared to be 'Come on, you gungy bird' and 'Get out of my life,' neither of which he meant. These two are really devoted to one another and any further commentary on the matter from me would be a needless invasion of privacy.
Peter Tork had been watching the show from a deserted dressing room over the other side of the auditorium. "Hey, Lulu is great tonight," he informed us all in the dressing room, "What a fantastic live performer she is! I saw her on the Johnny Carson show in the States—was glad she was on our tour then but I'm even gladder now."
Just prior to the group going on stage, Ward Sylvester entered the dressing room with a briefing on how they were to get away that night.
"There will be a decoy car," explained Ward. "You run straight through this and into the saloon. We've got a double for Davy that we are moving out the other end to attract attention."
"I hope they don't hurt," said Davy and dropped the subject.
The Monkees made ready for battle and Davy noted a small blemish on his chin.
"You look terrible tonight," said Mike warmly.
"Thanks," said Davy, "I feel terrible."
"When you get out there 10,000 people are going to leap to their feet and yell—look at that pimple!"
This kind of back chat prior to the show is all a part of the group's attempt to remain calm and lessen the tension. Mike and Davy went through their 'Mr. Short' and 'Mr. Tall' routine which really defies description.
The show itself was an enormous success with Micky's take on the James Brown routine going down like the proverbial bomb (and in England if you do a bomb it's good) and Davy's solo punctuated by screams of unbelievable intensity. The Monkees are certainly one of the hardest working acts I have ever seen and value for money.
"Did y'like it?" yelled Mike, as he shot off stage at the end of the performance and out into the waiting car. A smile was the only affirmation I could offer before he made the breakaway to the car.
On the final day of the concerts I dropped round to the hotel for a last chat and ran into Rolling Stone Brian Jones, who invited me to join him downstairs for breakfast. He had been at the Monkees hotel all that night, bringing in a constant stream of sitars, dulcimers and guitars to play as he sat and chatted with the group.
Downstairs in the breakfast room we found Micky with Sammy and joined them over orange juice and toast. "I've been in Rome," said Brian, "I went straight out there after watching the Monterey Festival. It's really beautiful and sunny out there—everything seems very dark here."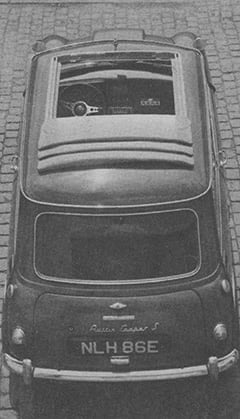 Micky wanted Brian to come and watch the last show that night and they were trying to think of somewhere Brian could watch in privacy. "We've got Hendrix on our American tour," said Micky enthusiastically, "That should be really groovy." The irony of that remark is only apparent now that Jimi had to leave the tour!
Finally the Monkees departed once more unto Wembley. Micky went to Paris with Sammy the following day. Mike stayed secretly and quietly at the hotel. Picked up his new mini which broke down on the test run—I should have loved to have seen his face during that fiasco! And Davy fled North to Manchester to see his father.
The three days that I spent with them were hectic, wild, tiring but worthwhile—for the Monkees are a very human group!