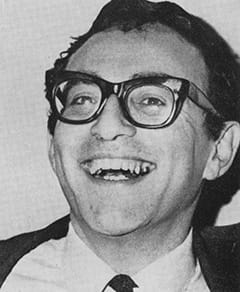 At one Carnaby Street boutique, Samantha was there while Micky ordered about £200 worth of clothes.
They were happy just to be in each other's company… just sitting and talking and making a cup of coffee last an hour and not even noticing it had gone cold. They shared the same strange experiences. Like when Micky appeared on BBC TV's "Twenty-Four Hours" and they left together, along with Cyril, and Micky said he'd like to try some fish and chips. "Out of newspaper?" asked Cyril. "Gee, yes", said Micky—"I've been told they taste best that way…"
So they called into a Shepherd's Bush chip shop and ordered up. The girl behind the counter took a quick double-take look at Micky. "Aren't you?… haven't I seen you somewhere before?" she said. Micky said he guessed she could have. "But aren't you… aren't you one of the Monkees? Aren't you Micky?" Micky agreed that he was, holding out his hand for his bag of fish and sixpenny-worth. As he nodded, so the girl collapsed. One second she was standing upright, the next she was lying on the floor. Micky was terribiy embarrassed. As she was fanned and fussed over, he tried to pay. All he had was a fiver and he still didn't understand English money. He passed it over… to pay for a seven shilling bill. It delayed his getaway and he was obviously badly shaken by the incident. Sammy just laughed it off… "that's what you should expect as a Monkee", she said.
The time came for Micky to return to America. It was a sad, tearful farewell but they'd made plans for Micky to meet up with her in America. In fact, she's now made the trip twice to see Micky and meet his friends… at the time of writing she is once more planning another visit after having to return to London to look after her plans in launching a new Carnaby Card range of clothes.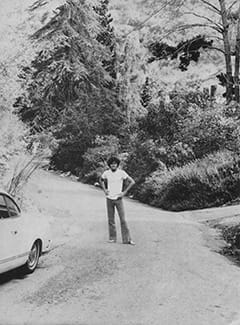 When the Monkees came to England for their appearances at Wembley Pool, Sammy met up with them earlier in Paris. On the comparatively few days they have been apart since that February meeting this year, they have never let a day go by without phoning each other. Cyril gasps at the expense of it all but he adds, grinning: "It just proves that it is the real love thing". He says he knew it from the first time Micky and Sammy shook hands.
He says: "It's that way he has of looking a girl straight in the eyes. They go kind of weak at the knees. I remember a girl reporter from a well-known magazine coming in to interview him at the hotel. She carried a pencil and a note-pad. But after he'd looked right into her eyes, she just sat there… couldn't think of a single thing to ask him. He padded around the room, but nothing happened. She left without making a note".
Micky feels that much better when Sammy is around. On the recent U.S. tour, she's been there for every show. She never gets bored seeing the Monkees on stage day by day. She says: "They're one of the most exciting and stimulating acts in the world".
At Wembley Pool, she didn't miss a show. She sat in the same seat in the VIP balcony show after show… and you could see Micky several times look up towards her. His eyesight is NOT too good at distances but he knew she'd be there, in the same seat. And afterwards, in the quick getaway that was so necessary with the big crowds outside, Sammy often raced into the disguised van that took the boys back to their hotel… and shared the hectic journey with them.
During this tour, too, Micky went to meet Sammy's parents. They liked him instantly. They could tell just how much the two meant to each other. And in the evenings, Micky and Sammy went hand-in-hand to various clubs round London. Micky, impulsively generous, invariably picking up the bill for drinks and steaks and sundries for many people he barely knew.
They went on one promotion visit to the zoo. It was then that Sammy realised just how keen Micky is on children. There were hundreds of them gathered around him, as he made them laugh and sing… he just liked talking to them. As for the loyalty of fans—well, Micky was always talking to Sammy about it. He showed her a huge Gonk, obviously very expensive, which one girl had saved up for ages to buy him. There were tears in his eyes as he talked about this side of being a Monkee.
Sense of humour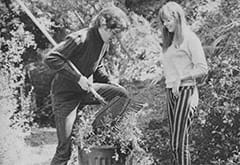 The other Monkees all get on very well with Sammy. She likes them; and they like her. On tour in America, they were inevitably together a great deal but there was never any sign of strain between them. They all share the same way-out sense of humour.
Of course Micky and Sammy don't talk openly about marriage, or engagements. The rumours start and they parry them with off-beat answers. It's already been said that they've been married in at least ten different places on ten different dates. All they know is what THEY feel inside and that's enough for them.
If it's any sort of hint, though, Micky has said to Cyril Black: "When, or if, we do get married, I want you there as best man(Ric Klein would be best man at Micky's wedding.). You're the guy who started it all off." Cyril has agreed. He likes them both… as friends.
And as for Micky and his sentimental feelings about the romance. Remember an out-of-the-blue appearance by Micky on "Top Of The Pops"? Some people thought it was a bit of a gimmick idea but it really happened that he went on, completely unknown to the producer, while the programme was actually on the air. He'd told Cyril: "Before I go home, I wanna go back to that place where I first saw Sammy. It's a moment I want to recapture."
They went and Micky created his usual sensation with the fans. And afterwards, they went to the BBC club to have a few drinks. Said Micky: "This brings back such happy memories. Such wonderful memories."
Even the fact that the doorman wouldn't let Micky in until he'd signed the register didn't change his mood.
They were, reports Cupid Cyril: "As happy as anything."
And as he added finally: "It's certainly the real love thing… I'm sure of that."
They're two very busy people but they've always got time for each other.
THE END