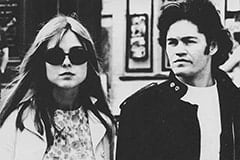 It was a head-on collision all right but… nobody got hurt. A pair of hazel eyes searched restlessly over a crowded television studio. And they met a pair of green eyes. Despite the distance between them, hazel looked into green. And there was an explosion. Though the only people to actually hear the supersonic bang were the owners of those two pairs of eyes.
The hazel eyes belonged to Monkee Micky Dolenz. The soft greeny-blue ones to Samantha Juste. And if you don't believe that bit about there being an explosion of atomic power well, ask Micky about it. For that was really the moment when the romance between the magnificent Monkee and the "Top Of The Pops" girl started.
And sentimental Micky tells all his mates that it was a moment he'll never forget. This is the true story of how it all started. What actually happened. What Micky and Sammy really think about each other. What we can't say is whether they will get married; plans change so fast for two successful people involved in the whirlygig world of pop music.
Let's go back a couple of days before hazel met green, or Sammy met Micky. Two Monkees, Micky and Mike Nesmith, had arrived in London for personal appearances on telly and radio. They were staying at the Grosvenor House Hotel in plush Park Lane. Reporters and photographers thronged the reception area. Fans clustered outside. For a time it looked like a siege.
Special passes
Those of us who got through the security arrangements had to have special passes. It seemed that the whole world wanted to get to see the VIP pop marvels.
One person who had no problems getting in was music-publisher Cyril Black, dark-haired and bespectacled—the Monkees' representative in London. He soon became friend, confidante, adviser, fixer for the boys. Especially for Micky, the first to arrive—the one who pluckily took the brunt of the first "live" questioning of the Monkees as a new pop sensation. Some of the questions were tough, mighty tough. But Micky coped well, despite being just about dead-tired after his flight.
Upstairs trooped Micky, just a handful of us following. He talked to Cyril Black about what he could do with any spare time he might get. "I wanna see the sights of London town", he said. "It's my first time. And gee, I don't wanna go round on my own. Do you know any nice girl who'd like to be my guide? Not someone whose gonna gawk at me and use me as a sort of show-piece. Just a nice girl".
Arranger and guard
Cyril promised to think about it. He had umpteen other things to think about. Like arranging for Micky and Mike to get to "Top Of The Pops" to receive an award from Jimmy Savile (Savile was later revealed to be one of Britain's most prolific sex offenders) for their big hit "I'm A Believer". Sounds easy enough just hop into a car and get there. But when you're virtually a bodyguard for stars that everybody wants to meet, it's not so easy.
Anyway, they managed to make it to the studios on this February Thursday evening. The actual business of receiving the award was soon over, Jimmy making a small speech over a mass of screams. There were fans seemingly everywhere in the corridors and Cyril felt the best thing was to rush the two Monkees back to the dressing-room as fast as possible. From the stage, the little party clambered down the steps leading to the main floor of the studio—and the way out. Mid-way down the steps, Micky gazed across the heads of dancing fans. Peered more than merely gazed, actually, because he is rather shortsighted. He pointed in a general direction and said, urgently, to Cyril: "Who's that girl over there?"
Cyril looked and saw at least a hundred girls "which one" he asked. "THAT one… the one in the green dress with the long hair" Micky replied. Cyril looked again. "Oh, that's Sammy. Samantha Juste," he said. "She works on the show." He added: "C'mon Micky—let's get out of here. You'll cause chaos if you hang about here…."
Micky sighed and pressed on. Along the corridors, hurrying like mad for the safety of the dressing-room, he turned quickly to Cyril and said: "I MUST meet her, Cyril. Do you know her?" Cyril nodded and rushed on, pushing Micky ahead of him. Their getaway from the studios that time was fairly easy and soon they were purring back to the hotel in a limousine.
Had to go
Once back in the room, Micky said: "Can you ring that girl, that Sammy, right now?" Cyril nodded. He rang through to the BBC club near the studio and asked for "Miss Samantha Juste". Soon she was on the phone. "How would you like to come over and have dinner with Micky Dolenz this evening?" he asked. "Love to," said Sammy. And then she dropped her bombshell.
"Will it be all right if I bring my boy-friend?" she said. Near collapse of Cyril. He explained gently that it would probably be a bit awkward. He said it wasn't to be a big party, that Micky just wanted to say "hi" to Sammy, having seen her at the studios. Sammy agreed she'd come alone.
Cyril offered to send a car to pick her up but she arrived by taxi. Cyril went down to the hotel lobby to escort her through the security "guard". They arrived at the Dolenz suite and went quickly inside. Cyril introduced the two. Micky, with a welcoming smile, stepped smartly forward and shook her hand. "Great to meet you," he said. And he looked deep into her eyes. As Cyril has said since: "It seemed to me that an immediate change of personality came over Micky. He'd been clowning around as usual, but once he met Sammy he seemed to change. He was quieter. And in no time they were completely relaxed together."
Dinner with friends
In fact, they had dinner in the suite. Cyril was there, helping with the ordering. Spencer Davis and his wife turned up and several other couples. A small party but an enjoyable one. Micky ordered chicken; Sammy had steak. Micky, as usual, stuck to orange juice or Coke; Sammy had an occasional Scotch and Coke.
The conversation was general. Micky talked more about Sammy and what she did and what her ambitions were. There was little Monkee talk, just general chat. But in any quiet moments, Micky and Sammy could be seen chatting earnestly to each other. And every so often he'd break off courteously to add his contribution to the joke-telling scene that started.
The party went on until the early hours. Sammy herself didn't go until around 3.30 a.m. As Micky lightly kissed her, he reminded her that she'd promised to take him on a shopping tour the very next day. She nodded and said: "There are some other places you should see, too."
Recalling this, Cyril Black has said: "Whenever their eyes caught each other, it seemed to me that there was an instant twinkle in them. They had this understanding. This really was Romance with a capital 'R'."
Good photographer
In his job as general "fixer", Cyril laid on a limousine to take the couple to Stratford-on-Avon, William Shakespeare's birth-place—this a couple of days after the couple had first met. Micky's a very good photographer and on this day he took five or six rolls of Sammy, all in the countryside. They went shopping, too, in boutiques in Chelsea, Kensington and Carnaby Street. Micky bought lots of clothes, always asking Sammy if she thought they suited him.
In fact, they were seldom out of each other's sight. When Micky had some spare time, they went out. The evenings were spent in the comparative seclusion of the hotel suite, usually with other friends. They went once or twice out to a club the sort of club where top stars can go without being stared at or badgered for autographs. They sat, usually in a quiet corner, holding hands, talking about America, about their childhood memories… about little trivial things that appealed to both of them.
Of course, Sammy was "badgered" by people who wanted to know what Micky was like. She received a lot of letters from fans who envied her. But she believed that Micky's personal life, and her own, was not for everybody to share. But she said how much a family man Micky was, how he spent hours shopping for gift clothes for his two younger sisters back in California.
Great guy
And she admired him for the patient way he dealt with interviewers, often giving them much more time than had been promised. As she told her friends: "Micky is a great guy. But remember he's really here on holiday and he deserves some time to himself…"
Micky talked of Cyril Black as being his own "Cupid". He gave Cyril a marvelous bottle of Scotch whisky from Harrods as a going away present.
He talked about Sammy's own career how she was planning to make another pop record, how she was launching her own range of designed clothes. He gave her presents, like a hand-bag and dresses. Most special gift of all was a gold necklace which Sammy now treasures and is seldom without.
More about Micky and Sammy next month!