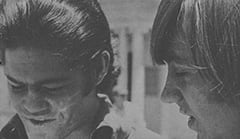 Help! This has to be the most fantastic contest of all time! The letters containing entries for the Outasite Monkee Contest are sailing into fave thicker than the 'lil colored confetti papers that float down on Times Square on New Year's Eve!
The poor postman's back is getting stooped and fave office "slaves" are moving out the furniture to make room for more entry blanks. No sooner than they get rid of a desk and chair to make room for the mail, another sack full arrives. The letters are coming faster than the automatic letter opener can manage them. And—the contest still has five weeks to run! By that time fave may just sink into the ocean under the weight of Monkee Contest Mail.
But keep sending your entries. You have until midnight, Wednesday, November 1 to get your Contest Entry Letters postmarked and in the mail. Everyone who loves the Monkees is eligible to enter—and that includes all the fans up in Canada, too. fave never meant to restrict the contest just to the fans in the U.S.

To review The Outasite Monkee Contest for fans who are just this minute finding out about it, this contest is EVERYBODY'S DREAM COME TRUE… and The Winner could be YOU! The winner will be flown to Hollywood (along with a parent or chaperon) to Meet the Monkees, with all expenses of the weekend visit paid by fave
In addition to meeting the fabulous four, Miss Outasite Monkee Contest winner will ride in the Monkee Mobile down Hollywood Boulevard and have as her escorts either two of the Monkees, or their stand-ins. You will be guest at famous Monkee "haunts" such as Hamburger Hamlet, Wil Wright's Ice Cream Parlor, Screen Gems Columbia Studios, Hullabaloo and many, many more!
And that isn't all! The Monkees will personally select articles of wearing apparel for the winner—enough for one complete outfit. Davy, Mike, Micky and Peter will personally select your groovy mini-shift, your flower pin, your floppy hat and your mod bag. Also, each boy will pin his personal gift card on the clothes.
Don't let time slip by. Get your entries in the mail Today! And be sure to enclose your latest black and white picture. And here's a clue. fave is looking for entries as outasite as the Monkees themselves—your very own original, never-before-expressed thoughts on the subject: "I Like the Monkees because…" This is very important. The winner doesn't have to be the most beautiful girl in the world—in this contest it's the thought you express in those 25 MAGIC WORDS!!! Remember, the Outasite Monkee Contest deadline is midnight, Wednesday, November 1. The winner will be announced in the January issue of fave which goes on sale at newsstands nationally on Thanksgiving Day, November 23.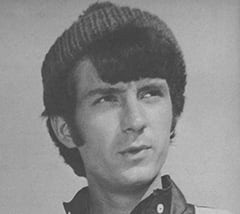 Hurry! Hurry! Contest closes Midnight, Wednesday, Nov. 1. Mail entries now!
fave Magazine's Official OUTASITE MONKEE CONTEST Entry Blank (To be eligible for entry, use this form or reasonable facsimile) and send to: fave MONKEE CONTEST, 1800 N. Highland Ave., Hollywood, California 90028. In 25 words or less, write in your own way, "I LIKE THE MONKEES because…"
DON'T FORGET TO ENCLOSE YOUR LATEST BLACK AND WHITE PICTURE!!!!