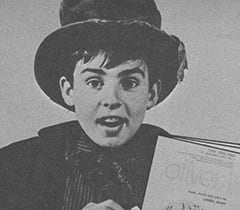 (Formerly in the London company of "Oliver") Lee Armstrong is a twenty-year-old English girl, who appeared in England's The Sound of Music. She also played the part of "Bet" in the London production of "Oliver," during the time the fantastic Monkee, Davy Jones, played the role of The Artful Dodger. She and Davy performed together for several months when she was fourteen and he was fifteen—before he came to America in the show. Although there were several Artful Dodgers while Lee did the play, Davy remains very clear in her memory. She recalls many of them for you in this exclusive feature for Fave.
Imagine the thrill of being in a long-run smash musical play—especially one in which one of the main characters, The Artful Dodger, is played by that heart-stealer, David Jones.
Of course, this was about six years ago and half-way around the world, but how could any girl ever forget such an outasite-type experience? I certainly couldn't.
David, as he was known to me and to the rest of the cast, couldn't have fit the part better. The Artful Dodger is the main comic element in the play, and David's a comedian through and through. His energy, charm and wit made the rascally pickpocket, The Dodger, a lovable character. The audience just couldn't help but like him… and want to spank him at the same time.
It seemed easy for David to bring life to the part when, in fact, he had to work at it. Although he had a lot of The Dodger in him, he would sometimes sit out in the theatre to concentrate and observe the rehearsal when he didn't have to be on stage. He worked well with the cast and the director—it's a give-and-take sort of thing, you know?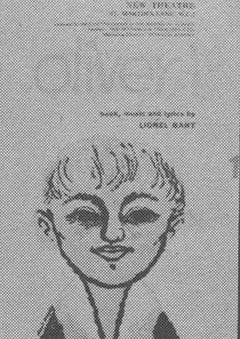 I remember the impression he made on me when I joined the cast. At first, he seemed very independent. We always had to have chaperones if we ever stepped outside the theatre, and David didn't like this one bit! He was a tough lad; he seemed just like a spirited colt.
Another impression I got was that David Jones is a born entertainer—very expressive—and we could tell he loved it. He really got a kick out of flirting—with the girls backstage (yes—even then!)… and with the audience.
I recall in one scene he was talking with "Oliver," asking him if he had money and lodging, in a darling, drawn-out Cockney accent. Well, this lady in the front row started laughing, and David turned around and said with a cocky grin, "You liked that, eh?" Everybody cracked up! He has great audience contact and appeal.
In another scene, The Dodger steals a handkerchief, "Oliver" is accused, and everyone starts chasing him and overturning fruit carts. Well, as you can imagine, with a bunch of boys, it would often turn into a free-for-all. They'd really get carried away and guess who would be right in the middle of it every time. David, of course!
Yet, with all the ad-libbing and pranks, he always managed to keep the show alive and very believable. I think he gave it strength. We always had fun doing the show and that's what he wanted.
I can still picture him as The Dodger—standing with his thumbs in his vest, looking very cocky—in an old, beat-up top hat and dark, raggedy suit, a clashing tie and knee socks (which were supposed to keep falling down and being pulled up). His hair would be flopping in his eyes and the audience would fall in love with him as soon as he stepped on stage.
How can I best describe David Jones as I knew him? He just seemed to be a sensitive, good person, with a love for fun and a great capacity to give.
And that description is just like the Manchester Monkee that we know and love today!