Davy, Micky, Peter and Mike introduce you to America's fastest-rising new group!
Not so long ago Boomer Clarke, Travis Lewis and Monkee buddy John London got together and decided to form a group. They invited Ken Bloom and Johnny Raines to join them, and soon they were belting out such a groovy sound that the Monkees themselves became the number one fans of the group—which has been named the Lewis & Clarke Expedition. L&C record on Colgems Records—and we hope you dug their first release I Feel Good, I Feel Bad backed by Blue Revelation. Hang loose now, luvvies—Davy, Mike, Micky and Peter introduce you to America's fastest-rising new group!
Boomer Clarke (Center)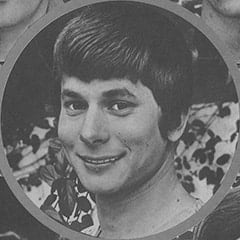 Lead singer and second lead guitar player for the group is adorable Boomer Clarke. He has just turned 20, is an inch under six feet tall and has ash blond hair and blue eyes. Boomer spent his childhood in Texas, and he now lives in a bachelor apartment in Hollywood. He's very single—as are all the guys in the group—and likes tall girls who are natural, friendly and who have a streak of the "pioneer woman" in them. On a date, Boomer likes to visit jazz clubs, go to concerts and have dinner at his favorite restaurant—Player's Choice on the Sunset Strip (where Southern-fried chicken and down-home cookin' are the specialty).
Travis Lewis (Upper left)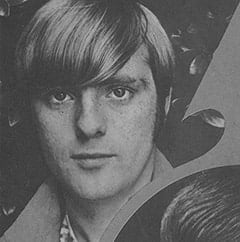 Travis Lewis was born on March 14, 1947, in Dallas, Texas. He is five feet and ten inches tall, has blond hair and bluish-gray eyes. Travis also lives in Hollywood now—in a Mexican-type private home where his pussycat "Mrs. Twitcher" keeps him company. Travis plays lead and rhythm guitar with the group and rotates singing lead with Boomer. His favorites include Star Trek, turquoise blue, and steak dinners. He likes intelligent, unaffected girls who are polite and respectful to all people. On a date, he loves to go to the theater or to catch a really good movie. He also likes driving around in his little Volkswagon [sic] at night, diggin' the sights on the Strip.
John London (Lower right)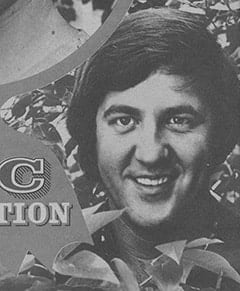 John London (who, as all you 16-ers know, is Mike Nesmith's best friend) is a six foot-two, 22-year-old Texan who plays bass guitar and sings harmony. His personal favorites include Neil Diamond, Elke Sommer, the Monkees and anything that is green, brown or blue. He likes girls who are super-sincere, completely relaxed and natural, and who are open and honest. John thinks that inner qualities are more important than looks and personality. He likes to do "surprise" things on dates, like going to a shooting gallery, to an amusement park or to an ethnic section of L.A.—such as Chinatown.
Ken Bloom (Lower Left)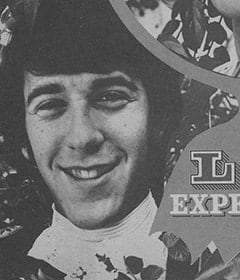 Ken Bloom was born on June 12, 1945, in Los Angeles. He has brown hair and eyes and stands at an even six feet tall. He lives in a small English-style home in Beverly Hills, and his favorite pet is his turtle, which his younger sister Ellen (14) named "Sinarka." Ken is a one-man, 60-piece symphony orchestra. To name a few instruments, he plays lead guitar, sax, flute, French horn, dobro, veena—and he is presently studying sitar with Ravi Shankar. Ken, who is on the quiet side, goes for intelligent girls who enjoy good, but not serious, conversations on a variety of subjects. He likes long hair, naturalness and vivacity. On a date, he really digs going to "picking" parties with friends—that's when everybody sits around and picks out tunes on whichever instrument they play. He also likes to go to folk clubs or classical music concerts.
Johnny Raines (Upper right)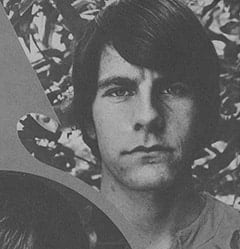 L&C drummer Johnny Raines will be 20 this coming November 8. He is six feet and two inches tall and has brown hair and blue eyes. He lives with his family—mom Katherine, dad Joseph and one older sister also named Katherine—in a charming white woden [sic] house in Canoga Park, just north of Los Angeles. He has a cat, "Birdie," and a turtle named "Oscar." Johnny, who also sings harmony with the group, digs the Rascals, Buddy Rich's drumming, Steve McQueen and the colors brown, blue and red. He thinks TV is a real drag. If you want to win his heart, make him a home-cooked dinner—have pork chops, potatoes and garden peas. Johnny likes girls who are cute, but not necessarily pretty. He prefers brunettes who are not too tall. He hates girls who argue and digs intelligent girls who are talkative, but cool.
You can write to the Lewis & Clarke Expedition c/o Screen Gems, 711 Fifth Avenue, New York, N.Y. 10022. Every letter and postcard will receive an answer. Be sure to put "I Am A 16 Reader" on the outside of your envelope.