That groovy Monkee look and how it came about!
About the author
Gene Ashman was born in Los Angeles. At the age of ten he moved to New York City, where he studied classical piano for five years. At 15, he returned to L.A., and while studying history at the University of Southern California he became interested in designing costumes. Since then Gene has become one of the most sought-after costume designers in the movie and television industry. His credits include The Eddie Duchin Story, The Harder They Fall, Who Was That Lady?, Circus Boy (yes, Gene designed the outfit Micky wore on the show), Bewitched and The Monkees. Currently, Gene is designing the costumes for Funny Girl.
When I was designing costumes for Bewitched, Bert Schneider called me in for an interview. One of the first things he asked was, "How do you feel about young people?"
I thought for a minute and then I said, "The kids of today are very interesting and exciting and, clothes-wise, are into something quite different from anything that has ever been done before."
Mr. Schneider seemed pleased with my response and told me all about his upcoming TV pilot, The Monkees. After describing the wonderful and zany idea to me, he told me he would make arrangements for me to meet Davy Jones, Micky Dolenz, Peter Tork and Mike Nesmith—the four boys whom he and his partner, Bob Rafelson, had chosen to be the Monkees.
To tell the truth, when I first met the boys I was shocked by their long hair and uninhibited mannerisms, but as I sat and talked with them I soon saw their separate personalities emerging. Here, in a nutshell, is what I saw then:
Davy—young; energetic; fantastic ideas.
Mike—a little reticent; serious-minded; artistic.
Micky (whom I had known from Circus Boy)—totally inventive; no one can know how great he will be—even himself—until he channels his energies.
Peter—very sensitive; great humanitarian qualities; excellent singer and guitarist.
First meeting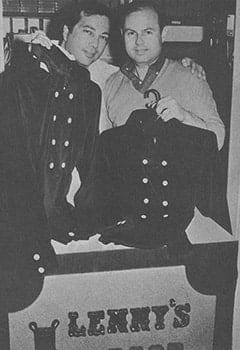 My first meeting with the Monkees was at night, after they had spent all day rehearsing for the show. We sat around and discussed their likes and dislikes. We decided that we definitely wanted the Monkees' clothes to reflect their individual taste, style and personalities. We wanted to avoid the Carnaby Street look, the "Mod" look, or any other well-established look. Ultimately, I decided that although all of the Monkees' clothes would be derived from basically the same design, their aforementioned personalities were to emerge through their clothes. All of Mike's things would have a definite Western flavor. For instance, he would have ten-inch side vents on all his jackets, like the Western gamblers used to wear. Micky's jackets would be a one-button, double-breasted, rolled collar cut—reflecting his casualness. Peter's jackets would be a very slim, two-button, double-breasted cut—form-fitting with lots of freedom of movement. And Davy (who was the most style-conscious of all the boys) would have two-button, double-breasted jackets with a slight English flavor.
Now, all I had to do was find a shop to give me the inspiration and basic design patterns that I needed. First, I went all over L.A. and, believe me, that's a great big city. I was shocked to find nothing that was right for the Monkees. I headed for San Francisco, and after several days of searching through the mens' shops there I came back to the studio tired and dejected. I don't believe in Fate, but I really think she was watching over me at this moment. I was almost ready to give up when—on the way to grab a sandwich at the Copper Skillet, a block from the studio—I passed a little store which sold very hip clothing for men. I looked at the sign. It said: Lenny's Boot Parlor.
I thought—what a strange name for a store—and I wandered inside. The first thing I discovered was that Lenny's was not just a boot parlor. It was one of the grooviest men's stores I'd ever been in. I was fascinated by everything I saw—shirts of endless design and pattern, pants in every fabric and cut imaginable—plus an array of the most beautiful boots ever.
"Hi, a friendly voice greeted me. "I'm Lenny Able. Can I help you?"
"You sure can," I said, and I sat down and told Lenny my story. He, like me, became fascinated by the idea of creating clothes for the Monkees. He could share my enthusiasm, digging the whole idea as the grooviest challenge ever.
"What's the budget?" he asked at one point.
"$700," I said sheepishly, and he looked at me as though I were crazy and didn't say a word. He just went right on raving about the clothes that could be created for the Monkees. (Usually, "wardrobe" for a TV pilot is scaled at about $2,000. The entire production cost for the Monkees' pilot was originally scaled at $100,000 and ended up at $300,000, but I exceeded my wardrobe budget by only a few hundred dollars—quite a feat.)
The Monkee look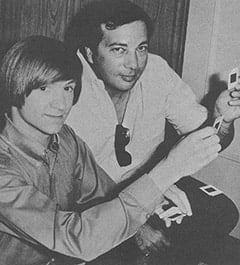 The first innovation I came up with was a plasterion; in costuming terms, that means patch. This technique was used on what in now known as the Monkee shirt. I didn't want to design a regular double-breasted shirt, and though the Monkee shirts look as though they're double-breasted, actually they're not. As you know, there are two rows of four buttons down the front of the so-called Monkee shirt, but actually the shirt doesn't button all the way down. It stops at the last button and is tapered to the hemline. The shirt is straight and not too long, so that it can be worn inside or outside. It has to be put on over the head. My final problem with the Monkee shirt was to develop a unique collar for it. I eventually came up with one and presented the very first "Monkee garment" to the boys at the studio.
I was worried about their opinions. I shouldn't have worried at all—they flipped over my first design. When Davy looked at me and said, "Man that's definitely in our bag"—it was one of the greatest compliments I've ever received.
Next, I designed the Monkee pants. We didn't want hip-huggers, as they were too common, so I designed a waistline that came to somewhere between the hipbone and the normal waistline. The waistband itself is three inches wide, and the pants are especially cut so that they are slightly flared at the bottom and have a vent in the front or on the side. The pants are two-and-a-half inches longer in the back than in the front—a line which looks very effective over the boys' boots. We call it the Monkee cut.
Footwear was next on our list. Each boy was to have a different style of "shoe." I designed Western boots with a square toe for Mike. For Davy, I made a "gaiter type" shoe, similar to a jockey boot. Peter's footwear was a combination sandal–moccasin boot; and Micky's turned out to be sneakers. Aside from these, I wanted to make a special Monkee boot. I combined all of the Monkee characteristics into one design and Lenny had a boot made just for them in Italy. It was a brand-new style. When I showed the boots to the boys, they didn't like them. But when they put on the boots, along with their other Monkee clothes, and saw the whole look—the Monkee look—they flipped.
Out of these basic designs all of the other Monkee clothes have evolved, but each boy's wardrobe is made separately and no single item is alike. We keep adding innovations and changing things. We are going into the fabrics bag now, doing things in green and burgundy velvet and silk worsted, with stripes running through it. You will also be seeing a brand-new Monkee shirt this fall. It's a single turtleneck with a plasterion front (I hope you noticed that we even put a plasterion on Mike's Monkee hat), and with buttons that go all the way to the top of the turtleneck. I have designed a brand-new cap for Davy which will be a surprise—so be sure to watch the first Monkee show this season. The latest Monkee boot has a low heel, a square toe, and is made of different colors of patent leather. So far, I have costumed 42 shows for the boys—and that means 2,500 costumes in all!
If you dig the Monkee clothes and would like to have a real Monkee wardrobe for your very own, just turn the page and get ready to wig out.