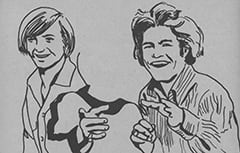 Outasite prizes just for finishing the incomplete drawings of all your faves!
Finish picture by drawing third head.
(DRAWING CLUES)
This basic drawing is done with a felt tip pen. However, you do not have to limit yourself; you can use a "B" or No. 2 lead pencil; a ball point pen; crayons, or anything else that will give you a clear line on the paper. We ask just two things: 1) Please do not use lipsticks or eyebrow pencils to complete drawings; 2) Make your drawing as clear and neat as possible. Good luck!
FUN-PRIZES-EVERY MONTH in fave!!!
Each month another fave drawing makes you eligible for outasite prizes—everything from Monkee Shades to subscriptions to fave, your great, NEW photo-color magazine. One hundred pairs of Monkee Shades will be sent to the fans who mail in the best finished drawings of the "fave-of-the-month". To the 5 top artists will go Monkee Shades and 2-year subscriptions to fave… AND, the art work will appear in fave, along with pics of the artists themselves… Each month another Drawing Contest! Prizes for all while you're having the grooviest time ever. Hurry… Hurry… Hurry… Get into the contest now! Be among the first to win!! Just follow the simple directions for completing your fave's picture, and send your artwork, along with your entry blank to fave, 1800 N. Highland Ave. Hollywood, 28 Calif. 90028.