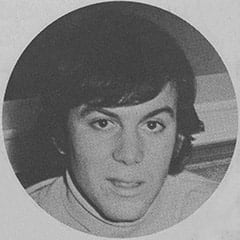 Come along on a Monkee TRIPLE-DATE! And who are the happy THREE? Two Monkees—Davy Jones and Peter Tork—and YOU, that's who!
How would you like to have not one, not two, but three dates in one glorious day? And how would you like to have your Monkee escorts be not one, but two super-fantabulous Monkees? Sound too good to be true? Well, welcome to 16-land, where dreams do come true. Comb your hair, powder your nose and grab your bathing suit, cos you're about to take off for a rave-up afternoon with Peter Tork and Davy Jones! After which, you will have a swinging evening consisting of a date with Peter Tork followed by a date with Davy Jones! So hop to it, lucky little lady.
Swimming lesson from Peter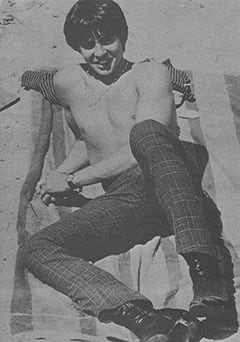 Peter Tork's new SAAB Sonnet (this is a small Swedish sports car) doesn't have stereo or a telephone or an air-conditioner or even a radio, but it does have something that no other car in the whole wide world has right now—it has Peter Tork and Davy Jones and you sandwiched in between them in the front seat on the way to Huntington Beach in California!
Long before he was a Monkee, Peter Tork used to work in The Golden Bear, a folk club at Huntington Beach. So, for old times' sake, the boys have decided to get their tans there on one of their very few Saturday evenings off. At the beach, each of you vanishes into your lockers for a while, emerging to meet and find a choice spot to spread your blankets and towels, and to sit down and start rubbing on the suntan lotion. The first thing Davy does—after he has rubbed your back with suntan lotion, of course—is to stretch straight out and soak in the sun.
"He's lucky," Peter says to you. "Look at him. He can lie there all day, flop over once like a piece of toast—and turn golden-brown. If I did that, within one hour I would be beet-red and in agony!"
Davy suppresses a giggle and doesn't open his eyes. "Why don't you go drown yourself?" he mumbles. "There's a great big pond called the Pacific Ocean right out there."
"Don't mind if I do," says Peter, hopping up. "Want to come along?"—and he reaches for your hand. Before you know it, you and Peter Tork are running along the golden sand under the warm California sun—hand-in-hand. At the water's edge your heart is beating a mile a minute, but you still have enough presence of mind to stuff your hair under your cute flower-like bathing cap, so that you can keep your locks dry (remembering that you still have two more dates to come).
Peter is a very good swimmer and he doesn't mind giving you a lesson or two. In fact, being a red-blooded American male, he particularly likes to give girls swimming lessons—so if you can swim, be smart and pretend that you can't. Dig?
Monkees under a blanket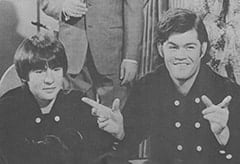 By the time you and Peter have finished your swim and returned to your spot on the beach, quite a crowd has formed around Davy.
"Hey, ain't you Davy Jones—dah?" Peter asks in his best Brooklyn accent as you push your way through the crowd.
"No, I'm a bloody magician!" grins Davy, as he signs a final autograph for a bug-eyed fan. "Watch me do my disappearing act—" And he quickly lifts up the blanket, slides under it and vanishes!
The crowd turns and stares in awe at Peter for a moment or two. It's like they just can't believe their eyes. Two Monkees in one day at Huntington Beach! Before they can get their wits together, Peter sticks his arm out to you and says, "Will you join me?"—and the two of you dive under the blanket with Davy.
"Hey, don't I know you two from somewhere?" Davy asks in a heavy Manchester accent.
"Don't speak to strangers under blankets," Peter whispers in your ear, and you all share a laugh together.
"Actually, this is quite good for me," says Peter. "Now I won't get sunburned."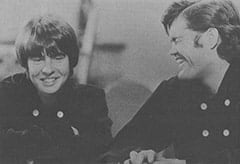 "Well, I have got enough for today, so what do you say we go get some ice cream and split," Davy suggests.
Ice cream turns out to be not such a good idea. The closer you get to the stand, the more people are attracted to you and your two famous companions. In the end you get all your things together, make a quick change and dash madly for the car! Once there, you slam the doors and take off—leaving a bunch of disillusioned Monkee-lovers rushing along in your wake. It's just like being in a romp on The Monkees television show!
On the highway going home, you find a groovy drive-in where two Monkees and their date—namely you—can enjoy a snack without being bothered by on-lookers. When you have finished your hamburgers and shakes, Davy yells to Peter, "You one-eyed cat, let's go and boogaloogs!—which (translated from Monkee-ese) means, "Let's go home, stupid."
The drive back from the beach is particularly lovely because Peter takes Malibu Canyon Drive, which is a road winding through the mountains. Peter likes this drive because his car "corners" so well, and he takes those curves really fast (pretty exciting for you—being swung from one Monkee to the other). When Peter drops Davy off at his new house, Davy leans in and gives you a peck on the cheek, saying, "See you later, luv." You're really thrilled, because you know he really means it.
Up at Peter's pad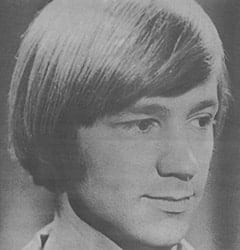 Peter's pad is a beautiful house situated slam-bang in the middle of Hollywood Hills. But before you stop at his place he drives on up the winding road beyond his house—up and up, until you turn a corner and there you see the most gigantic sign in the whole wide world! It's parked letter-for-letter on the side of a small mountain and the nine letters spell out HOLLYWOOD. It's the famous "Hollywood" sign that looked so tiny when you saw it earlier from 'way, 'way down on the Sunset Strip. The top of the hill where the sign is perched is now a United States Government radio tower, but the roadway is open during the day and it is the well-known haven of many Hollywood hippies, who love to stand up there and watch the most beautiful sunset in the world.
You and Peter again hold hands as he helps you to climb to the very top of the hill, and you stand there in silence for a while as you gaze out over Hollywood, Beverly Hills, Santa Monica and Los Angeles. Peter breaks the silence, pointing out the areas of interest to you, and just as the first evening star comes out he puts his arm around your shoulders and escorts you back to the car.
Peter's house, you discover, really is two houses in one. He escorts you to the downstairs part, which has its private bath and lounge, and leaves you alone long enough for you to knock the sand out of your shoes, comb your hair and freshen up a bit. The early part of the evening of your "double Monkee date" is spent with Peter at his favorite club, The Troubadour. He used to play there and used to be a regular on amateur night. Peter, by the way, is wearing a white sweater with super-tight brown slacks and a pair of sand-colored boots. Peter and you are very happy at The Troubadour, digging his favorite kind of music—folk music. He introduces you to some of his closest Los Angeles friends and even a couple of buddies from Greenwich Village, New York (like Joey Richards), who now hang out in Los Angeles. Tim Buckley and Phil Ochs are playing tonight, and you can't help but respect the quiet appreciation Peter shows these extraordinarily fine folk artists. When the sets are over, Peter turns to you and says quite simply, "Folk music is and always will be my kind of music as long as I can lift a pick to play a banjo or guitar."
Your next stop is one of Peter's favorite places for a snack—a lovely little restaurant on Santa Monica Boulevard called Barney's Beanery. Barney's has a quiet atmosphere and good food. Peter and you share a huge tossed green salad with French dressing (his favorite), followed by sliced steak for two, baked potatoes and two glasses of milk. While you and Peter are chit-chatting over your dinner, the only English Monkee is in another part of Hollywood showering, shaving and getting dressed to come and pick you up on his motorbike.
Suddenly the door of Barney's swings open and in walks Davy Jones. He is wearing gray "gambler's" slacks and a beige shirt with beige boots to match. As he walks towards you a lady diner drops her spoon and stares at him. Davy bows to her, says, "Good evening, madam. How are you this fine night?"—and walks straight to your table.
You are only half-way through dinner, but Davy insists that you are finished—because he wants to take you to his favorite restaurant. "Save some appetite for me, hon," he says, winking.
"Foiled again!" Peter shouts, and attacks your steak with his knife and fork—and a big grin. In the parking lot outside you say goodnight to Peter, who unemmbarrassedly [sic] give you a kiss while Davy mutters, "H-e-e-y, stop that now."
"Not a chance!" Tork says, smiling. He holds you by the shoulders, looks into your eyes and says, "I hope I see you real soon."
Flying with Davy!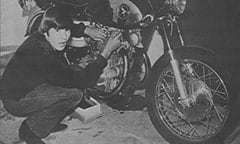 First, you are stunned by the fact that Davy has a motorbike. He shows you how easy it is to ride on one. (I trust you're wearing slacks—cos the Monkees really dig them, you know.) You simply sit on the back half of the driver's seat and Davy sits on the front half. There are two spikes on each side of the bike for you to put your feet on, and in no time at all Davy winds up and you are on the way! In one split second you discover there is only one way to stay on the bike—and that is by throwing your arms around Davy's waist and holding on with all your might. (I know it's hard for you to do, but try, will you!!!)
Davy's favorite restaurant is Steffanino's. You both skip the appetizer and he orders lobster tails with butter sauce, and with side dishes of corn and scalloped potatoes. You thought you were full, but you suddenly realize that you aren't—and you have a ball sharing your second dinner with Davy Jones! After a hot cup of tea, with milk of course, it's back on the bike and down to The Strip to a club called The Ad Lib, where one of Davy's all-time favorites, Little Richard, is performing. Little Richard, a rock and roll singer of great renown, is so fabulous that you and Davy are held spellbound by his act. In fact, you are so spellbound that you don't notice until the end of the show, when the lights come up, that someone has joined your table. He looks so familiar. Could it be?
"I want you to meet Dave Clark," Davy says—and there stands Dave Clark extending his hand to you! It's really just too unbelievable, but it happens to be true.
You and your two Daves decide that it's time to move on, and your next stop is The Whisky A Go Go (this club doesn't sell whisky, in spite of its name!). At the Go Go, you groove while watching the Doors and the great Buffalo Springfield.
When the music is over, Henry "Tad" Diltz, a photographer friend of the Monkees, shows some of his 'way out "psychdelic" color slides. Afterwards, he joins the table for a while and that is when you learn that the blue and white American Indian beaded necklace was a gift from "Tad". Also, by this time, Neko, Davy's painter friend, and myself (remember me—David Pearl—Davy's friend?) have joined your table. You are really like a fairy princess now, with a court that includes a Monkee and all his friends—plus one Dave Clark.
But all good fairy stories have to come to an end and soon you feel Davy's hand gently pressing yours underneath the table, and he softly says, "It's time to go, luv."
You say goodnight to one and all, each of us telling you that we truly hope to see you again one day, and you walk outside with Davy. Before you hop back on his bike to spin off home ward through the night, Davy points up to the stars and says, "See that big one right over there? I am picking it out just for you. From now on, every time you look at it, please think of me. Now—close your eyes and make a wish."
When you close your eyes, Davy gives you a little goodnight kiss, and as you ride away with him you blink back your tears. Are they tears of joy or sadness? You don't know. All you know is that you have just spent the greatest day of your life.
But that ain't all! Next month I will send you out on two magic Monkee evenings—one with magnificent Micky Dolenz and one with the quiet and easygoing Nesmiths. It's all in the October issue of 16, which goes on sale August 22. See ya' then. Don't miss the fun!