We've got gossip, gab, and exclusive info on all of your favorite singers and stars. And you won't want to miss one single syllable!!!!
DIONNE WARWICK, who lives abroad four months of the year, just bought a snazzy, expensive chalet outside Paris where teen fans ooooo la-la over her. Funny thing about Dionne. She has gorgeous legs, a 400-dress-wardrobe… and not one mini-skirt in the carload. Won't wear them. Considers them undignified!
The NANCY SINATRA and RON JOY romance is picking up steam again. They've been to several Hollywood openings together. Personally, I doubt that they'll ever marry… not that Nancy is thinking about getting married again with her hot career booming so… but they do have fun… and look so well together.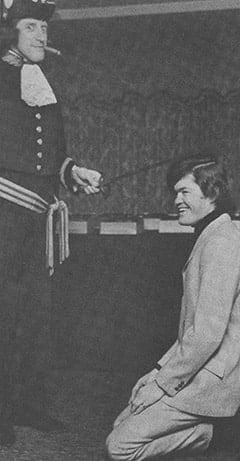 Special Scoop: Here's some intimate MONKEE stuff you might be interested in knowing… f'rinstance… DAVY JONES sleeps in a huge, round bed… MIKE NESMITH collects old cigarette packs and keeps them stuck on his dressing room wall… PETER TORK's favorite folk singers are THE WEAVERS… MICKY DOLENZ gets a big kick out of lending a hand with Monkee scripts!
That fab Columbia Records group, THE BUCKINGHAMS, were recently chased five miles by a posse of teenage girls in cars. The Buckinghams got away!
THE YOUNG RASCALS, just back from a trip to Europe where they were a smash… said they had a fab time and have high hopes of taking another trip to the other side of the Atlantic soon.
YALE SUMMERS, that d-o-l-l on "Daktari," and reporter JOYCE BECKER did lots of sight-seeing… together!… during Yale's recent trip to New York City. And, one of my spies… (ROBERT CULP and BILL COSBY, please forgive me!)… told me that Yale and Joyce were drinking orange juice while strolling up Fifth Avenue at midnight. Gads, sounds like something out of "Breakfast At Tiffany's" doesn't it???
Speaking of "Daktari," (and I did, someplace in that last item)… JUDY, the chimpanzee star on "Daktari," demands a cup of coffee, liberally laced with cream, before she obeys the call for "Action." Oh, those Hollywood stars!!!
Special Scoop: RINGO and MAUREEN STARR are expecting their second little bundle of joy sometime in September! As of this writing, they don't care if it's a boy or a girl, as long as it's healthy and wise! (We know it's going to be wealthy!) By the way, the FRANKIE AVALON's are expecting, too—in November!
Everyone was really surprised to learn that GARY LEWIS' bride JINKY SUZARA LEWIS, had been married before, and was the mother of a five-year-old son… he'll live with Jinky and Gary in California. All of this news didn't bother Gary or bit… He loves Jinky, and that's all that matters. He gifted her with a cultured pearl rosary as a wedding gift.
Is there a romance brewing between BOBBY DARIN and ANJANETTE COMER??? Just asking, luvs!!!
ADAM WEST and BURT WARD signed a contract with hte [sic] Dobritch Circus to appear as BATMAN and ROBIN for a minimum of 10 shows. Adam got worried when Burt delayed the deal… which will give the dynamic duo a big guaranteed fee plus a percentage of every ticket sold. Burt, it seems, insisted that his bride, KATHY KERSH, be included in the show! Adam got a bit miffed when Burt said he'd walk out if Kathy didn't get equal billing with Batman and Robin… the circus folk finally gave in.
Another new bridegroom… ELVIS PRESLEY… just bought himself a chain of five gas stations in Southern California. By the by, the total weight of the diamond engagement ring he gave his girl was 23 karats!
It's wedding bells for KATHY LENNON of the fab LENNON SISTERS and MAHLON CLARK, the lead clarinetist with the LAWRENCE WELK Band.
American International Productions just signed FABIAN to narrate a 90-minute TV documentary special about sports-car racing.
Speaking of TV… PAT BUTTRAM, featured in "Green Acres" on CBS, says you can tell a child is growing up when he stops asking where he came from and refuses to tell where he's going!… "I haven't an enemy in the world," says IRENE RYAN, Granny on "The Beverly Hillbillies."… "I've outlived them all!" she quips… JUNE LOCKHART, star of "Lost In Space," lists swimming as her favorite sport… Her father, the late actor GENE LOCKHART, was a swimming champion… Bet you didn't know that ROBERT CONRAD got his start as a singer in Chicago… Well, now you do!
Special scoop: THE BEE GEES wrote "New York Mining Disaster" in five minutes while they were standing on the steps outside their recording studio! That must be a record or something! And, strictly for the record, they do sound like early Beatles, don't they?
Word around is that PATTY DUKE and BARBARA PARKINS aren't the best of friends since making the flick, "The Valley Of The Dolls." So, be sure not to invite them to the same party!!!
Now that DAVID JANSSEN is finished running on the "Fugitive," he's busy taking singing and dancing lessons six days a week.
The JIM MITCHUM and WENDE WAGNER romance is off… But the LANA WOOD and JERRY HELLMAN is hot… ditto for GEORGE HAMILTON and LYNDA BIRD JOHNSON.
Now turn the page—there's more…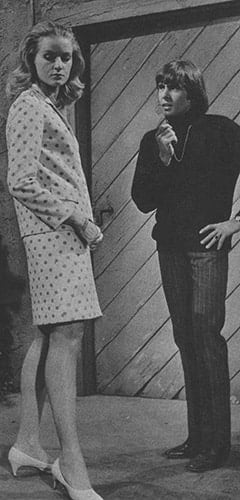 I was up at EXPO 67 in Montreal, Canada and guess what I saw on expo up there… Nothing else but THE MONKEES' guitar!… also the one that belongs to ELVIS PRESLEY and JAY AND THE AMERICANS. It's a wonderful Expo and I strongly suggest that you all try to get up to Montreal and visit it as I did for you. There's a great teenage building… and in Great Britain the sound of THE BEATLES fills the air… and you see some real groovy mod styles. In most of the swingin' European buildings, the gal guides are outfitted in mini-skirts… real cute!
Sorry to make all other columnists look silly, but FRANK SINATRA, JR. isn't giving up his singing career and turning to acting. Sure, he's going to act… but he'll also continue to sing. He just signed with RCA Victor Records.
Special Scoop: The reason you aren't hearing "A Day In The Life" from THE BEATLES' newest album is because somebody misunderstood the lyrics and thought it had something to do with drugs! The lyrics, as they were misunderstood, went "forty-thousand holes in my arm." Actually, the lyrics go "four-thousand holes in Blackburn, Lancashire." Just goes to show what a Liverpool accent can do to a few harmless words!
The LYNN LORRING and ROY THINNES romance is almost three years old… But not a sound of wedding bells is in the air!
RICHARD CHAMBERLAIN and his former fiancee, JOAN MARSHALL, are dating again.
Sir Stork en route to KRISTINE and RICK NELSON.
LEE MAJORS, that handsome hunk of man from "The Big Valley" TV series, is busy taking guitar and yodeling lessons for guest appearances at rodeos.
THE SUPREMES wanted about $100,000 more than NBC was willing to pay them for a TV spec… so, now the deal is off.
SALLY FIELD seems to have a new boyfriend in PETER DEUEL. They're a groovy couple at all the Hollywood parties and openings. Meanwhile, Sally's busy working on her career. Since "Gidget" went off the air, Sally says she wants movies and no more television for awhile. So, she's visiting all the agents and talent directors… and from what I hear, she'll be up on that big silver screen soon.
MGM is desperately trying to talk NATALIE WOOD into starring in a motion picture instead of going into semi-retirement, as Natalie says she wants to do when she marries agent RICHARD GREGSON.
It looks as though Sir Stork will be visiting the home of RYAN O'NEAL and LEIGH TAYLOR-YOUNG about Christmas-time. What a lovely present for the newlyweds to receive.
The DAVID McCALLUM and KATHY CARPENTER engagement is on shaky grounds… so reports go. But, they looked lovey-dovey during their trip to Japan.
Speaking of those UNCLE boys… ROBERT VAUGHN refused to sign next season's "Man From U.N.CL.E." contract until the producers guaranteed in writing that he would be given the chance to make his debut as a director of two UNCLE shows.
Special scoop: Add BEACH BOY DENNIS WILSON to the fast-growing list of karate enthusiasts! Then don't offer him a board—with your arm under it!
PAUL McCARTNEY's off-again on-again girlfriend, JANE ASHER, wasn't a bit lonely in Hollywood. Seems she was the center of attraction where director ROGER CORMAN and DAVID HEMMINGS were concerned.
FABIAN is going to buy a ranch in in the San Fernando Valley part of California. He'll be the first South Philadelphia cowboy I know of!
HERB ALPERT was offered $20 million for the part of the Texas oil company he owns. That's lotsa brass… eh Herb?!?!?!?
Add JAMES DARREN to the list of Hollywood stars who are motorcycle bugs.
It's a 12 ½ karat diamond ring that CONNIE FRANCIS is wearing. It's the engagement gift from MIKE CAPANEGRO.
Sure looks like a romance is brewing between CHERYL MILLER and RON HARPER, who used to be MARLO THOMAS' steady a few issues back. Confused? Don't be… that's just Hollywood go-rounds. Oh, yes, let me further tell you that Marlo is almost engaged to her ABC-TV boss LEN GOLDBERG… but her co-star in "That Girl", TED BASSELL, has a crush on her! Thought that would help clear things up for you out there!!!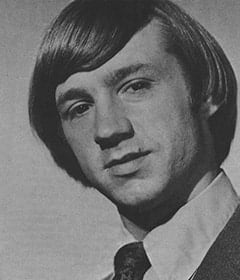 Are you ready for this… PETER TORK had a roommate in Greenwich Village when he lived there several years back… Now, that same roommate is charging $100 for a chit-chat about his now famous buddy!!!
Special Scoop: According to ENGELBERT HUMPERDINCK, the reason he's such a success as a singer is that he was such a failure as a sax player! Playing sax was his first love and he slaved away at it for five long years. Then one day, he realized his talents didn't lie in that direction! The most logical move was to singing—natch!
Just about the only thing that can drag talented song-writer and singer BOBBY GOLDSBORO away from his work is a baseball game on TV!
Want some good LP listening? Try these THE BLUES MAGOOS "Electric Comic Book" on Mercury, CONNIE FRANCIS "On Broadway Today" on MGM, DON HO doing "East Coast, West Coast" on Reprise, "The Best of THE FOUR PREPS" on Capitol, "In THE OUTSIDERS," also on Capitol and "EVERY MOTHERS' SON" on MGM.
Till next issue, bye!