Every girl dreams of dating her favorite Monkee. Here's a lucky girl who dated Davy Jones!
Jane Steele has been modeling and making television and radio appearances since she was six years old. Now just 15, Jane has appeared in such productions as "Sound of Music" with Ann Blyth, "Bye, Bye Birdie" with Orson Bean and is currently starring in the musical "Summer In The City" with Oscar Brown, Jr. She's a real doll just five feet two with big green eyes.
Jane lives in Chicago, where she has done most of her acting, but she has fan clubs all over the United States, Canada and even Japan. Besides being a fine actress, singer and dancer, Jane is a typical 15-year-old who loves boys, Tiger Beat and the Monkees. She even named her little dog David Jones.
I was a big fan of David Jones long before he was a Monkee and I'm a big fan now more than ever. I watched Davy for a long time, too, before I ever met him.
You see, I auditioned for a part in the "Oliver" company when it came to Chicago and was made an understudy. I never got to rehearse with the "Oliver" cast, but because I did work at the theater, I got to know some of the fellows who played the workhouse boys in the show. I can give you an idea of what Davy was like then from what the boys he worked with told me.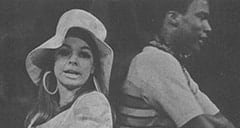 In the show, which I saw many times, Davy was fantastic. He's a great actor and an all around entertainer and the audience always gave him huge applause, which he deserved. I didn't know him personally then, but the boys in the play thought he was the greatest! I heard again and again that everyone considered him a pleasure and an honor to work with.
Our first meeting wasn't like you would imagine—being introduced backstage or anything so glamorous. I had gone to the show "Oliver" and afterwards I went to the backstage door to get my program autographed. There was a mob of fans around and David was in a great big hurry. I didn't talk to him or introduce myself or anything. There were just too many people around and David didn't have enough time. He did autograph my program, though!
After that I began writing him fan letters and he wrote back. This went on for two years. He also sent me postcards from all over the world, which I treasure. Then he started calling me on the telephone. It was the greatest! Then came the real surprise—Davy phoned me one night last August and told me he would be in Chicago on September 6th and to save the day for him! I was so excited and could hardly wait for September to come!
Finally THE day arrived and at 2:30 that afternoon Davy called and invited me to the Monkees' press party that was given that evening at the Astor Towers Hotel. This was one week before the show went on the air and I got to see the first episode at the party. Of course, I thought it was outasite!
A perfect gentleman

Permalink
The Monkees' party was so much fun. I had a marvelous time with Davy and Peter, Micky and Mike. What I remember from that night is that Davy was always smiling. His long hair was very neat and shiny. His clothes were outasite! His voice was so enjoyable to listen to. His accent, of course, is English and the grooviest. I remember him saying "smashing" a lot, which is straight from England. He was so kind and considerate and just plain groovy. He was a perfect gentleman!
I was 30 minutes late to the party and Davy told me he was "a bit worried." My first impression of him was that he was really groovy. When I first arrived he had his gray bell bottoms on with his polka-dot shirt and black boots. He had not yet put his suit on. He was very friendly, happy and glad to see me and glad I finally arrived!
At nine o'clock the Monkees' producer, Bert Schneider, and the other executives went up to the Monkees' suite of rooms to hear them sing and play their guitars. They sang "Last Train To Clarksville" and "Take A Giant Step." Peter and Mike sang folk songs they had written and Peter sang his old-time favorite "Sister Kate."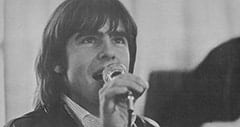 All the Monkees were so sweet and kind. Davy's the wild one. Micky's the comic. Peter's the folk-singer. Mike is the one that talked to me a lot and he was very interesting. Davy also invited my parents to the party. He's so sweet and kind, he's one of the nicest persons in the whole word!
Now I watch the Monkees every week. I've never missed one show. I love it because it's different. It's what you call "real show biz," which is great. I especially like the crazy camera tricks.
I also love the Monkees' music because it's got a new, different, youthful, fresh sound, which is why the Monkees are so successful! The Monkees were just what the music business needed. Don't you agree?
Since the party, I've continued to hear from Davy. He wrote from Spain when he visited there. Also, Davy called me from Hollywood right after he got back from their first big tour in December to tell me all about it. It sounded so exciting and I could tell Davy loved every minute.
Davy has told me a lot about his love to horses and horse racing. He also digs golf and so do I. He promised me his next trip to Chicago he would have more time and we would play golf. He also promised we would have fish 'n' chips rather than hamburgers 'n' fries. I can hardly wait!!