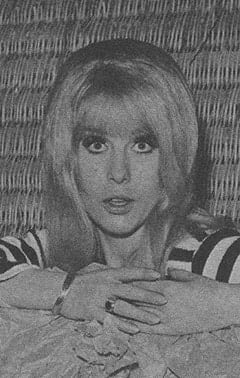 Her name is Jenny. She's a beautiful, blue-eyed, English blonde. Are they more than "just good friends?" Read on…
Ask Davy Jones if there's a special girl in his life, and his large brown eyes will light up. Then he'll smile—and say nothing! He'd have you believe that he's far too busy to date anyone steadily. That he enjoys playing the field. And that he doesn't plan to get married for another seven years.
But we wonder…
We wonder about a beautiful, blue-eyed blonde called Jenny Baker. Jenny is English, the daughter of a London accountant, and she's currently appearing in the Folies Bergere, Las Vegas, doing a song and dance act with her twin sister, Susan.
She's known Davy for years. She writes to his family regularly. Davy flies out to see her in Las Vegas. She admits that she loves him.
"We first met when we were in New York," Jenny told me. "It was about five years ago and we were both playing in stock. I remember I was doing Stop The World and he was playing in Oliver. Susan, David and I have been great friends ever since. We were only 16 at that time. We're very close in age. David turned 21 on December 30 and I was 21 on February 9."
Jenny is a petite 5'3" tall and weighs 114 pounds. According to her, she's just the right height for Davy.
"A couple of years ago, he used to let his height bother him," she explained, "but since then he's grown a bit so now we're about the same size. It wouldn't really matter to me if he were shorter and personally I do think his being so short is to his advantage, career wise."
She hesitated a moment, then offered, "I'd like to see more of David, but since I've been working here in Las Vegas, we haven't seen too much of each other because he's so terribly busy. I do phone him occasionally and love to talk to him. But it's difficult trying to find him at home. He doesn't call me too much because he doesn't know when I'll be sleeping. You see, I work during the evening and sleep all day. So it's been difficult getting to talk to one another. But in the two months I've been here, David has come to see me at least three or four times. It's been very difficult for him to get away more frequently because of his television show. I wish I could go see him in Hollywood, but doing two shows a night makes it almost impossible.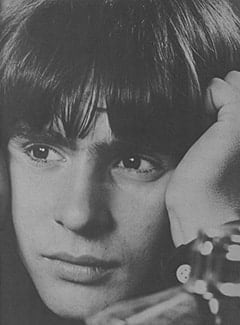 "What kind of a fellow is David? He's a very kind person and I'm very fond of him; I just love him. He's also a very strong-willed person—the type of fellow who has a tremendous almost of will-power and strong character, someone people can't push around. Once David makes up his mind, all the pushing won't stop him. I like a strong personality and David has one.
"He's also a very generous person," Jenny continued, "I don't necessarily mean in material things. I mean he's warm-hearted and thoughtful. He has a tendency to spend too much money sometimes and I intend to knock him for it. But he says what's the use of saving money if you have no one to save for. His philosophy is if you have a chance to have money, have fun with it. I remember when we were both back in England about two years ago—we've had occasion to meet back home when either of us have been there on jobs or just visiting our parents—he gave me a black sapphire ring to match the one he wears. That's the only present he's given me.
"I met his whole family quite a few times when I was back home. His father is so very sweet and his three sisters are such lovely girls. In fact, last year his sister Linda came to New York and stayed with Susan and me in our apartment. David has done a lot for his family, you know. He bought his father a house in Manchester and sends him money all the time. He's a very devoted son and brother. I believe he even went home to England for Linda's wedding last December. Susan and I are both terribly close and devoted to David's family. In fact, I write them all the time and feel sure they feel the same way about me. My parents too, are terribly fond of David. They just adore him. I expect them here in a few short weeks and certainly hope David will be able to take time off to see them while they're visiting.
"As far as a good friendship is concerned, David and I certainly have that but I don't think we're serious at this point. We're much too young to think like that. I'm very fond of David and he's so terribly busy all the time, so you see we each have our own separate lives to live right now. When he does come to see me, we go to the different hotels to see the shows and to dinner. I don't know how he treats other girls, but to Susan and me he's always been marvelous, a perfect gentleman."
When asked if she had seen the Monkees on TV, Jennifer replied, "Yes, and I think it's a marvelous program. I knew David was very talented when I first met him and that he'd get somewhere in the business. He had the drive and the personality to get ahead and I'm very pleased about his success because he deserves it.
"What are my plans? I'd like to stay in this show for six more months, but it's up to Susan's fiance. You see she's engaged to one of the King Brothers, a singing group from England. She and Dennis King plan on getting married this summer and Susan wants to go back to England for the wedding, but I think I'll stay here for a while. My ambition is to work for a short time in a TV series on the West Coast—I've never been to Los Angeles. It would be interesting to see how I get on. However, it's difficult to say what will happen in the future. I never plan things in advance, you know. As for David and my relationship, I really don't know. But let me tell you, if David got married now, I'd kill him. I think he's much too young and I am, too. I know he's mentioned that he'd like to marry in about seven years, but God only knows what I'll be doing at that time. I'm not what you'd describe as a terribly conscientious or dedicated career girl so if I met someone in the future that I was terribly fond of, I wouldn't let my career stand in the way of getting married. It's difficult to say what will happen to the two of us. Only time will tell."
When asked if she had any other brothers or sisters, Jenny said, "No, unfortunately. But I've always longed for an older brother, I would just love a brother." When confronted about the possibility that maybe David could act as her brother, she laughed, "Oh no, David and I could never have that kind of relationship, our friendship is just too great as it is!"