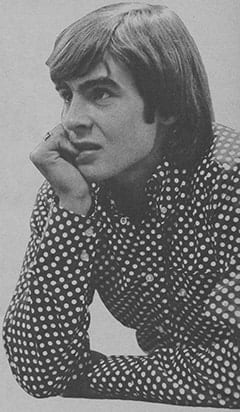 Davy has been classified 1A by his draft board. If he is accepted, this could mean the end of the Monkees…
Yes—it's true. Davy Jones may be drafted. In fact, by the time you read this, Davy the Monkee may be Davy the soldier!
It came as a severe shock to Monkee fans around the world when they learned that young Davy, a native of Manchester, England, had been classified 1A by his local draft board in California.
They could not understand how an English boy could be asked to serve this country, or even less, assuming he passes his Army physical, the possibility of his going to fight in Viet Nam.
Now we will tell you how this could come to be…
When Davy applied for an immigration visa to America, he had to sign a form stating that he knew that after six months here, he would be eligible for the draft.
This is a normal procedure for every male immigrant of draft age entering this country. He had to register for Selective Service just like any other young man.
Now he has received notice that he is classified 1A. This is the most draft-eligible classification there is.
At the time of going to press, Davy has still not been asked to report for his physical examination. But it was made frighteningly clear to Teen Life by the Selective Service, that if Davy is found to be in first class health, he would be called into the service almost immediately. You see, at 21, and being single, he stands a much bigger chance of being drafted than older, or married, men.
We have been told that Davy might claim draft exemption because he is the sole support of his family in England. BUT, what Davy might not know is that because his family does not live in this country, they cannot be claimed for an exemption!
Will Davy be drafted? Will this mean the end of the Monkees? At this time we cannot answer these questions. We do know, though, that if called, Davy would not hesitate to fulfill his obligation.
Latest developments on Davy Jones and the draft will be in next month's TL!