Here's your big chance to see how much you really know about Davy, Peter, Mike, and Micky, This test is divided into four parts… one on each of the boys… plus a section on all four Monkees.
All in all there are 90 questions. Turn to page 57 for the correct answers. Grade yourself this way: 85–90 An outasite, fantastic super brainhead Monkee fan; 75–85 A devoted Monkee fan who's really with it; 65–75 A Monkee fan who's learning fast; Anything under 65 Better read some issues of the Monkee Spectacular and Tiger Beat.
Davy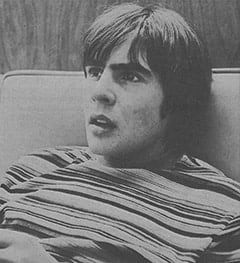 What part did he play in "Oliver"?
How many sisters does Davy have?
What are their names?
What is his cat's name?
What is the latest addition to his apartment?
What is his favorite food?
What instruments does he play?
Another very huge piece of furniture in his living room is…
What is Davy's full name?
Who was his trainer when he was apprentice jockey?
Name three places Davy went on his vacation this spring.
Name a favorite sport of Davy's other than horse riding.
What single release of the Monkees did Davy sing lead on?
Name his favorite type of music.
What was Davy's favorite toy as a child?
As a boy Davy always dreamed of going to a certain country. What was it?
What was his biggest role in a school play?
Davy is a great collector of…
Davy made guest appearances in two American TV shows before the Monkees. What were they?
An unusual piece of furniture in Davy's bedroom is…
Peter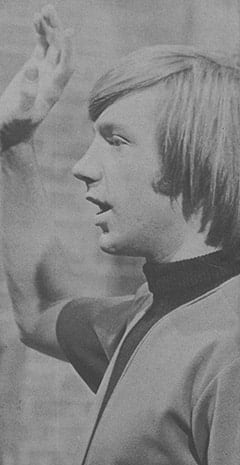 Peter has a funny habit concerning his socks. What is it?
How many brothers does Peter have?
What is his sister's name?
What instruments does Peter play on stage?
He has an off-beat ambition for a singer. What is it?
His favorite vocal group is…
What is his real name?
Where was he born?
His motto is…
For his spring vacation he went to…
What Monkee did Peter know before the Monkees existed?
Peter once worked at a club in Huntington Beach, California. What was the name?
His nickname in Greenwich Village was…
What is it in Peter's dressing room that takes up so much room?
Peter spent three years of his life in a foreign country. What was it?
His father's occupation is…
One of Peter's friends encouraged him to go down for the Monkee interview. Who was it?
Peter once dated Cass Elliot's sister. Her name is…
He took a trip with his family two years ago. Where did they go?
What color is Peter's GTO?
Micky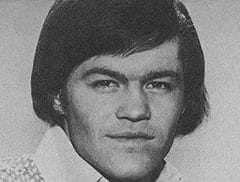 Micky's birthday is…
Micky has three sisters. What are their names?
His best friend is…
What was the name Micky used when filming "Circus Boy"?
What is the name of the group he played in before becoming a Monkee?
The two foods he eats more than anything else are…
What is the title of Micky's solo record, before becoming a Monkee?
Micky's dog's name is…
Micky's family doesn't live in Hollywood, but in…
Micky had a brief role in a nighttime dramatic TV series. What was the show?
What part did his father make famous in the movies?
What British model did Micky date while in London?
Who is the British group that Micky raves about more than any other?
Who is it that Micky imitates in his solo song on stage?
What is his current hobby?
Who is Micky's show business idol?
What was the name of the character Micky played in "Circus Boy"?
Name the two instruments Micky plays.
What kind of car does Micky dream of owning?
What was Micky studying while attending LA Trade Tech?
Mike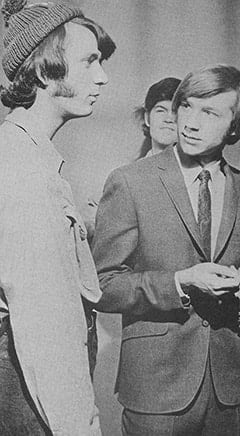 Where was Mike born?
Name his wife and son.
What name did Mike use as a solo singer?
Mike has a dog called…
Name the track he wrote and produced on their first LP.
How old is his son?
What hangs from the walls in Mike's dressing room?
Mike got his first guitar at age…
Mike's full name is…
What kind of automobile does Mike drive to work?
What car does his wife drive?
Mike's favorite type of music is…
What wakes Mike up in the morning?
On tour, Mike likes to spend time on the plane playing…
Mike served time in the armed services. What branch?
Name two Hollywood folk clubs Mike played in before becoming a Monkee.
Mike shares a birthday with another Monkee. Which one?
Mike met his wife at college. Where was this?
How many pairs of boots does Mike own?
The nickname Mike dislikes is…
The group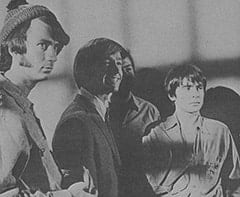 Name the Monkees' first three single releases.
Where did they play their first concert?
In what paper did the famous Monkee ad appear?
How many people applied for the job?
Who coached them in drama right at the start?
Who thought up the idea of the Monkees?
Who produced their first single and the Monkee theme?
What make of car is the Monkeemobile?
What color is it?
On what label do the Monkees record?
Monkey quiz answers
Davy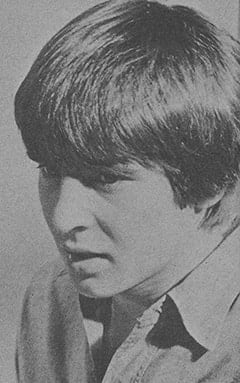 Artful Dodger.
three.
Beryl, Lynda, Hazel.
Tibbs.
a pool table.
Steak and chips.
tamborine, bass, drums.
baby grand piano.
David Thomas Jones.
Basil Foster.
Jamaica, Bahamas, New York, London, Manchester, Middleham.
golf.
"Little Bit Me, Little Bit You."
show tunes.
bow and arrow he carved himself.
Canada.
Tom Sawyer.
cuff links.
Ben Casey, Farmer's Daughter.
circular bed.
Peter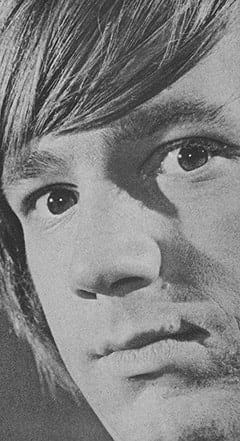 wears a different color on each foot.
two, Nick and Christopher.
Ann Elizabeth.
banjo, bass, organ.
to be President of the United States.
Mama's and Papa's.
Peter Halsten Thorkelson.
Washington, D.C.
God is love.
Greenwich Village in New York.
Mike Nesmith.
Golden Bear.
"Tork".
his organ.
Berlin, Germany.
College professor.
Steve Stills of the Buffalo Springfield.
Leah Cohen.
Venezuela.
red.
Micky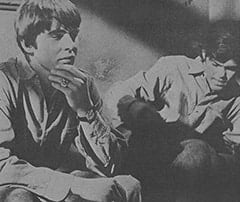 March 8th.
Gina, Debbie, Coco.
Ric Klein.
Micky Braddock.
Missing Links.
chili and malts.
"Don't Do It."
You.
Los Gatos in Northern California.
Peyton Place.
The Count of Monte Cristo.
Samantha Juste.
Spencer Davis Group.
James Brown.
wire sculpturing.
Jerry Lewis.
Corky.
drums and guitar.
Formula Two Brabram [sic].
architectural drafting.
Mike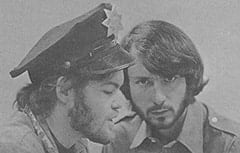 Houston, Texas.
Phyllis and Christian DuVal.
Michael Blessing.
Spotte.
"Papa Jean's [sic] Blues."
two years old.
several framed fan letters.
19.
Robert Michael Nesmith.
1956 Chevy truck.
navy blue Riviera.
country-and-western.
the sun.
cards.
Air Force.
Ledbetters and the Troubadour.
Davy Jones, December 30th.
San Antonio, Texas.
20.
"Wool Hat."
The group
"Last Train To Clarksville", "I'm A Believer," "Little Bit Me, Little Bit You."
Honolulu, Hawaii.
Daily Variety.
433.
Jim Frawley.
Bert Schneider and Bob Rafelson.
Tommy Boyce and Bobby Hart.
Pontiac.
bright pink.
RCA Victor.