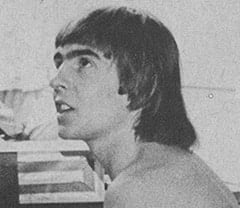 Davy Jones flies to New York from Hollywood for a dreamy whirlwind tour with HULLABALOO's own Cynthia Johns. From Coney to the Cloisters, Cynthia reveals what it was like to spend some private hours with Monkee Davy. A personal account. A HULLABALOO exclusive!
I had never met Davy Jones before, so when HULLABALOO told me to get the gvooviest most fab story on Davy ever, my heart actually fluttered. I called Davy in Hollywood and he was ready to let me interview him on the phone. But I said, NO! Imagine saying No to Davy Jones! I explained: "I'll lose my job it I don't get the most exclusive story ever on you."

"Okay, I'll fly out to New York. We've got a date for Sunday all day. Meet me at the Brasserie at 9 a.m.," he said.
When I met Davy at the groovy eatery in Manhattan's Seagram Building he was all smiles. He was wearing striped stove-pipe pants, a white turtle-neck sweater, a brown suede jacket and western boots.
I was so excited that I couldn't eat, so I only had coffee. Davy had a very light breakfast of hot cocoa, grapefruit juice and English muffin.
"To tell you the truth," he confided, "I'm sick of all the silly interviews. I don't have anything new to tell anybody anymore. The magazines have pulled out every fact about my life and printed it. I feel naked now when I walk down a street—totally revealed. I figured the best scoop I could give you was just to have a date with you. We'll be just like any two people out for a good time. Okay?"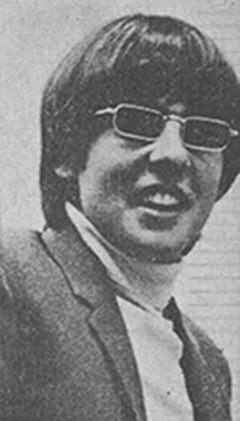 We drove up Madison Avenue and then headed west on 64th Street. Davy parked the car at the corner of Fifth Avenue, grabbed my hand, pulled me across the street and before I knew it we were skipping through a misty Central Park.
"Got to find me a playground," he said.
We found one, and Davy let go of my hand and began running around. Up the sliding pond and down, balancing on see-saws, kicking high into the air on swings, doing a handstand on top of the monkey bars. I was amazed, and grateful that the place was empty.
On the way back to the car, we walked through the very quaint little zoo they have in the park, and Davy was talking to all the animals. He really dug the monkeys.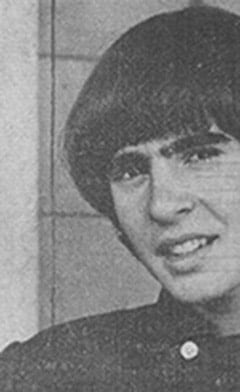 "Where to now?" I asked as we got back into the car.
"St. Patrick's Cathedral," he said. I looked puzzled. Church wasn't my idea of a date even if it was with Davy Jones. Soon I understood.
"I think organ music is groovy," he said. "Some day, when all this Monkee madness is over, I'm going to have to make it on my own. I'm looking for new sounds, new ideas."
I sat through an hour of toe and finger-tapping devotion with Davy. When we emerged from the gothic darkness of the cathedral into the sun-swept canyon of Fifth Avenue, a great hunger had settled on me. It was noon and Davy asked, "How about lunch at Nathan's in Coney Island."

After an easy drive through the Battery Tunnel and along the beautiful Belt Parkway (exactly 14 miles; Davy's a bug on statistics), we pulled up in front of the mobbed frankfurter and seafood joint. Davy went to get the dogs; My mission was to bring back the French fries. Later we had fried shrimps and we washed it all down with beer. We both kept the Nathan's glasses as souvenirs. Davy autographed my glass with my lipstick.
We spent the next few hours going on the merry-go-round, the whip, the roller coaster and the parachutes. Poor Davy! His parachute was stuck about 100 feet off the ground for 15 minutes. He was white as a sheet when he finally got down. He lost his stomach for Coney Island after that and soon we were heading back to Manhattan. Along the parkway, through the tunnel and up the West Side Highway to the Cloisters, an ancient monastery-castle that was rebuilt on high cliffs overlooking the Hudson River. It's the most romantic spot in the city, and I was surprised that Davy took me there. We wandered through the big, cool halls feeling lost, floating back through time as weird medieval music played about our ears. They have lime trees in the patio garden, and Davy pulled a lime off the tree when the guard wasn't looking. He stashed it in his jacket pocket.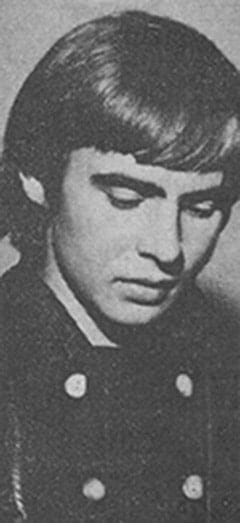 When the day was over, we drove out to the airport where Davy left the car with the Hertz people. They said that they would see about getting me back to the city. We went into the bar for a farewell drink. Davy surprised me by asking the bartender to cut his lime from the Cloisters in half. He gave me half. "Tomorrow, exactly at midnight, I want you to make a drink with your half. I'll do the same out in Hollywood. We'll drink it together and remember what a great time we had today."
As I watched Davy's plane head into the red dusk, I burshed [sic] a tear from my cheek. I knew I could never write down half the things he had told me. I couldn't betray his private beautiful day and the wonderful thoughts he was able to express.
So, HULLABALOO, if you don't like my story, you can fire me.