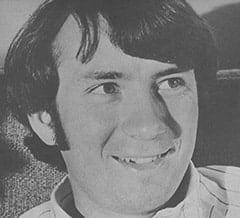 The adventures and misadventures of this starry-eyed folk duo after they arrived in California—or Texas here we come (again?)!
As I told you last month, after becoming fairly well known around Dallas as a folk duo, Mike Nesmith and I decided to take off for California and see if we could make our fortune there. It was a mid-summer's afternoon of a bright sunny day when our MG Sprite pulled up to Bob's Restaurant in Van Nuys, California—loaded with suitcases, guitars and two starry-eyed young hopefuls, namely Mike and me.
We secured a copy of The Valley News, a neighborhood paper for North Hollywood which had lots of ads for apartments and work. We moved into the first apartment we looked at and, by some wild coincidence (things like this only happen in Hollywood), it turned out that the superintendent of our building was a relative of one of Frankie Laine's business associates. The super couldn't help noticing Mike's homespun character and musical talents—for she saw us every day and heard us playing every night. Mike and I were extremely skeptical of the "Hollywood veneer" of most of the show business people in L.A., and it took some time for the super to convince us that she really did have connections with Frankie Laine. Finally, we had a successful and profitable meeting with Mr. Laine. He gave us a lot of advice and personal help, and then he offered us a chance to go on a tour of Southern School Assemblies. When we heard the offer, Mike and I just looked at each other, grinned and nodded yes—vigorously. Not only were we to gain new professional experience, but we were to enjoy the adventures of traveling on the road for three months.
Mike and I signed on the dotted line and guess what?—the entire tour was of Texas schools with student bodies ranging from ages five to twenty-five! We traded in our MG for a station wagon and headed back to where we came from.
Back in Texas, we played for from three to five schools a day and sometimes appeared in as many as three different towns a day. Afternoons before each concert would find Mike tirelessly and meticulously working on certain aspects of the show. He would secure extra microphones for my bass, make sure that the dimmers on the lights were working perfectly—and take care of the millions of details that have to be ironed out if the show is to be perfect. Late at night after the show, when most entertainers would be satisfied with a job well done and go off to sleep, Mike would continue working. He would do a layout for the next day's presentation, go over the mistakes we made that day and plan different introductions for every show. It didn't matter to him whether we were performing for one or one thousand school kids; he wanted each show to be exciting and perfect.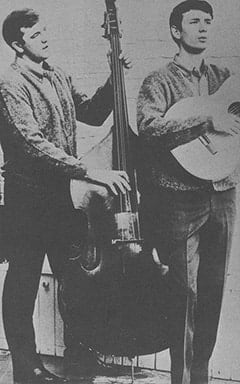 I'll never forget one particularly funny and embarrassing thing that happened to us. Mike and I were approximately 20 miles from a town in which we were going to play when we ran over a broken cattle guard wire in the road (that's something like a great big piece of barbed wire). Boom—we had a blow-out and we didn't have a spare tire! What we did have was a concert to do in one hour. We had no alternative but to drive on the flat tire to the next gas station. While driving on three wheels and a rim at 15 miles an hour, Mike nudged me and said, "Hey, John, look over yonder. Those cattle are stampedin'."
"I reckon the noise from us riding on this rim is making them do that," I said.
Just about that time I looked over my shoulder and saw some 100 head of cattle tearing off in the opposite direction. Mike and I looked at each other and laughed.
Mike said, "That's interesting. Ain't seen a good cattle stampede lately except in the movies."
We thought no more of it, made it to the filling station, had our tire fixed and then got to the school just in time for the concert.
Upon arriving at the school, we were surprised to find the vice-principal on hand to greet us. Usually, the principal welcomed us. The vice-principal smiled abjectly and offered the following apology: "Boys, I'm really embarrassed. Mr. Hughes, our principal, just couldn't get here in time to greet you today. Hope you don't feel too bad about it. You see, he's got a ranch some 20 miles down the road from here and—well, he just now had a big cattle stampede on his place!"
Mike and I gulped, looked at each other (just barely able to keep our laughter from breaking through), and finally I said, "It's all right, sir. We understand. A stampede can be pretty bad news. You just tell the principal that we understand."
Wow—I had hoped to be able to tell you all about Mike's "Mod madness" but, like before, I've run out of space. So please be patient and meet Mike and me right here again next month for the further adventures of us two crazy guys and our crazy search for stardom. The August issue of 16 Magazine goes on sale June 22.