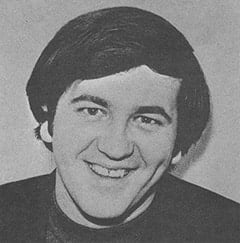 John London, who is Mike Nesmith's best friend, was born in the little town of Bryan, Texas, 23 years ago. He is six feet and two inches tall, and has light brown hair and blue eyes. On The Monkees, he is Mike's stand-in; when the boys do concerts, he is Light Director; and at their recording sessions, he is a Session Leader. John, who is an excellent bass guitar player, lives in a bachelor apartment in North Hollywood, California.
Let's go back to the campus of San Antonio College in San Antonio, Texas, and pick up Mike in the uncertain days when Fame had not yet beckoned and only Destiny knew that Mike was to be a Monkee.
From the beginning to the present, the story of Mike Nesmith's life as an entertainer and musician is an ironic and interesting one. It is ironic because at one time he was never supposed to have been able to use his right hand! This came about when he was injured when a firecracker exploded while he was holding it. This happened when Mike was 18. The firecracker was a big M-80. Mike lit it without noticing that it had a short fuse—and before he could let go of the firecracker, it had exploded in his hand, leaving what looked like a mangled mess. The doctor told Mike, "Unless you exercise your hand; it will become paralyzed and you will never be able to use it properly again."
Mike's life story is interesting because this is the event that led him to make the decision to teach himself to play guitar. If you believe in Destiny or Fate, she must have been acting at the time—for today Mike Nesmith is known as one of the top entertainers in the world. But we are getting ahead of our story. Let's go back to the time I first saw Mike on the campus of San Antonio College in San Antonio, Texas.
That was in the fall of 1963. Amid the roar and rush in the huge registration hall, Mike was walking leisurely from one table to the other, wearing an old T-shirt, blue jeans and sneakers—with his guitar slung over his back and that famous wool cap perched on his head. He wandered over to the Speech And Radio registration line, where I was standing. I noticed him because he was an "individual" surrounded by conservative people. I dug the fact that he had a guitar because I was an amateur musician. He made me curious. I wanted to meet him.
While Mike was waiting in line, he took his guitar from his back and started playing and singing some fabulous songs I had never heard before. In not [sic] time at all, a crowd gathered around him. While we all stood listening, I carefully scrutinized Mike. He had a Beatle-style haircut—and that was long before the Beatles invaded America. He had a nonchalant approach and gained instant rapport with his audience. At the end of his concert for the astonished and delighted Speech And Radio students, I went over to Mike and asked him where he got his material.
"Man, It's all just great," I told him.
"Well," Mike said softly, "I'm glad you think that, because all these songs here are songs I wrote myself."
I was amazed, but I didn't let on. I just asked him if we could meet later. "Maybe you could play some of the songs for me again. I might have a few musical suggestions you'd be interested in."
"O.K.," Mike said, and grinned.
Looking back now, I realize that right then we became instant friends. During the next few weeks we rehearsed every afternoon after classes. We were into a bag of our own. It had a slight Latin flavor, but would be classified today as "folk-rock".
Mike and John at Mama's

Permalink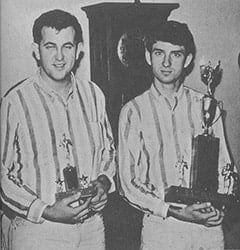 Our first job at San Antonio was at the college and high school hangout. It was called Mama's and all the kids used to flock there after school to meet their friends and find out what was happening. They were attracted to our unique musical arrangements, but they were also fascinated by Mike's self-confident, cool way of handling the crowds that came in. I guess there's no way to explain it but to say that Robert Michael Nesmith was born with his own special brand of magnetism. There were two other factors that contributed to Mike's compelling on-stage manner. One was his Christian Science background. This had imbued him with pride in self-discipline and a unique awareness of himself and others. Two, he was his own private man; he was dependent on no one but himself. Such individuals are rare these days and everyone, including yours truly, finds extremely interesting to be around.
We were a smash at Mama's and the owners stood around with their eyes wide open while we captured the hearts of their teenage regulars. Mike would sing a song of sorrow, such as his composition Pretty Little Princess, and leave audience on the verge of tears. Then he would quickly swing into the humorous atmosphere of his upbeat tune, Different Drum—a song about a guy who was bound to go roamin'.
After our successful engagement at Mama's, we were invited to play at the San Antonio College annual talent show. After we accepted, we found out that we would be competing against the top rock groups in the city! We were nervous as cats right up until the time we went out on the stage. But once we were out there under the multi-colored lights, before an audience 3,000 strong, our fears subsided and, once again, Mike gained full control of the crowd with his professional air and his songs of meaningful lyrics. His country-grown humor and quick-witted tongue captured the audience completely, and after the show we were voted first place. Mike was amazed, but I was not. I felt that he had done it himself and that he deserved it. As Mike stood glowing and taking bows, I realized that this was the only way he would ever be truly happy—entertaining people.
The boys branch out

Permalink
Because of the enormous publicity we received from the talent show contest, we were constantly called upon to perform for shopping center openings, private parties and country club events. Mike tirelessly worked day and night setting up and arranging engagements, promoting new shopping centers by entertaining for them and successfully keeping up his academic studies during these extra-curricular activities. Mike was a Drama major and got straight A's in English, Drama, Radio and Speech.
After we had played most of the clubs and events in the city of San Antonio, we branched out to an inconspicuous club on the outskirts of town called The Rebel. Because of the previously poor response to entertainment there, Mike made an agreement with the owner that instead of taking a salary we would take half of the gate the owner made from the customers that came in to see our show. The inevitable happened—San Antonio lost half of its population to The Rebel from nine-to-one every night—not to mention that Mike and I managed to make a little money!
News of Mike's seemingly unlimited talents soon arrived at the Texas metropolis of Dallas, and within a short period of time we were invited to that city to play the PM Club and the Rubyait. What happened there was a repeat performance of what had already happened in San Antonio, but on a much larger scale. As it was already summertime, Mike and I spent the first few weeks of June in Dallas, where his mom and stepdad were living at the time. After numerous engagements at various clubs in Dallas, both of us were ready for a sunny vacation in California—neither of us aware of the fantastic events that were to follow shortly. But that's another story and I'm going to tell you all about it in the next issue of 16 Magazine.
The July issue of 16 goes on sale May 23. Meet you back here then.