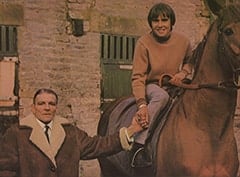 In this exclusive color photo ([right]) you see one of the rare pictures of Davy Jones and his beloved father. This photograph was taken on Davy's last visit to England. As you can see on Davy's face, he loves being at home. Then, too, there's the pride shining out of Mister Jones' eyes. He's a lucky man to have Davy for a son.
Where the Monkees Will Be This Summer:
Plan now to attend the Monkees' personal appearances in your local area. Dates below are tentatively scheduled. The names of the arenas at which the appearances will be made will be announced at a later date over your local radio stations.
| Date | Location |
| --- | --- |
| Saturday, May 27 | San Jose, Calif. |
| Friday, June 9 | Los Angeles |
| Saturday, June 10 | Los Angeles |
| Saturday, July 1 | London, England |
| Sunday, July 2 | London, England |
| Saturday, July 8 | Jacksonville, Fla. |
| Sunday, July 9 | Miami, Fla. |
| Wednesday, July 12 | Greensboro, N.C. |
| Thursday, July 13 | Charlotte, N.C. |
| Friday, July 14 | New York |
| Saturday, July 15 | New York |
| Sunday, July 16 | New York |
| Thursday, July 20 | Buffalo, N.Y. |
| Friday, July 21 | Baltimore, Maryland |
| Saturday, July 22 | Boston |
| Sunday, July 23 | Philadelphia |
| Wednesday, July 26 | Indianapolis |
| Thursday, July 27 | Cleveland |
| Friday, July 28 | Cincinnati |
| Saturday, July 29 | Detroit |
| Sunday, July 30 | Chicago |
| Wednesday, August 2 | Milwaukee |
| Friday, August 4 | St. Paul, Minn. |
| Saturday, August 5 | St. Louis |
| Sunday, August 6 | Des Moines, Iowa |
| Wednesday, August 9 | Dallas |
| Thursday, August 10 | Houston |
| Saturday, August 12 | Mobile, Ala. |
| Sunday, August 13 | Montgomery, Ala. |
| Thursday, August 17 | Memphis, Tenn. |
| Friday, August 18 | Tulsa |
| Saturday, August 19 | Oklahoma City |
| Sunday, August 20 | Denver, Colo. |
| Friday, August 25 | Seattle |
| Saturday, August 26 | Portland, Oregon |
| Saturday, September 2 | Los Angeles |
| Sunday, September 3 | Los Angeles |