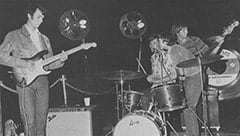 For all ravers who are going to THAT fantastic show at Wembley—this is what to expect!
Going to the Monkee concerts at Wembley? You probably can't wait to find out what their act is going to be like. Officials are keeping pretty quiet about it, and it seems no-one even knows what songs they're going to sing.
RAVE's been doing a bit of speculating and we think that the Monkees will probably be on stage for at least a full hour, and that they'll sing most of the numbers from their latest album "More Of The Monkees", as well as tracks from their first, "The Monkees".
Usually some time during their act, Micky, Mike and Davy go off-stage, while Peter sings a couple of folk numbers or some of his own compositions. Then on comes Mike, performing in his favourite country style. Davy does a couple of songs, usually one by Tony Newley, and then Micky explodes onto the stage doing a James Brown impression and generally looning around!
The act usually finishes up with the boys singing their latest hits.
Don't worry about not being able to hear anything above the screams. The Monkees' massive amps have been fitted for the concerts, so you won't miss a note!
Also, thanks to British Rail from all ravers for those special Monkee trains!
---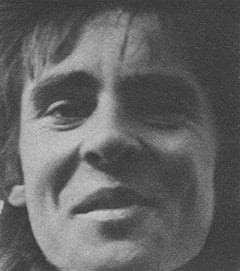 Have YOU won a phone call from Davy Jones? Here's the result of our competition that you've all been waiting for!
Help! Our "Win A Phone Call From Davy Jones" competition, which was featured in March RAVE, brought so many thousands of entries that we're only just recovering from them all! The lucky winner is seventeen year old Pamela Harrison of The Village Hall Stores, Headley, Epsom, Surrey. The entry that won her the prize was "WOULD YOU WEAR SWEDISH STRING VESTS IN THE BATH?" Read about Pam's call from Davy in a future issue of RAVE!
---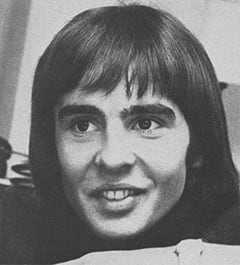 Davy Jones answers your questions
Because we had so many entries for our "Phone Call" competition, we asked Davy, as a special favour to RAVE readers, to answer some of your questions personally through RAVE. Luckily, he agreed. And here they are! Perhaps your question is among them. If not, and you'd like a personal answer from Davy through RAVE, write to DAVY JONES, c/o RAVE, Tower House, Southampton Street, London, W.C.2. Davy will be answering more of your questions in next month's RAVE!
Is it true you're leaving the Monkees?
DAVY: What! No it's not, unless Peter, Micky and Mike have given me the sack! I will be with the Monkees for as long as they are together.
What was your first impression of Micky, Mike and Peter?
DAVY: I thought "what a set of nuts"! And we all got on fine—I guess we have a similar sense of humour.
Where did you get your seven-foot circular bed?
DAVY: From a seven-foot circular bed shop!
Is it true you have to go into the army?
DAVY: Nothing has been decided yet. I haven't even received my draft papers, so don't get worried. If I am called up, the authorities may defer my entry indefinitely because my Dad is dependent on me.
What's that thing jutting out of the Monkeemobile's bonnet?
DAVY: That's the engine!
Which one of your fellow Monkees do you prefer?
DAVY: I like them all, no favourites at all.
Do you like American girls better than English?
DAVY: Not really. I like girls. I accept each girl on her merits as an individual.
Do you like pink and blue striped or grey elephants?
DAVY: Lime green elephants with red spots are groovy, they're my favourite.
What is your idea of an ideal happy family?
DAVY: My own. Mum, Dad, my sisters and I were always very happy even though we were poor, and when Mum died Dad had us to look after him.
Which secondary school did you go to?
DAVY: Varna Secondary Modern at Higher Openshaw.
How do you like being the smallest Monkee?
DAVY: I may be the smallest but I'm earning as much as the rest, which means I'm worth more per inch!
Are there times when you regret being a Monkee?
DAVY: Only when I can't get home to see my father very often, and when I do we can't be alone together because of all the fans at the door. Most of the time I love being a Monkee—it's just that it's difficult to have a private life.
---
Monkee Man Jeremy Pascall joins RAVE!
Great news for Monkee lovers! Jeremy Pascall (left), the man who knows the Monkees better than anyone else, has joined RAVE! For up-to-date news of the foursome, and the inside stories on their lives, join him in RAVE every month! On the right are more facts you DIDN'T know about Davy Jones!
---
That "The Monkees" show was originally written for Davy, with him playing all four parts!
That Davy sat in on the auditions for Peter and Mike.
That Davy nearly dropped from the Monkees BECAUSE he is English.
That Davy is writing songs with old friend Charlie Rocket.
That Davy dearly wanted to play the Artful Dodger in the film version of "Oliver!"
That Davy feels bad about the re-release of his old records.
That Davy's company may soon put out Monkee home movies.