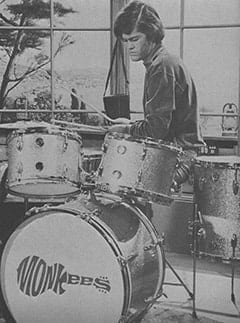 Starting right here… a very groovy column by Micky Dolenz' best friend and his stand-in!
Hi! My name is Ric Klein and I'm Micky Dolenz' best friend and his stand-in, which means that most of my time is spent with Micky and the Monkees. Starting this month, I'm going to be telling you all about my pal Micky and everyone's pals, the Monkees. First off, I'll tell you how Micky and I became good friends.
I met the madcap Monkee in 1964, when he and I were attending Valley State College in Southern California. He seemed to be just like any other student there, only a bit funnier, I suppose. We were never very tight, but we had a few friends in common, so we knew each other on sight.
I can remember spending many evenings at one friend's house, sitting around singing "campfire" songs, while Micky played the guitar. I can't recall whether he was very good or not—he just strummed the chords to keep everyone on the same note. He never had a chance to try anything very difficult.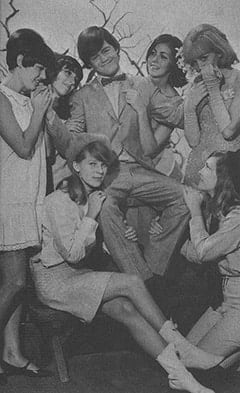 Back then, Micky looked very much like he does today. His hair was shorter, combed to the side, and he wasn't as thin—he was eating regular meals three years ago! Even though he had been a big television star, he never acted like one. He was very, very wild and nutty, though. He was always playing jokes on his friends and telling stories and, in general, being everything that a Monkee is.
Then I went to Europe to travel and have a look around with one of our mutual friends. When I came back, Micky had just finished touring with his rock and roll group and was very interested in architectural drawing, which happened to be what I was interested in at the time. So we decided to go to Los Angeles Trade Tech together.
During this period, we became very close, Then, one day, Micky left school to be in this television series. We kept in touch with each other and last February, he told me he needed a stand-in. Would I like to do it? I needed the money, so I quit school and moved into the Monkees' set at Screen Gems.

After the series had gotten off to a good start, and the Monkees' records were selling so fast no one could believe it, the boys decided to go on the road and do concerts. They needed road managers and equipment men, so David Price (Davy's stand-in) and John London (Mike's stand-in) and I took over these duties.
John runs the projector and lighting system for the boys, David takes care of the sound system, and I sort of oversee everything and tell everyone what to do and when to go on stage.
The boys thought that this arrangement would be much simpler than hiring outsiders even though we knew nothing to do while the Monkees were on the road anyway, so why not go along and help out?
Enough about me—How would you like to visit Micky's house? Of course, if you all went at once it would be much too crowded, so I'll tell you all about it now (and you can go visit him one or two at a time, OK?)
Micky lives in the Hollywood Hills about five miles from the Screen Gems lot where the Monkees film every week. It's on a hill, but not perched on stilts like many hillside homes are—his has a solid foundation!
As you walk in, there is a spiral staircase up to the bedrooms. The kitchen is behind the stairs. You step down to the living room, where there are huge windows with a spectacular view.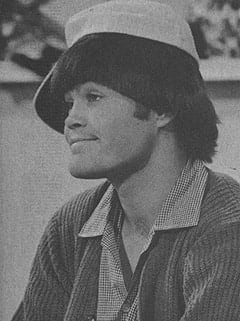 Micky is renting the house furnished, but at the beginning of this year, he decided he didn't like the furniture and is having the whole house redecorated. I can't really tell you how it will look yet—at the moment, there are sheets and things all over everything, so you can't tell anything about it! But you can bet if Micky lives there, it will be comfortable and very groovey.
I have to rush off—Micky and I are off on a trip to Europe, where I'll be taking lots of pictures of my mad Monkee freaking out with all the foreigners.
Watch for lots of exclusive pictures and stories on our travels in FLIP next month!
Ric (and Mick) will be back in the July issue of Flip—on sale May 11th!