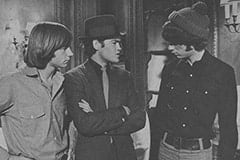 LONDON—One good reason that PAUL McCARTNEY remains so unspoiled by his immense wealth is that he surrounds himself with unaffected people, like PETE TOWNSHEND of the Who, JOHN MAYALL, MICK JAGGER and DONOVAN, who are frequently found enjoying the hospitality of his London home . . . STEVE MARRIOT of Small Faces about town wearing a 'boy from U.N.C.L.E' hat . . . Strong rumours about that Stevie Winwood split from SPENCER DAVIS group . . . EX-ANIMAL CHAS CHANDLER deserves full credit as the man behind JIMI HENDRIX'S fantastic fame in Britain . . . HERMAN shooting tin cans to death down at his Kent countryside retreat . . .
The British pop scene still lining up for and against the MONKEES. Latest contenders to take a crack at the U.S. group in public are PAUL JONES and the MOVE while lining up with the defending council are ERIC BURDON and SPENCER DAVIS also putting their praise in print. Resentment seems to spring from America seizing the iniative [sic]—well done DON KIRSCHNER [sic]!
Thirty musicians were present on TOM JONES 'Green Green Grass' hit which sold a million in Britain alone . . . we heard more about the MAMAS AND PAPAS here when Andy Wickham was publicist . . . BRIAN JONES caused a sensation on British TV when wearing a fedora hat . . . BRIAN EPSTEIN rates Jimi Hendrix the most exciting stage act since the ROLLING STONES . . . HERMAN'S recording manager MICKIE MOST now records the YARDBIRDS as well as DONOVAN . . . TOM JONES Sunbury home was previously owned by Seekers agent Eddie Jarret . . . JOHN LENNON and PETE TOWNSHEND escaped unhurt from car crash in London . . . DONOVAN in correspondence with SPOONFUL JOHN SEBASTIAN . . . ERIC BURDON has cut MICK JAGGER and KEITH RICHARD'S composition, "Connection." . . .
PAUL McCARTNEY mentioned his projected idea for "Penny Lane" to me over 12 months ago during the Lennon and McCartney spectacular when he also hinted of a musical he was writing around a Liverpool theme. "Penny Lane" is the road near Paul's house in the 'Pool where the buses turned round. Another area which he mentioned fascinated him was a tunnel through which the dockers go down to the Mersey-side called "the Dockers Umberella [sic]."
ANDREW OLDHAM now quietly moving, quietly spoken and quietly effective . . . What does NOEL HARRISON have for breakfast, according to DENNIS WILSON? . . . ERIC BURDON starring in first small feature film "The War" a la Lennon as an army private . . . JULIE FELIX hosted a Chelsea party here to celebrate her record of DONOVAN'S "Saturday Night" attended by McCARTNEY, SPENCER DAVIS and actor MICHAEL CAINE . . . Olympic studio in Barnes has housed the STONES, THE TROGGS and ERIC BURDON recently . . . RINGO being sued by ex-gardener for alleged nonpayment for landscaping his garden . . . THE WHO threatened to burn down Brian Epstein's Savile Theatre as finale to their riotous act . . . Randy Newman numbers recorded by both Alan Price and Eric Burdon . . . DONOVAN'S Albert Hall concert attended by the in people including McCARTNEY, STEVE MARRIOT and MARIANNE FAITHFUL . . .
For every misguided pop star who slams the MONKEES there are about a thousand angry letters in reply and the retort 'jealous' is about right . . . Swedish TV director Peter Gouldmann who filmed the BEATLES promotion for their new single declares them the nicest people he has ever met . . . BRIAN EPSTEIN now cruising proudly about the London Scene in a Rolls Royce phantom V . . . CHRISSIE SHRIMPTON quoted as saying she hates MICK JAGGER now they have parted . . . TOM JONES and SCOTT ENGEL still swopping verbal punches in trade press . . . SPENCER DAVIS over the moon about his U.S. breakthrough with "Gimme Some Lovin" . . . ROLLING STONES receiving unbelievable coverage in national press . . . RINGO'S building firm putting up a cinema near to GEORGE HARRISON'S Surrey home . . . TOMMY STEELE honoured by a visit from SENATOR BOBBY KENNEDY while filming "Half A Sixpence" at Blenheim Palace . . . disc tribute waxed by Blossom Dearie—"Sweet Georgie Fame," . . . BRIAN JONES affirms that pictures of him taken in Nazi uniform were a send up . . . HERMAN'S sister DENISE NOONE a double for JANE ASHER . . . MARIANNE FAITHFULL going into a personality change since her association with MICK JAGGER . . . Jimi Hendrix invited to supper with PAUL McCARTNEY, JOHN MAYALL, PETE TOWNSHEND and MARIANNE . . .
Growing tendency among British groups to appear at "Happenings" where they smash TV, cars and other symbols of convention. THE MOVE are the biggest smashers, but BRIAN JONES declares the STONES were first.
FOUR TOPS and GEORGIE FAME a mutual admiration society here . . . McCARTNEY claims that they grew the moustaches and beards to symbolise a departure from being "the four mop tops" . . . GEORGE HARRISON and ERIC BURDON have a great deal in common . . . Military jackets worn by MICK JAGGER, JIMI HENDRIX, THE WHO and THE CREAM starting a new fashion craze for young people here . . . PAUL McCARTNEY now the possessor of an orange mini car . . . JOHN LENNON turned up for a recording session in rainbow striped jeans . . . SPENCER DAVIS married with two children . . . MICKEY [sic] DOLENZ proved honest, straighforward [sic] and won the sympathy of the public on Monkee visit here.