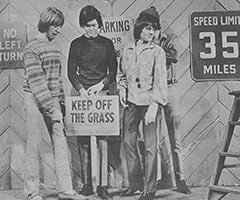 Flash—Special 16 Exclusive Scoop! Monkees Meet The Raiders—For One Of The Most Super-Swinging, Outasite "Sessions" Ever Recorded!
It all started at about 4 o'clock on a swingin' Saturday afternoon in Gloria Stavers' 16 Magazine office, slam-bang in the center of New York City. The first phone call was from Harpo, telling Gloria that the Raiders had hit town for a few days (they had come in to tape CBS-TV's Coliseum show), and that the Raiders were reporting in to find out, "What's happenin'?"
"Can't tell you right now," Gloria replied enigmatically. "Come on over to the office—and tell the other guys to let you know where they'll be later."
Shortly after Gloria hung up, she got another phone call. It was Micky Dolenz—who was staying at a hotel a block away from 16's office—who also wanted to know, "What's happenin'?"
Gloria assured Micky that lots was "happenin'"—and that she'd be around soon with a surprise for him. And that, dear 16-ers, was the beginning of one of the wildest, swinginest top-star summit meetings in the history of young show-biz!
The big get-together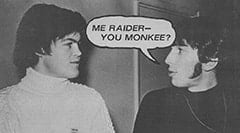 The first Raider and Monkee to meet were Harpo and Micky Dolenz. On hand for the ocassion [sic] were myself, Chip Douglas (A & R man and member of the Turtles), and Ric Klein. Micky and Harpo hit it off immediately; in fact, we all dug happy Raider Harpo on sight. It was just as though we all had known each other for a long time. Harpo was wearing an olive green tweed jacket with epaulets and big brass buttons, a black turtleneck sweater and dark slacks. Micky had on a thick, white turtleneck sweater, rust corduroy bell bottoms and a button saying "Frodo Lives".
You'll have to read Tolkien's Ring Trilogy to find out about Frodo. (Tolkien's Ring Trilogy, incidentally, happens to be some of Micky's favorite reading.)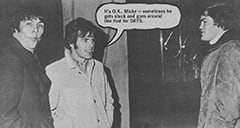 At the time of the first Monkee-Raider meeting, Davy Jones was on 24th Street in the RCA Victor Studios working on a single record. Suddenly, as if by telepathy, the phone rang in Micky's suite and it was Davy, asking Gloria the same old question—"What's happenin'?" Gloria told Davy who was at the hotel and he got on the phone with me and made plans to meet us when he was through cutting. Then Harpo got on the phone and tracked down Fang and Smitty (it seems that Uncle Paul was sound asleep and that "Madman Marcus" was out somewhere buying boots for the Raiders to wear on their Coliseum show). Anyway, we made plans to meet Fang and Smitty in Greenwich Village. I called Mike and Phyllis Nesmith, who were staying at the Plaza Hotel, but they were both wiped out by a hard day of New York City sightseeing.
The only Monkee missing was Peter Tork, and since we knew he was hanging out somewhere in Greenwich Village during this layoff period (as you know by now, all the other Monkees were headed for England at this time), we trusted to Fate that we would run into Peter later. It turned out, unfortunately, that we did not. However, two Monkees and three Raiders was a sufficient handful without adding any more—believe me!
Who's got the button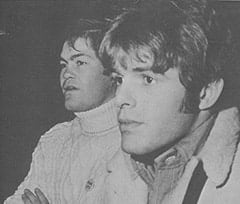 At 10 o'clock that night our party went to the Dugout in the Village. Just after we got to our seats, Fang and Smitty walked in and joined us. We all had the same groovy feeling about them—it was as though we all had been friends for a long, long time. After we'd finished a dinner of hamburgers and Cokes, Fang and Micky were the first to lead in the action department.
"Hey, let's go find a button shop," Micky suggested. And Fang, who turned out to be a button-nut too, said, "Yeah, man, let's do that!"
It took us no time to find a great little button shop—where the guys milled around for 15 minutes with the Village teenyboppers without any of them recognizing any of us! We each bought a button or two and then we went sightseeing on MacDougal Street. Well, on MacDougal Street the kids did recognize Micky, Fang, Smitty and Harpo. At first, just a few of them noticed us, but soon I could see a large crowd gathering around the guys, and Ric and I made them move along quickly. At just about the moment when the whole scene was about to become a satire on one of our Monkee "romps" (you know, the kind where the Monkees are running—all speeded [sic] up like Keystone Kops—being chased by a whole gang of girls?), we saw a sign that said, The Night Owl. We all ran toward it and Chip steered us inside.
The Night Owl, as you probably know, it [sic] where the Lovin' Spoonful and the Blues Magoos (to mention only two) got their start. Chip, who once lived in New York, used to hang out there, and he introduced us to Joe Marra, the owner. Joe invited us to be his guests, so we all sat around drinking coffee, yakkin' and digging the Flying Machine—the club's newest rock 'n' roll discovery.
Monkee-Raiders go on "strike"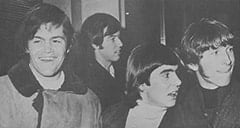 Without tipping the guys off, I called Davy and told him where we were. A short time later he walked in the door. He was wearing a dark suede jacket, a thick white turtleneck sweater, like Micky's, "gambler's" gray, black and chalk-striped pants with trumpet legs—and a great big grin on his face.
"Look who's here!" Micky shouted—and it was "familiar faces" time all over again. I needn't repeat that everyone grooved everybody right off—no hassle.
After hanging in The Night Owl for a while, we all decided to swing back to Micky's suite and have a party. Let me tell you that two limousines loaded with Monkees, Raiders and friends slowly rolling through the crowded streets of Greenwich Village created quite a commotion. But just about the time enough fans to cause a riot had recognized us, the traffic disappeared and we zoomed up Sixth Avenue—thereby just avoiding another "romp".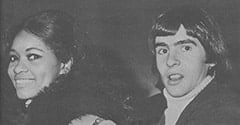 We got off at the side entrance of the hotel to be greeted by a very unusual spectacle. New York's Playboy Club is right beside the hotel where we stayed, and very late on that cold Saturday night spotlights were shining and a crowd was gathered watching (you'll never believe this) the Bunnies—who were out on strike! I knew that Davy, Micky, Fang, Smitty and Harpo would be able to stand on the sidelines only for a brief time. You see, the Monkees and the Raiders aren't watchers, they are doers—and it didn't take longer than three minutes for them to jump in and join the "Bunny parade." Suddenly, it started snowing and the whole scene was a sight to behold—the Bunnies carrying their picket signs and trying to look serious, the Monkees and the Raiders dashing in and out, around them, and the baffled spectators standing around gawking at all this madness!
Monkee-Raiders behind closed doors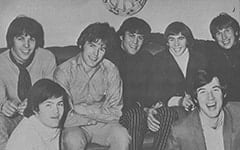 Finally, Ric, Chip and I persuaded the guys to enter the hotel. Up in the suite, we ordered Cokes and sandwiches and sat around rapping about all the latest happenings in the world of young show business.
"I just heard Ups And Downs today," Davy told Fang, "And I really dig it. I love those trumpets in the background. How many are there?"
"Oh—about five, I think," said Fang, thoughtfully.
"Ah-ha!" Micky exclaimed, jumping up and doing his best Count Dracula imitation. "Zat means zat all you Raiders can play zee trumpet, yes?"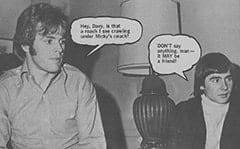 After a split second of silence, the whole room broke up, for we all instantly grasped the hip inside joke Micky was making. After the laughter subsided, Smitty said in his best cowboy drawl, "Well, we don't exactly play trumpet, pardner—we just use a few back-up musicians once in a while. Doesn't everybody?"
"You better be careful, mates," Davy said, doing a way-out Manchester accent, "coz you'll soon be getting that roobish about not cooting your own discs thrown at you."
At this point, the conversation turned to the Beatles and everyone agreed that—without a doubt—John, Paul, George and Ringo are still the greatest thing to ever hit the scene.

"I sure wish I could meet them—or just one of them," Micky said. Little did he realize that in a matter of two days his wish would come true!
We all sat around yakking till the wee hours. Harpo was the first to leave, promising Micky that he would definitely meet him and take him to the airport for his London departure the next day. Davy and I left next, but not before making plans to meet Smitty and Fang for brunch the next afternoon.
On Sunday everything went according to schedule, except that Harpo was a little late in picking up Micky and—though Ric kept urging Micky to leave for the airport—Mick insisted, "Hey, man, I'm not going to London until Harpo gets here—and that means if it takes him a week!"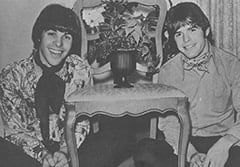 All I can say is, that's a good example of the kind of firmly-cemented friendships the Monkees and Raiders made that weekend. Before we all ultimately departed from each other's company, we exchanged phone numbers and made plans to meet again when we returned to Hollywood.
"Hey," Davy said, when he waved goodbye to Fang and Smitty, "next time, let's make sure it's all of us, You guys bring Paul and Mark—and we'll bring Peter and Mike."
And I'll be bringing you more of The Monkees & Me in the July issue of 16. It goes on sale May 23rd, so reserve your copy now!