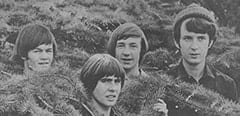 The Monkees' closest friend—who knows them better than anyone else—takes you along on the boys' second live concert tour. Wild? You'll have fun and thrills like never before!
If you happen to live anywhere between Denver, Colorado, and Los Angeles, California—and you happened to look up last December 26 at about ten o'clock in the morning and saw a giant jet soaring eastward—then you just might have spotted the Monkees in flight headed for the gig of their fantastic series of eight one-nights stands! While you calmly screened in the sunlight from your eyes, in order to get a better view of that passing aircraft, the four young men—Davy, Micky, Mike and Peter—up there in the sky were very busy being just as you see them each Monday night on their nationwide TV show—their own sweet lovable(?) selves! And 50 million groovy young American girls can't be wrong! Right?
When the boys left the L.A. airport at nine that morning, there were over 400 super-enthusiastic fans on hand to see them off—in spite of the fact that their departure had been kept Top Secret by all involved. The entourage once again included the boys, Ric Klein, one of the publicists, several Screen Gems execs, and myself.
Flying and wailing!
Though the boys were somewhat nervous about the upcoming concerts, they were pleased and excited. I'm A Believer had just made number one in L.A. (it also just come out!), and advance reports on LP sales were fantastic. Mike, Peter, Micky and Davy were also pleased at the prospect of being able to show all the "mud slingers" that they—The Monkees—did their own singing and playing, and were not phoney "wind up" musical dolls, as some adversaries had tried to make them appear.
The flight from L.A. to Denver was a fun flight, with Micky and Davy running all around the aircraft meeting their fellow passengers and signing autographs. Without a doubt, Mick and Davy are the most "outgoing" of the group. Peter busied himself by taking pictures of everything, from the sky and crowds outside his window to the seats and doors—and even the carpet—in the airplane! Mike quietly played solitaire until Peter ran out of film, then the two of them began to play Hearts together. I wasn't surprised when the usually exuberant Davy finally threw in the towel and cuddled up in his seat for a nap. Just the day before, Davy had returned from his Christmas visit to his home in Manchester, England, and instead of resting he and our artist friend, Neko, and I had stayed up half the night painting the wall! Yes, that's right—painting the wall. Davy has a little foyer in his new apartment ad he wanted to do something really freaky with it—so Neko sketched some weird designs and then we all took brushes and different colors of paint and started filling in the spaces. You'll have to see it to believe it—it is so spaced out and alive with bright colors that it seems to jump out at you walk in the door. The red blinking light and beaded curtain Davy insisted on adding as a finishing touch really does just that—finishes you off.
Pandemonium in Denver!
When we deplaned at the Denver Airport, the boys were delighted to see between 400 and 500 fans on hand to greet them, for—once again—we had been told that their arrival had been kept very hush-hush. The limos whisked our clan off to the Cosmopolitan Hotel (the Brown Palace Hotel had refused to take the Monkees). After checking into the hotel and unloading their gear, the guys were taken to the Coliseum to see the set-up and get their one and only change to rehearse. It was a smooth rehearsal, and Davy and Micky worked out a couple of new ideas they wanted to try. Remember: this was only the Monkees' second live concert together (the first having been in Hawaii on December 3rd, and the boys felt that their act could still use a lot of "pulling together".
The rehearsal ended at about 6 P.M. and the boys went back to the hotel, had some dinner and changed into their black suits, light green shirts with paisley ties and black boots—one of the sets of "costumes" they use for the show—and left to return to the Coliseum. They arrived at 8:45—just in time to catch all of the openings acts from the wings. The Candy Store Prophets, a group led by Bobby Hart (who wrote, along with Tommy Boyce, Last Train To Clarksville and Steppin' Stone), opened the show with a bang. They were followed by the Apollos—an outasite Motown-type group of wailin' chicks—and Jewel Aiken, of Birds And Bees fame. After a ten-minute intermission, the house lights were turned off, the Monkees took their places inside two huge fake speakers on the stage, and the sound of the Monkee Theme filled the auditorium. Two giant spots hit the stage just as Micky, Davy, Mike and Peter burst out of the fake speakers—wailing away! Pandemonium struck that arena like a thousand bolts of lightning from the sky! Seven thousand teenagers jumped to their feet, screaming at the top of their voices. The roar of sound was like a thrilling electric shock leaping from the audience to that stage and from the stage back to the audience. I wish every single one of you groovy 16-ers could have been there at that very moment. It was wonderful—perfect Monkee madness all the way!
In case you did not read my first story (in the April issue of 16) about the Hawaiian concert, here is the exact run-down on the tunes the boys did:
Clarksville - Micky.
She's So Far Out She's In - Micky.
You Just May Be The One - Mike.
Prithee - Mike.
I Wanna Be Free - Davy.
Sweet Young Thing - Mike.
I Can't Get Her Off My Mind - Davy (with a thick Manchester accent).
Take A Giant Step - Micky.
Mary Mary - Micky.
After Mary Mary, Davy goes up and takes over the drums and Micky comes down front. Then all the guys leave the stage except Micky, who introduces Peter. (By this time, Peter has switched to a white sweater and tight white slacks.) He sings a bluegrass tune and plays his five-string banjo. This is Peter's "solo." (At this point in the show, each of the Monkees does a "solo" number.) Next comes Mike, in a thick off-sweater and gray "gambler's" slacks with thin black stripes running down them. He plays maraccas [sic] and sings You Can't Judge A Book By Looking At Its Cover. Then Davy comes out dressed in a black tuxedo and a white lace shirt (with no tie) and sings one of his favourite Anthony Newley tunes. Davy then introduces Micky, who is wearing his Monkee grey suit coat (from the TV show) turned inside out!—and wildly striped pants. Micky is combing his hair and he throws the comb into the audience, causing a small riot in the front rows. Micky does I Got A Woman a la James Brown (Mike keeps running out on stage to pat Micky's "fevered" brow and pretends to try to drag him off). When Micky finishes, all the guys are off the stage for less than a minute—then they bounce back on wearing their well-known Monkee outfits: grey pants and double breasted blue shirts. They then do:
I'm A Believer - Micky (Peter plays electric organ on this).
I'm Not Your Steppin' Stone - Mickey [sic].
The boys then bow, say "Thank you very much," place their instruments on the stage (except that Mike carries his $5000 12-string guitar off and hands it to his buddy, John London), and the Monkees make a made [sic] dash for the limo—which is already parked inside the arena. They leap in, the doors are slammed and the boys split for the airport.
Travelin' Monkees
In Denver we were met by our chartered ten-passenger Falcon jet (not Lear jet, as has been mistakenly printed elsewhere). Because of a low ceiling in Denver, we all had to wait in the airport lounge for 45 minutes. It didn't seem that long for, as usual, Davy, Peter, Micky, and Mike were clowning about and making the time fly by. Soon we were aboard our luxurious plane, bound for Memphis.
After Memphis, the Monkees played Louisville, Winston-Salem, Pittsburgh, Cincinnati, Nashville, and Tulsa. All of the gigs were fantastic. We loved every city and the thousands upon thousands of Monkee-lovers we saw, heard and met. Since there isn't enough room in which to write about each of these exciting events, I have picked two of particular interest.
Pie in the sky
While we were flying from Cincinnati to Nashville all the guys became bored (like in "the natives are getting restless, chief"). We all had a super supper of steak, baked potato and green peas. After eating all that, we were served a small cherry pie. Ric Klein sat looking at his with a bemused expression for a minute, then gave Davy Jones a sheepish grin. Davy looked from the pie to Ric's face and slowly said, "You swine—you would do that."
Whereupon Ric did just that. He dipped his fingers into his cherry pie and leaned over and painted Davy's face with some of it. Not being one to ever miss a cue, Davy very calmly dipped his fingers into his pie—and the battle royal began! Soon, it was pie in the sky for everyone. I joined in next, and the rambunctuous [sic] Monkees were swift to follow. It was sheer honest-to-goodness Monkee madness for the next 15 to 20 minutes. Finally, we all ran out of pie and laugher, and ended up sinking into our seats to wipe away the damage with our napkins. Now it all sounds a little silly, but it really was one of the high spots of the trip—giving us all a much-needed opportunity to blow off some steam.
Monkees celebrate New Year's Eve
We arrived in Nashville at 11:30 P.M. and checked into the Dinkler Andrew Jackson. There we found invitations to a New Year's Eve costume party Brenda Lee was having. We all piled into two limos and went to the address on the invitations—which turned our to be a huge warehouse! Inside, we found our adorable hostess Brenda, dressed as a clown and her husband dressed as a Civil War colonel. They had a groovy band and it didn't take long for Micky to get up on the stand and start wailing away.
When he finished, Brenda got up and did a few numbers—and then the Candy Stripe [sic] Prophets got into the act. Quite a show for one and all! It was especially great fun for Davy, Peter and Micky (Mike had decided to cool it and catch up on his sleep that night), because it was the only chance they had to take some time off on the trip and swinging at a party was a heckuva lot more fun than being locked up in a hotel room.
Wow—once again I'm out of space. That means my fabulous story about the "sneak" weekend the Monkees spent with the Raiders in New York City will have to keep till next month. Hope you can stand it till then. That knock-out exclusive story will be in the June issue of 16, which goes on sale April 20. Reserve your copy now and the "Monkees & Me" will see ya' then!