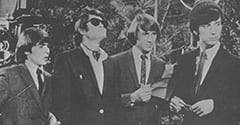 WHAT THEY THINK ABOUT GIRLS, DATING, LOVE, MARRIAGE—PLUS THEIR SECRET LIVES!
Thousands upon thousands of questions are asked by the many millions of Monkee fans every day, but the questions that are most often asked—and the ones that seem of greatest concern to truly avid Monkee-watchers—are questions about what the Monkees really think of girls, dating, love, marriage… and questions about the Monkees' secret lives.
Having talked with, photographed, and known these four wonderful young men for many, many months (and having known Davy for years), I have gained a great deal of insight into their true selves and a great deal of knowledge of their real lives. So now I'll do my best to explain each Monkee's attitude on the above-mentioned subjects. I think that you are in for quite a few surprises.
Dave Jones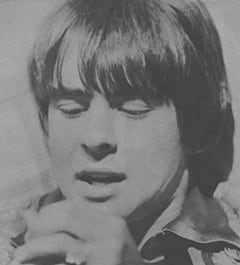 GIRLS: Davy is enthusiastic about girls. The very first thought that flies through his mind upon meeting a new girl, be she beautiful or plain, is how to capture her heart. Secretly, Davy longs for every single girl in the whole wide world to love him—and there's surely nothing wrong with that! He prefers to be in the company of girls who are neat, "organized" and considerate. Looks are secondary to Davy. In fact, he is still trying to live down the rumor that he loves girls with long blonde hair, when the truth is that he just loves girls. Period.

DATING: Davy digs going out on dates. He likes to dress up, pick up his date and go for a night on the town. He loves restaurants with good food and lots of atmosphere, and he deeply enjoys an exciting nightclub performance by a top star. But don't misunderstand—Davy is very much an "at home" guy, too. If he had a date with you, and you suggested that he dress casually and come over for a home-cooked meal—well, he'd flip!
LOVE: Though Davy is outgoing, generous and "loving" by nature, he seems to harbor a kind of secret fear of really letting himself go with a girl. Maybe he was deeply hurt once. Whatever happened, it has left a scar, and though Davy may not know he shows it—he does. If he finds himself falling in love, something happens to Davy. He "retreats," becomes quiet and even seems to be shy. Maybe he's afraid of rejection, maybe he doesn't want to become involved, or maybe his feelings are so sensitive that he knows he could not bear the pain of loving someone who didn't love him equally in return.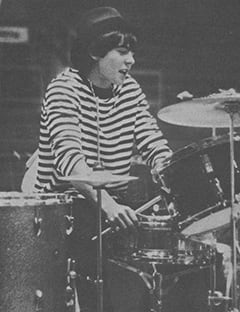 MARRIAGE: On the subject of marriage, Davy is the most sentimental of all the Monkees. He wants a big church wedding, in which he will wear a tuxedo with the bride in a long white dress and a reception with all the trimmings. He would love to have a big rambling house in L.A., a modern apartment in New York, and an estate in Manchester, England, where he can raise horses. Eventually, he would like to have a family, and he and they would gravitate—depending on their mood—from one of these homes to another.
SECRET LIFE: Though Davy has very little privacy in the mad, mad Monkees world he lives in, he occasionally manages to grab a few moments alone. These moments are usually late at night. During these times Davy often goes for a ride in his car, reads the Bible, or picks up the phone and calls a friend. Once in a while, if he can grab a day or a weekend, he'll hop on a plane and visit friends in New York—or just walk around New York all by himself, as he did recently.
Micky Dolenz
GIRLS: On the surface, Micky appears most interested in attractive girls, but the real Micky Dolenz is happier with girls who are not too pretty. As he once put it, "Pretty girls often do not develop their inner qualities. Like they don't have to try because they get everything they want just by being pretty. Girls who aren't so pretty have to try. I mean, like they have to learn how to do something, make an effort, develop their personalities—so that boys will be attracted to them for something other than beauty. In the long run, it's these girls I enjoy being with most. It's no fun eating just the icing. I like a girl who's a whole cake!"
DATING: Micky never plans his dates until the last minute. If you are going out with him, you'll be the last to know! Micky will think about seeing you, imagine that he's already made the phone call, get ready, and pop by your pad to pick you up. When you explain to him that he forgot to call, he'll say, "That's O.K. Hurry up and get ready." And he will flop down on your couch and bury his face in the latest copy of 16. You can take your time getting dressed, cause Micky is very patient. When you are prepared, you will hop into his car and he will drive off to Hamburger Hamlet on Sunset Strip. There you will dine on the porch and watch all the local freaks walk by. You can be very sure that Micky's comments on each and every one of them will be real side-splitters. After dinner, Micky will take you for a long drive, probably all around Hollywood, and find out who's hanging out where—all during which the radio will be played full-blast and Micky will bombard you with a thousand questions and remarks. As if you haven't gotten the idea by now—when it comes to the Monkees, Micky is the "lively" one.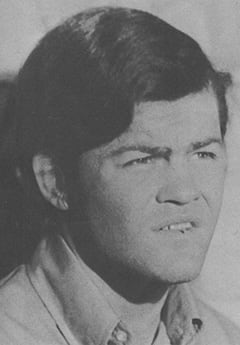 LOVE AND MARRIAGE: If, from the above, you judge Micky to be on the flippant side—you are wrong, wrong, wrong. Behind that facade of sparkling wit and vivacity is a deep, sensitive and somewhat shy young man. When it comes to the matter of love—Micky is very, very serious. If he ever fell in love with a girl (and he's not had that experience yet), it would be forever. He would be tender, loving, loyal, forgiving and understanding with his beloved. He would be a good provider and an excellent father—in other words, Micky would be a perfect husband. For him, love and marriage would go hand-in-hand, for if he ever finds a girl he loves his goal will be just one thing: to marry her. He would like to be married in his stepfather's church in Los Gatos, Calif., in a simple, dignified ceremony with his family and his bride's family in attendance. Eventually, Micky wants to settle down in that proverbial vine-covered cottage, raise lots of children and live happily ever after.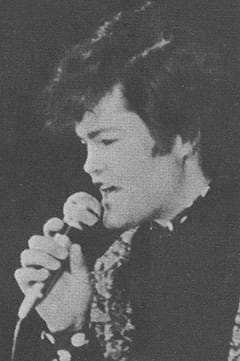 SECRET LIFE: Micky, as Davy, has very little time for himself. When he can get a few moments alone, he does one of several things. He either makes wire-sculpted objects, works on clay or stone sculpting, or takes photographs. What Micky does in his secret life is to try to express himself. He has a deep need to give gifts of his own creation to others. Once he ran up to Peter Tork on the set of The Monkees and handed him a "peace symbol" pin. "This is for you," he said, and hurried away. Peter was overwhelmed by the gift and rushed off to tell Micky so. Because he couldn't put into words how deeply touched he was, Peter just grabbed Micky in a bear hug and spun him around. Micky understood and later went quietly into his dressing room and closed the door. Sometime later when he emerged, Micky's eyes were red. He had been crying tears of happiness and had hidden because he was embarrassed for anyone to see them.
Peter Tork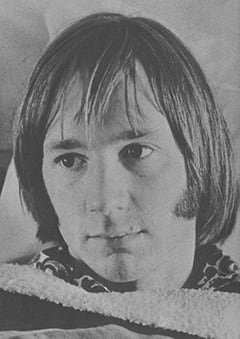 GIRLS: Peter's ideal girl is a strange combination of innocence and maturity, softness and a strong will, naiveté and intelligence and femininity combined with an independent nature. These apparent contrasts are not opposites at all. If you think in terms of black and white, yes and no, or opposites—and you dig Peter Tork—then you'd better change your way of thinking fast! Peter views everything (and that includes girls) from what is called "the third point". For instance, he's perfectly aware that a girl can be feminine and independent at the same time—which is a thought not common to most men. If Peter had to make a list of the things he finds most compelling in members of the opposite sex, physical beauty would be at the bottom. He loves girls who are bright, serious, sincere and witty. He doesn't care whether you are white, yellow, green or black, have freckles or long or short hair, or whether your legs are bowed or straight. Peter's interests go directly to the matters which are of concern to your mind and your heart. So, with him, you can just be yourself and swing wide the door to the real you (which most girls feel they have to hide from boys)—and Peter will enter your private world and bring you untold joy.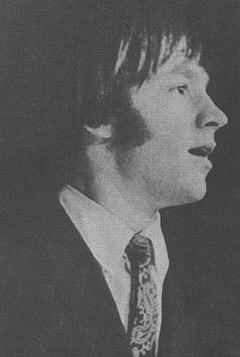 DATING: Peter scores "zero" in the date department—that is, if you are looking for a night on the town or someone to take you to the Junior Prom. Peter's idea of a perfect evening is to pick you up, drive to his pad and flop! If you can cook—groovy! He loves a good home-cooked meal. And if you can't, that's O.K. too. But you will probably have to settle for a bowl of corn flakes or potato chips and soda pop for dinner. Peter loves to look at TV, hold your hand and explore your mind—all at the same time! It might not sound like your idea of a fun evening, but if you are ever lucky enough to spend one with Peter your whole "date concept" will be changed for you will have learned what it's like to spend an honest interval with another real human being and to have shared experiences that will be of greater value than memories of that movie you saw or the dance you danced at the prom.
LOVE: Love and peace are Peter's two favorite words. He feels very deeply about both of them and wishes that they were practiced constantly by every single human being on the face of the earth. When it comes to boy-girl love, Peter is very slow at getting started. He is not bashful. It's just that he has learned that you really can't judge a book by its cover, so he would rather make a careful examination of its contents before he decides whether or not to take it home to mother.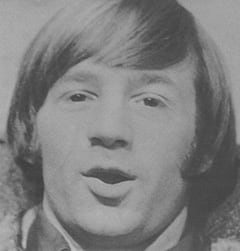 MARRIAGE: Speaking of taking a girl home to mother, Peter did that once and, though it didn't work out (they were both extremely young), it certainly hasn't soured Peter on marriage. He hopes, quite a few years from now, to find that girl-woman who is the true essence of all the things he has come to love, admire and long for in a female. Though his ideals are high, they are not strict. He is able to compromise and to give and take—which means that he is able to truly love another human being. Whoever gets Peter will be very fortunate indeed.
SECRET LIFE: Peter has mastered the fine art of getting away from it all to a very high degree for a Monkee. His secret life is centered around his buddies from his struggling Greenwich Village days, and if he can't get to New York City to spend time with them, they fly out and hole up in his house high in the Hollywood Hills. Peter is very devoted to his family, and in his spare moments at night he manages to call them at least once a week. This summer he plans to have all the Thorkelsons come to Los Angeles for a month as his guest.
Mike Nesmith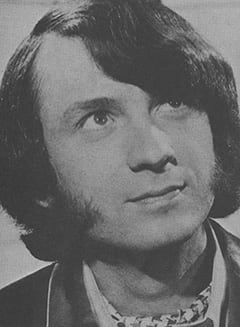 GIRLS: In a recent 16 questionnaire, which Mike answered in longhand, the word Phyllis kept recurring. For instance, Q: When are you most happy?
A: When I'm with Phyllis.
Q: Briefly describe your dream girl.
A: Phyllis.
Q: What three characteristics do you find most attractive in a girl?
A: Warmth, sincerity and femininity—and I found them all in Phyllis.
No need to go on any further. It's plain to see that Mike and his wife are two of the happiest, luckiest young people in America. It seems as though Fate decides that some people are born to be together for the rest of their lives. In this case, Fate not only decided that Mike and Phyllis were the right combination, but saw to it that their paths crossed early in life, so that they could share their joy in each other for as long as possible.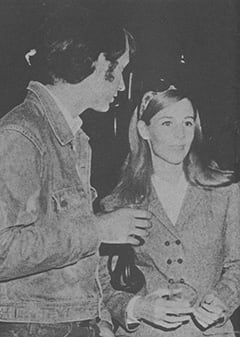 DATING: Though Mike and Phyllis seldom go out in the evening, when they do "date" they go to Beverly Hills and find an especially nice restaurant where they can share a perfect dinner—by candlelight, if possible. After dinner, they go for a short drive and then head straight back home. Neither of them dig dancing or the movies or parties. To Mike, a perfect date is spending a quiet evening alone with his wife and his young son, Christian.
LOVE: Not to be redundant, love is summed up in just one word by Mike Nesmith—and that word is Phyllis.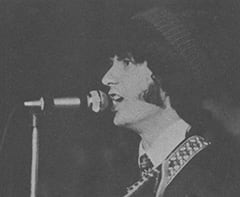 SECRET LIFE: Mike's secret life is his privacy—something he assiduously protects. It is only natural that after hours of constant work and public exposure during the day, the only married Monkee should long to close the door of his home against the outside world and enjoy his privacy, far from the prying eyes of the camera, the press and his well-meaning fans.