Come September or so there'll be some changes in your TV attractions. A host of new hopefuls will bump several familiar shows from the line-up and if you like them, why they'll hang on and become familiar too. They'll be competing for your favor, of course, with a number of sturdy series you've been going steady with for quite a while. The most promising new-comers are pictured on this page—and on the facing page are some of your old-comers, the TV series you long ago took to your hearts and are returning with the hope that you'll continue to love them as before.
Chris Jones is one of the first guest stars on ABC-TV's Judd, which will be seen on Friday nights.
Sally Field as Sister Bertrille on ABC-TV's The Flying Nun, which will be seen on Thursday nights.
Mark Slade as Billy Blue Cannon in High Chaparral, which will be seen Sunday nights on NBC-TV.
Jay North as Terry and Sajid Khan as Raji on NBC-TV's Maya, which will be seen on Saturday nights.
Norman Rambo will play Jeff on ABC-TV's The Guns Of Will Sonnett, which will be seen on Friday nights.
This handsome newcomer is Wayne Maunder, who will play Custer on ABC-TV's The Legend Of Custer. He'll be dodging arrows every Wednesday night.
Robert Vaughn and David McCallum continue their battle against THRUSH in The Man From U.N.C.L.E. every Monday night on NBC-TV.
The whole Daktari gang returns to CBS-TV on Tuesday nights.
Handsome Ron Ely is still swinging as NBC-TV's Tarzan every Friday night.
ABC-TV's Rat Patrol gang will be back on Monday nights.
You'll still find Bob Random riding on The Iron Horse on ABC-TV every Saturday night.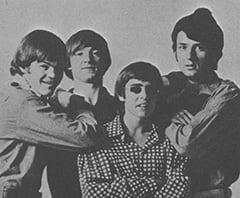 The sky is still the limit with Leonard Nimoy and William Shatner on Star Trek every Friday night on NBC-TV.
Here they come again! Micky, Peter, Davy and Mike—every Monday night on NBC-TV's The Monkees!