News & views of the stars that lit up the sky during the past few months!
Biggest news of the year was Elvis' marriage to lovely Priscilla Ann Beaulieu at 9:40 A.M. this past May 1 in Las Vegas, Nev. Elvis met Priscilla seven years ago when he was stationed in Germany, where her father, a regular Army officer, was also stationed. The bride and groom will call Memphis their home, and they will live on a new horse ranch Elvis just bought (near Graceland) most of the time. When Elvis is filming, however, they will live in Elvis' beautiful home in Bel Air, Calif.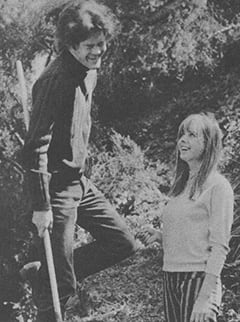 A girl named "Sammy" (her real name is Samantha Juste) made Monkee Micky Dolenz heart do flip-flops when he met her in England early this year. The two were reunited when she did modeling assignments in New York and Los Angeles, but both insist t'ain't nothin' serious between them and maybe it's true, cos Samantha went back home and Micky is dating other girls—when he has the time!
And our lovable Mama Cass went everybody one better and presented the world with the brand-new baby Mama. She named her daughter, who was born April 26, Owen Vanessa.
Peter and Gordon recorded the theme song for an English movie, The Jokers—and it will probably be their new single. Gordon and Sharon Sheeley have become formally engaged and it looks like Peter and his American girl (who now lives in England), Betsy Doster, might do the same. They're pictured here bidding on silk bed sheets at a London auction.
A&R man, Phil Spector, married his long-time sweetheart, adorable Ronnie Bennett of the Ronettes. Attendants at their wedding were the other two Ronettes, Nedra and Estelle. Phil is now with A&M Records.
Twiggy and her manager-steady, Justine de Villeneuve, tickled the fancy of all Americans on their visit here this spring and started a whole new ultra-thin trend, not to mention painted-on eyelashes. At one press conference, the Twig expressed a desire to appear in Sonny and Cher's next movie, Ignatz. Hope so!
Paul Jones, former lead singer with Manfred Mann, starred in his first movie, Privilege, and was acknowledged by all critics as the most promising new screen idol. The movie is definitely a do not miss. Sensational!
Another long-awaited wedding took place when beautiful Ann-Margret married her long-time beau, Roger Smith. They too tied the knot in Las Vegas, but instead of wearing a long dress, as Priscilla did, Ann-Margret chose a short white mini skirt with white mesh stockings.
Kurt Russell celebrated his 16th birthday in a recording session for the sound track of his next movie for Walt Disney Productions (Family Band—to be released early in 1968). On hand for the festivities were co-stars Heidi Rook and Bobby Rina.
Former Flipper stars, Luke Halpin and Tommy Norden, visited Norway and Holland on a promotion tour for the TV series, which is now being shown there. Everywhere they went they received Beatle-like welcomes and, among other things, were entertained by the captain of a Norwegian training ship.