David McCallum is now making no effort to hide his romance with beautiful New York model Kathy Carpenter. Kathy accompanied David on his Far Eastern tour to plug The Man From U.N.C.L.E. The show is the most popular one ever to hit the air waves in the Far East . . . Paul McCartney said the Beatles would work together again only as a hobby—"if we miss each other." Each Beatle—McCartney, John Lennon, George Harrison and Ringo Starr—is now trying to find himself as an individual entertainer. McCartney, already a millionaire, explained that during the Beatles' disappearance from the international scene, he has been on a safari in Africa, put together a film he shot in France and grown a mustache. "It's part of breaking up the Beatles," he said. "I no longer believe in the image. I'm no longer one of the four mop-tops." McCartney is now 24. Since prosperity caused the quartet to break up, Lennon, 26, has been working on a book and a film, Harrison, 26, has taken up Indian "sitar" music and Ringo Starr, 23, has shown a penchant for suburban London home life and a vague desire to be an actor . . . Frank Sinatra loves his Gotham apartment, but because his bride Mia doesn't, he's agreed to unload it. Now THAT'S true love . . . We hear George Hamilton and Lynda Bird Johnson are having some lovers' quarrels over the long distance phone wires—which, if they're like other young couples, means the wedding day can't be far off . . . When Jack Webb began his TV series, Dragnet, he was kidded by members of the Los Angeles Police Department for being the youngest sergeant on the force. He was 30 then, but now he's 46, which is just about the right age . . . Robert (I Spy) Culp and his sweetie, France Nuyen, had a fight and weren't speaking for several days. But they kissed and made up, and it looks as if they'll soon be spliced. Bob's peace offering was a huge diamond ring . . . Dean Martin is feuding bitterly with the director of Band Of Gold, Fielder Cook. It's gotten so bad that Dino has walked off the set several times . . . Pals of Jill St. John and singer Jack Jones say a march down the aisle for the couple is at hand. Judging from the heavy dating they've been doing lately, it certainly seems so . . . Raquel Welch got $50,000 for her part in the movie, Shout Loud, Louder. We'll bet she'll be pulling down at least five times that sum per pic within two years. What? No takers?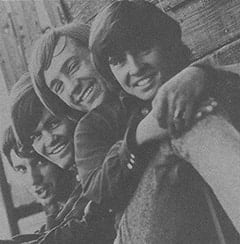 BACKSTAGE ON TV:
More Of The Monkees? Certainly. Can anyone ever get enough? Since Columbia Pictures recently announced plans for a full-length Monkees flick to be released come this summer or sooner, the spectacular success of their first hit single, Last Train to Clarksville and their initial album, The Monkees, plus their high-rating weekly NBC-TV serial, the foursome has become the No. 1 recording group in the country. By Christmas, Last Train sold well over one million copies, and their album, over three million. Right now, their latest single, I'm a Believer (sales to date: two million!) is No. 1 on all the charts; its running mate, (I'm Not Your) Steppin' Stone, is right up there with it, and their first album is also No. 1. Both sides of their current hit single are included in the Monkees' second Colgems album, titled More of the Monkees. What explains The Monkees success? The obvious answer is, they have youth, charm, energy, talent—and that indefinable X quality that separates the stars from the also-rans. They also have a formidable array of talents. They act, sing, play instruments and compose. Two of the songs in the current collection were written and produced for records by Michael Nesmith: Mary, Mary and The Kind Of Girl I Could Love. The four boys who make up the Monkees might have made it on their own—but they had the inestimable advantage of having been chosen by Bert Schneider and Bob Rafelson of Raybert Productions, who produce their TV show in association with Screen Gems and of being musically trained and groomed by Colgems' president, Don Kirshner, who supervises the musical production of both their singles and albums and their weekly television show. Kirshner's canniness includes picking the right songs for the group. Ten of them included in More of the Monkees were written by ten of the brightest compositional talents now available. Tommy Boyce and Bobby Hart, who penned Last Train to Clarksville, contributed She and Steppin' Stone; Neil Sedaka and Carole Bayer (A Groovy Kind of Love) offered When Love Comes Knockin'; Jack Keller (Run to Him) contributed to Hold on Girl and Your Auntie Grizelda; and Neil Diamond, who penned Cherry, Cherry, authored Look Out and I'm a Believer. And there are four more equally good, equally exciting. The versatility and talents of the Monkees, both individually and collectively, burst forth in the new album. The performances of Micky as an artist on I'm a Believer and (I'm Not Your) Steppin' Stone; Michael as producer and composer of Mary, Mary and as an artist, writer and producer on The Kind of Girl I Could Love; David's vocal interpretation on Look Out; and Peter's unique performance of Your Auntie Grizelda are but the beginnings of the great recordings yet to be done by the boys. More of the Monkees? Certainly. There's never enough.
SWINGSVILLE BEAT:
He comes out on a stage with a big grin on his little boy face, and the grin won't go away. He begins to sing in his tenor voice and he grabs the audience with a combination of virtuosity and sheer love of entertaining. He sings happy songs, rhythm songs, folksy songs and finally, he dons clown make-up in a kind of monologue with music and brings tears to your eyes with a highly charged version of Who Can I Turn To? He's Wayne Newton in a supper club performance, and he proves himself to be a remarkable entertainer. Because he believes the days of the stand-up singer are gone, he is exploring all phases of entertainment. "If people just want to hear a guy sing, they will buy his records. Otherwise, they want entertainment." His entertainment consists of songs, comedy, drama, a bit of dancing and performances on several of the nine instruments he can play. He appeared in his second Bonanza episode recently, in the same role he played when he made his dramatic debut on the show last Easter. (He has also made recent appearances with Danny Thomas and Danny Kaye.) "I'm deeply indebted to David Dortort, the show's producer," Wayne says. "There aren't many people who give you a lead in an hour-long show when you have never acted." Wayne is a tall, 24-year-old native of Roanoke, Virginia whose maternal grandfather was Cherokee and whose paternal grandfather was a Powhatan (Pocahontas' tribe). The family moved to Arizona when Wayne was very young because he had asthma. In 1959 he began his career, singing and playing instruments in Las Vegas hotels. "We did six shows a night, six nights a week for five years," he says. "They say there is no place a young performer can learn today. I disagree. You can learn if you want to work. Because of that experience, nothing can faze me—from a rough audience to someone taking his clothes off. I love a rough audience. A performer can't rest on his laurels. If someone says to me that he thinks I'll bomb, it gives me an incentive and keeps me on my toes." Wayne's brother Jerry works in his act. "We started together, and please God, we will finish together." His brother married recently, but he lives near Wayne and his parents in the new home Wayne has built in Las Vegas. They are a funny pair who like a good practical joke better than anything. When Wayne first decided he wanted to act, he informed his agent, who got him the Bonanza role, then told Wayne to take acting lessons. "I've never had any problem acting because I have always related to the lyrics while singing. But my agents kept insisting that 'the boys in our dramatic department feel you should take lessons.'" So he went to Corey Allen, a well-known Hollywood coach, read for him and was told by Allen that lessons would be a waste of time, since the few things he needed to learn he could pick up on the set. "But we called the agent and told him that Corey said to cancel the show because it would take me two years to learn to act." . . . IT'S ONLY THE GOOD TIMES—Wayne Newton—Capitol—LP—The number of albums Wayne Newton has been featured on attests to his popularity, and It's Only the Good Times should add to his reputation as a powerhouse performer. Of special interest on this set are A Smile Is Just a Frown, In the Name of Love, and It's Only the Good Times. Newton fans should want to save a spot on their shelves for this one.
SHOW-BIZ MAILBAG:
Have your say—We love to receive your comments about your favorite stars—Let us know which ones you'd like to read about. Please address Joey Sasso, TV Star Parade, 295 Madison Avenue, New York, N.Y. 10017.