NOW! AT LAST! YOU CAN HUNT DOWN THE MONKEES AND SEE THEM IN PERSON!
Where they live, work, play
Here it is… what you've all been waiting for. Now you can follow the private activities of your faves all through the days and even the nights.
For those of you who live near Hollywood or are planning to visit Movietown this summer, the Secret Monkee Map will guide you to Where It's All Happening for the Monkees. And for those of you who won't get the chance to visit Hollywood, now you can use your map to imagine exactly where the Monkees are spending all their time.
How to use your map
In the upper left hand corner of the map you'll see a numbered list of all the popular Monkee places. On the map, look for these same numbers and you'll then find out where the places are. For instance, the Whiskey A-Go-Go is Number 3. Look on the map and find a black dot with the number 3 in white on it. This is where the Whiskey A-Go-Go is located.
Turn The Page For Your Very Own Secret MONKEE Map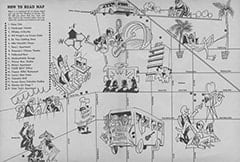 How to read map
Below is a numbered list of places where you can see the Monkees in person. The list tells you where they live, work, and play. Look at the numbers below, then see where the numbers are located on the map.
Daisy Club
Hamburger Hamlet
Whiskey A-Go-Go
Wil Wright's Ice Cream Parlor
De Voss Clothing Store
Mike Nesmith's House
Davy's Apartment
Grauman's Chinese Theater
Hollywood Bowl
MonkeeMobile Garage
Warner Bros. Studios
Micky's Apartment
TiGER BEAT Office
Copper Skillet Restaurant
Lenny's Boot Parlor
Columbia Grill
Screen Gems Columbia Studios
Monkee Set Stage 7
Peter Tork's Apartment