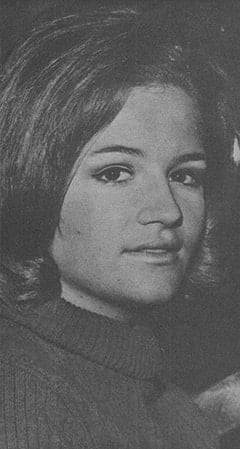 Hi! I'm Micky's sister, Coco, and I'm going to tell you about all the groovy and funny things Micky and I used to do when we were children and about all the things we do together now. If you were to ask him, Micky would probably tell you some of the same things I'm going to tell you about our lives together.
The first house we lived in was in North Hollywood and there was this big area of ground in the backyard and it was just dirt. In the summer we used to do a lot of things. One summer we planted corn, radishes, carrots and beets and all these things and made our own food which we ate and usually it was pretty good.
Then, after we got off that kick, we'd sit there and build underground passages—you know, like a hole three feet deep. We'd make tunnels going all under this thing—real groovy tunnels, and put in passages and you could climb in, or we'd make waterfalls with the hose. We were always doing things like that.
Bike riding
Remember the comic book a long time ago called "Black Hawk"? He was a guy on a motorcycle, no—maybe he was a pilot. Anyways he had a black leather jacket and he used to go charging along being "Black Hawk." Well, when I was little I always used to hang around with the guys. I had one girlfriend, Hanna Evans, who lived next door to me and we played together, but most of the time I was with Micky, so I was a tomboy! So we'd get on our bikes and go around the block. We couldn't go across the street, and Micky'd say, "All right, V Formation."
So all his friends and I would get in V formation with our bikes and we'd go tooling down the street and he'd sit there and go, "U Formation," like that and he'd yell out "Black Hawk" and then we'd yell out "Black Hawk" and real weird things like that. I always used to do tomboy things like that.
When we lived on Goodland, from when I was first born to nine years old, I remember we used to sit down and color together and we used to put on shows for our parents. We've been singing together ever since we were really little and I remember once we did "The Wayward Wind" by Gogi Grant. I'd come walking out holding a candle with all the lights out. My parents would be sitting in the living room and I'd be mouthing the words to "The Wayward Wind" or singing them by myself and Micky would be in back of the couch taking a sheet or a board or something to make wind. We had records like "Pink Cadillac" and stuff like that and I used to do tap dances to them as Micky would sing.
Put on shows
We used to do skits, too. Recently we haven't been able to because I haven't been around that much. But up until he got into the Monkees, we used to go to parties and sing together. He picked up the guitar, we just started singing together. Well, we'd go to a party and everybody'd say, "Micky, bring your guitar." So we'd start singing and we knew a lot of jokes and everybody'd sit around and watch us sing and act like nuts.
We always said we were going to make a record. When we were little, we used to sit down in his room and start singing songs that we'd never known before. I mean, just pick up a song book and we'd just get a harmony and a whole groovy arrangement to it in about two seconds. We have a sort of ESP between each other, we can look at each other when we sing and I'll know that I'm going to go high and he'll go low.
Almost made a record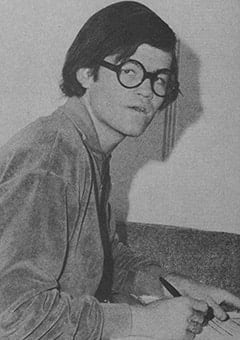 We got pretty close to making records once, but this guy who was going to promote us is one of those 'sign on the star and I'll make you a dotted line' and it fell through. By the time I was old enough and we wanted to do stuff, Micky was in the Monkees and so that sort of killed it. When he comes up and visits in San Francisco, we try to get as much time together as we can and we just sit down and he teaches me the new songs he's learned and we sing and get an arrangement.
A couple of years ago, when I was still living in Hollywood, we used to just get a mess of kids in the car like Ric Klein and Linda and all the people that we've known for so long and just go driving around Hollywood Boulevard. Sometimes we'd go to the Fifth Estate.
One day we parked the car up by MaGoo's, a restaurant in Hollywood, and walked all the way up to the Steve Allen Playhouse and all the way back again. That's all the way up Hollywood and then down La Brea and we were just running around and I was sitting in the middle of the sidewalk because my shoes broke and they came off. We were just running up and down and just goofing off and having a lot of fun.
We still go out to places together. Micky and Randy and John (who is my boyfriend) and I go out to dinner sometimes. We had a limousine take Randy and John and Micky and me all over San Francisco one week-end. We went to the Trident, a restaurant in Sausalito, and saw a fantastically groovy guitarist there. His name was Bono Cierta or something like that. He was South American and played the guitar like nobody's business. We went there and we went to a place called the Matrix and "Big Brother And The Holding Company" were there and that was really groovy. Then we just went back to the hotel and goofed around for awhile.
Then one time, we went up to Bally Low in San Francisco. It's a shoe store on Geary Street and downstairs it's a mod shop. It's really a great place and the proprietor's name is Bob. Micky was up there at Christmas. For two days during Christmas or Thanksgiving, I don't remember which one, he had to do some promotional work in San Francisco for KFRC, so he went up there and met the proprietor of the shop and Micky and Randy went in there and bought some clothes. Then, when he came up again, he brought me there and we bought some clothes and we just spent the whole afternoon running through the street, wet and falling and slipping. It was raining and it was really a lot of fun.
Micky's tired
Now when I do get to see Micky, which is rarely—very rarely, when he gets up to the house, he's just so tired that he just comes home and flops. We've got kids coming around the house all the time. Micky does his share, though. He goes out of the house and talks to them as much as he can, but he's tired, because he's been working so hard on the Monkees. He's really a groovy brother and I miss him when he's away, but I understand that it's his life. I'm really happy though when I can see him because we have such really groovy times together.