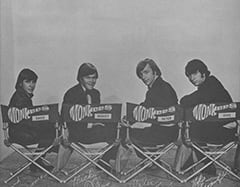 The Monkees! (Not that you ever do…) But be sure not to miss the show entitled "Alias Mickey Dolenz," to be aired sometime early in 1967. THEN, don't miss TeenSet's May issue when we tell you exactly what happened while they filmed that episode! TeenSet's editor spent a lot of time on the set (under the set, around the set…), and it was an experience. To put it mildly.
Also in the May TeenSet, you will stumble upon:
The Beatles and their music, from "Love Me Do" to "Revolver"
The Hard Times (in color)
Ringo, as in "Poems to…"
The Mama's and Papa's
Advice to hopeful pop stars from Terry Kirkman of the Association
And all the usual and unusual goodies!
Watch for it! On sale in March!