Birthdate: February 13, 1942
Birthplace: Washington, D.C.
Height: 5'10"
Weight: 151
Color Hair: Hazel
Color Eyes: Reddish brown
Parent's name: John and Virginia.
Brothers' and sisters' names: Nick, Christopher, and Ann Elizabeth
Current home: Hollywood, Calif.
Instruments played: Guitar, French horn, five-string banjo, recorder, organ.
Schools attended: Carelton [sic] College, Connecticut. Flunked out, twice!
Show Biz Background: Entered show business at the age of 20. Sang in Greenwich Village coffee houses. Also sang at the Troubadour Club in West Hollywood, 1965
Favorite color: Bright red, orange, yellow
Favorite clothes: Wild shirts
Favorite singers: Frank Ifield, Ray Charles
Likes: Love
Favorite music: Folk and beat
Ambition: To become President of the United States; To be a good husband and father; to learn to play every musical instrument well; to really contribute something to the entertainment scene; to be able to be fair to all my fans; lots more things that I dream up every day.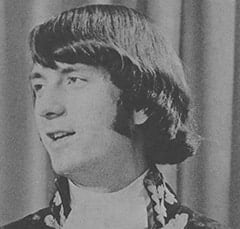 Real name: Robert Michael Nesmith
Birthdate: December 30, 1942
Birthplace: Houston, Texas
Height: 6'2"
Weight: 150
Color Hair: Dark brown
Color Eyes: Brown
Wife's name: Phyllis
Son's name: Christian Du Val
Current home: Hollywood
Instruments played: Guitar, kazoo
Schools attended: San Antonio College
Show Biz Background: Entered show business at age 20 by appearing in folk clubs as a singer. TV debut occurred in the Monkees show. Has written many songs. Among them: "Papa Jean's Blues," and "Sweet Young Thing."
Hobbies: Stripping down cars, hot rodding and skate boards
Favorite color: Blue
Favorite singer: Danny Hutton
Car: 1956 Chevrolet truck, jeep and Buick Riviera
Likes: Kippered guppy, motor racing
Dislikes: Being called "Wool Hat"
Favorite Music: Country and Western, folk
Pets: A dog called Spotte.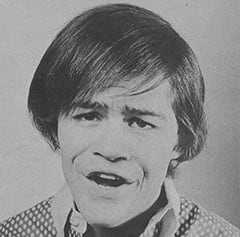 Real name: George Michael Dolenz Jr. (His father George was a famous actor.)
Birthdate: March 8, 1945
Birthplace: Los Angeles, California.
Height: 6'
Weight: 145 lbs.
Color Eyes: Hazel
Color Hair: Dark brown
Sisters' names: Coco, Debbie, Gina.
Current home: Hollywood, California
Schools attended: Los Angeles Trade and Technical College
Instruments played: Drums, guitar, comb and paper and artichoke
Show Biz Background: Entered sow business at the age of 10. Played the part of Corky in "Circus Boy" under the name of Micky Braddock. Also appeared on TV in "Route 66," "Peyton Place" and "Mr. Novak."
Hobbies: Photography.
Favorite clothes: Double breasted T-shirts, casual and dressy.
Car: Pontiac GTO
Likes: Girls
Dislikes: Many, but okra (a plant) is a major one.
Favorite music: Australian zimbong cantatas.
Magazine: Monkee Spectacular
Editor: Ralph Benner
Published:
Volume: 1
Issue: 1
Publisher: New Asbury Ltd. Publishing Co.
Pages: 22–25