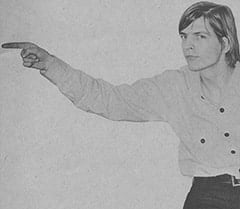 Exclusive: Here's your very own report on the intimate lives of your faves by their closest friend and constant companion.
About the author: David Price is Davy Jones' personal stand-in. He works with the Monkees every day on the Screen Gems' set, and he travels with them when they go on tour, taking charge of their equipment. David's 22-years-old and loves his work. Who wouldn't! He'll be keeping TiGER BEAT readers tuned in to all the private activities of the Monkees.
Being close to the Monkees is really the greatest experience of my life. Every day something unexpected happens and it really keeps me jumping. I guess the most exciting thing that's happened is the tour the Monkees just finished. Maybe some of you were lucky enough to see the show in person. Anyway, this month I'd like to tell you how the tour all came about and what happened behind the scenes in every city. Here goes: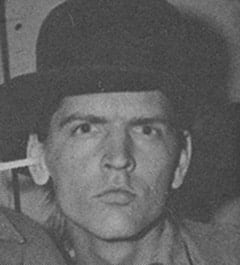 One thing Davy, Micky, Mike and Peter hoped to prove on this tour was that they really could put on a fabulous show. They also wanted to give their fans some real excitement. Before even beginning plans for the tour, each Monkee insisted that their part of the show must last at least a whole hour. They didn't want their fans to pay as much as $5.00 a ticket and then just be on the stage for 18 minutes. They didn't think this was fair. Above everything else, they want to please their fans, and since I was at every show they put on, I think I can say truthfully that the Monkees came through in flying colors and put on an outasite show that fans will be talking about for years to come.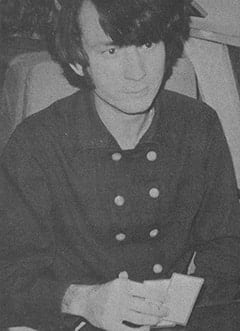 We took a 10 passenger Lear Jet. It was a small plane and we were kind of crowded, but the instruments and the supporting acts for the show went on another plane so there were just the Monkees, myself, David Pearl, Rick Klein (Micky's stand-in) and the Monkees' business managers on our plane. We also had a cute stewardess that kept us filled up with sandwiches. Davy especially liked talking to her.
Our first show was in Denver, Colorado, where it was 17 degrees. All the boys, except Micky, had heavy coats to protect them from the cold. So when Davy and Mike saw that Micky had no coat, they ran out and bought him a groovy brown suede coat with a fur collar.
In Denver we stayed at the Hotel Cosmopolitan. In every town each Monkee had his own private suite of rooms. The rest of us had rooms on the same floor of each hotel. In their spare time, Davy, Micky, Mike and Peter played three games they created called: Wall Creeping (which is running down the halls making high pitched noises with your hands creeping along the walls;) Lil' Abner (which is running down the hall in the middle of the night;) and Hall Crawling (which is crawling down the hall in the middle of the night.) Lucky for us that no other guests were ever on our floors!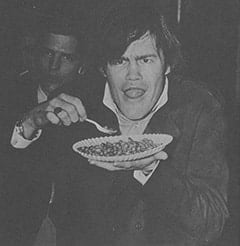 Down in the lobby groups of girls waited around hoping to get a chance to meet one of the Monkees. Any of us who walked in with long hair was asked, 'Where's Davy?' Finally, after the press conference in the hotel, Davy invited some fans up to his suite and signed autographs and talked with them for awhile. There really wasn't much time to get to meet too many fans but all the boys tried to talk to as many as they could.
The show was a big success and as I told you before the boys were really excited about performing before a live audience. At the very end of the show when the boys are singing "Stepping Stone," the fans broke up on the stage and it took about 40 policemen to quiet them down. As soon as that number ended, the boys ran off stage and got into a waiting limousine. It took us straight to the airport.
Cars filled with fans followed us all the way to the airport and when we got there, the plane had been delayed. We all went in the lobby and waited. Davy started taking down Christmas decorations that were hanging on the tree in the lobby and playing with them. When someone told the Monkees how many fans were outside and how cold it was, the boys invited them in. Davy, Peter, Mike and Micky all signed autographs while they waited for the plane.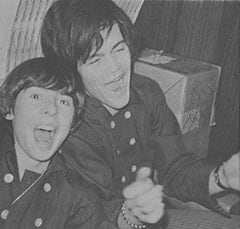 The concert in Memphis was outasite. We stayed at the Sheraton Peabody hotel where we had a whole floor all to ourselves. When we arrived, Micky was hungry, as usual, even though it was the middle of the night. He went out alone to get something to eat. He was often recognized, but he enjoyed himself and liked talking to fans. All along the trip, Micky was reading a book called IT'S HAPPENING, which is all about the social conditions of youth. He's really a big reader. On the plane, Peter and Mike usually played cards while Davy talked to the stewardess.
Everywhere we stayed, Mike phoned home to his wife, Phyllis. He's very conscientious about everything and wanted to be sure his family was all right without him. He also worried about the sound system in each auditorium. He went down early to check everything out. Micky helped set up the drums at every show. The Monkees all want to make sure everything goes well for the audience. At this particular concert in Memphis, a girl jumped up on the stage and kissed Davy while he was singing his solo. Davy loved it, but the security guards didn't exactly congratulate the girl. Another fan leaped up on the stage when Micky was doing his number. It was outasite.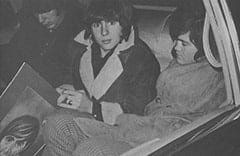 On the flight from Memphis to Louisville, a real funny thing happened. We had cherry tarts for dessert and someone got the bright idea of throwing one at Davy. He took it right in the face, whipped cream and all, and then the fun began. Everyone started hurling cherry tarts back and forth and it was really a blast.
Also on the plane we had piped in music and the only tapes on the plane were old Guy Lombardo songs. In Memphis, Micky's stand-in, Rick Klein, got an RCA Victor man to give us new tapes. He got Beatles, Dylan, Troggs, and Byrds tapes. The Monkees liked these songs much, much better than Guy Lombardo.
Peter kept busy on the flight by reading every magazine he could get his hands on. He likes to keep up on all the latest news.
None of the Monkees got to take many personal items of clothes with them, and they didn't have a chance to buy anything in any of the towns where we stopped. But everywhere we played, the fans gave the Monkees gifts: Cakes, dolls, rings, shoes, cameras, binoculars, and stuffed animals. They'd leave the gifts in the elevators of our hotels, or throw them on stage. Davy, Peter, Mike, and Micky wanted to see every gift that the fans gave them personally. It was my job to collect these presents and put them in a wardrobe bag. When we got into our hotel rooms, the boys would look at all of them. They were really pleased about everything they got. Unfortunately, they couldn't keep all of the gifts, so after seeing them, the gifts were turned over to a Children's Hospital.
We stayed in the Sherwin Hotel in Louisville and the boys took naps before the concert. They all slept very lightly on tour because they were nervous. Mike changed a lot on the trip. He went from being quiet and introverted to becoming really turned on by the crowds. He loved singing in front of the live audiences. Peter helped out at all the concerts by asking the kids to remain in their seats. He was really concerned that no one got hurt.
At the end of every performance, Davy and Mike threw maracas into the audience for the fans. They had to stop this toward the end of the tour because we were running out of maracas. The boys wore the same costumes at every performance, but David Pearl, who was in charge of wardrobe, had them cleaned and pressed in each town.
Phone calls from fans

Permalink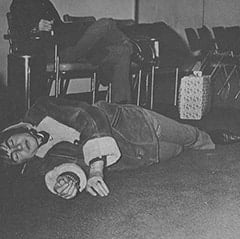 In Winston–Salem, at the Robert E. Lee Hotel, all the fans tried like mad to get calls through to the Monkees. The girl at the switchboard was instructed to put through only the calls to Mr. Ward Sylvester, their personal manager. Ward, then would decide which calls would be taken by the boys.
It was a funny thing, but the boys never did get a chance for a really sit-down type meal. They always used room service in the hotels and lived mostly on sandwiches.
At the concert in Winston–Salem, Micky hurt his back on stage. When he does his slides in his solo number he landed too hard. He also ripped his pants. All through the tour Mike and Peter had a hard time keeping hold of guitar picks and I was constantly going looking for them.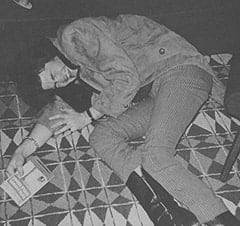 On the plane between Winston–Salem and Pittsburgh, Micky and I talked about cars. I'm very interested in cars and so is he. He used to be a Mercedes-Benz mechanic and right now his secret ambition is to build a formula 3 racing car. He's already drawn up some plans.
Davy was constantly drinking tea on the plane trips. He takes one lump of sugar in his tea in case you ever get the chance to entertain him. None of the Monkees drink coffee. They prefer soft drinks.
A pretty frightening thing happened to Micky in Pittsburgh. At the Hilton Hotel where we stayed, Micky and his stand-in Rick Klein went out for some food late at night. When they came back through the lobby they got mobbed by fans. They were pushed up against a plate glass window. "For the first time," Micky admitted, 'I was scared.' But he came out laughing, and neither of the boys was hurt.
That day in the hotel, Mike and Davy celebrated their birthdays together which are both on December 30th. Everyone got together in Davy's hotel suite. We had a cake with 21 candles on it which is Davy's age. Davy gave Mike a gold sword for his birthday. Davy unwrapped the present Mike gave him in private so I don't know what it was. That day at the concert everyone sang 'happy birthday' to both boys on stage.
After playing Cincinnati where we stayed at the Terrace Hilton, we were delayed at the airport because it was fogged in. The airport let us use a special lounge and Davy took a nap on the floor. The rest of the boys played what they call the SHOOTING GAME. One Monkee points his finger at another Monkee and the Monkee shot falls dead. It was really funny when Mike went up to the magazine stand to buy something and Peter came up and pointed his finger at him and he fell down dead (pretending, of course.) A lady, looking on, nearly fainted. She thought the whole thing was for real.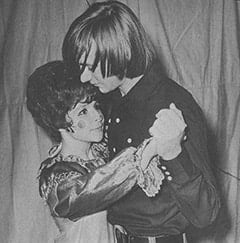 In Nashville, where we stayed at the Dinkler Andrew Jackson Hotel, we had a great time. Brenda Lee invited all of us over to her New Years Eve party. She held it in the warehouse of her husband's electrical store and everyone came in costume. We wore the clothes we had on but I guess some of the guests thought we were in costume anyway.
They had a rock and roll band playing and it was mainly older people. Peter sat in on guitar with the band and Micky did his solo complete with dancing and falling down. (His back was better by now.) Davy did his number and then Brenda Lee sang a few songs. It was really great and the Monkees didn't mind being away from home so much on New Year's Eve because of it.
One thing we all wanted to do while we were in Tennessee was to look Elvis Presley up. But everyone advised against it. We figured if the people of Memphis didn't even know how to locate Elvis, that we couldn't find him.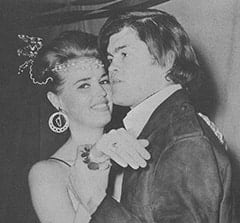 We stayed at the Mayo Hotel in Tulsa and everything went great. The concert came off without a hitch. By now the boys had things down to a science. They were so relaxed that in the hotel, no one even cared much about sleeping. Davy spent most of his time out by the elevator talking to fans.
On the way back to Los Angeles on the plane, I noticed that the Monkees had really changed. Before the tour they actually didn't know how well they could perform together. But they found out. They found out that they are truly a group, and even if they won't say so, I will… a great group.
The hard life of touring brought them closer together as people. The little beefs that they may have had before on the set, had now completely disappeared. It was as if the four of them had gone through a big initiation week and come through with flying colors. Believe me, it couldn't happen to four nicer guys. I feel lucky to be around them.